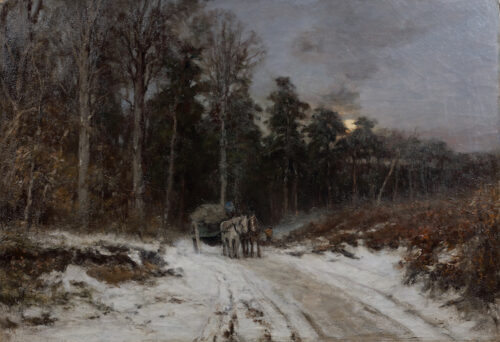 Louis Apol (1850-1936)
Houtsprokkelaars op besneeuwd bospad
Gesigneerd
Olieverf op doek
80.5 x 122 cm
Herkomst: Pieter A. Scheen, Den Haag
Collectie Klein Drakestein, Lage Vuursche, Nederland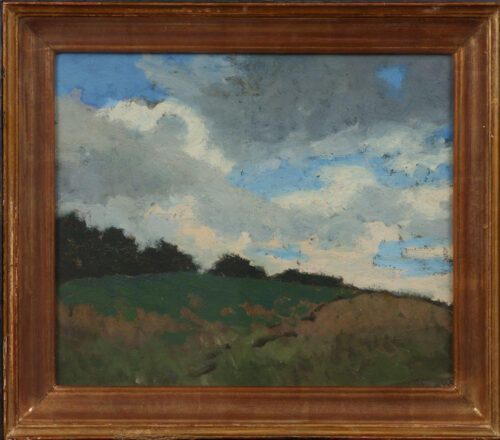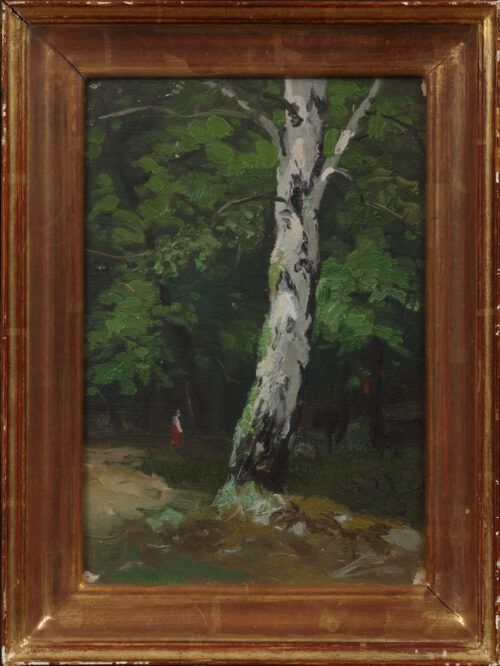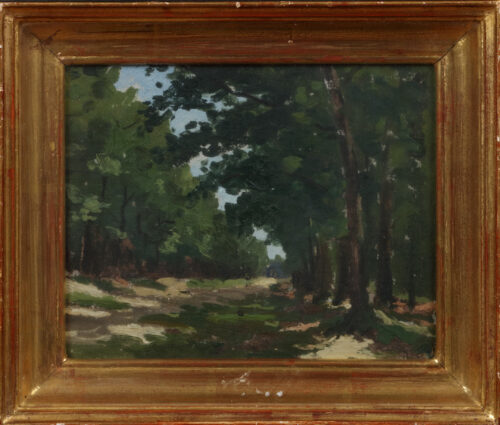 Alphonse Asselbergs (1839-1916)
Three Studies of a Birch; A Forest, and Clouds over a sloping landscape
Oils on canvas laid down on boards (3)
24 x17 cm; 17.5 x 21.5 cm; and 23.5 x 27.5 cm
These are probably plein air studies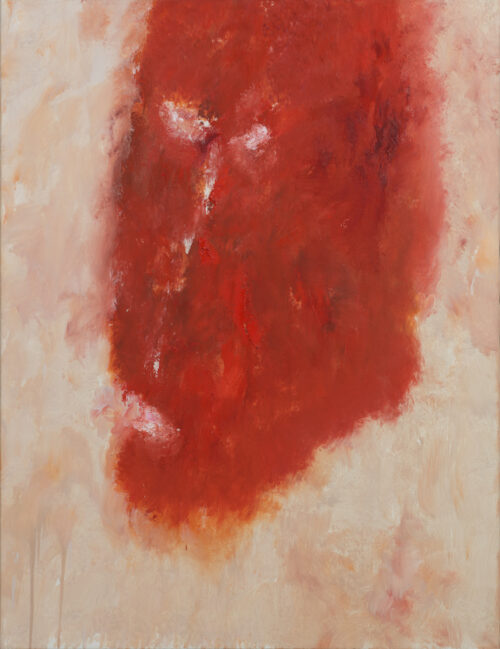 Armando (1929-2018)
Kopf
Signed, dated 20-7-89 and titled on the stretcher
Oil on canvas
90 x 70 cm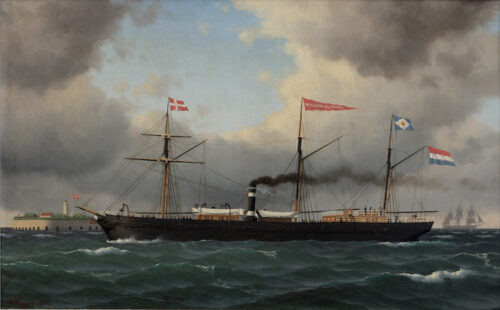 Carl Emil Baagoe (1829-1902)
Stoomschroefschip Willem de Derde nabij Fort Trekroner voor de havenmond van Kopenhagen
Gesigneerd en gedateerd 1866
Olieverf op doek
38.5 x 61 cm
Het schip werd in 1855 gebouwd en was vanaf 1859 eigendom van de Koninklijke Nederlandse Stoomboot Maatschappij
In 1870 loopt de Willem III aan de grond en breekt doormidden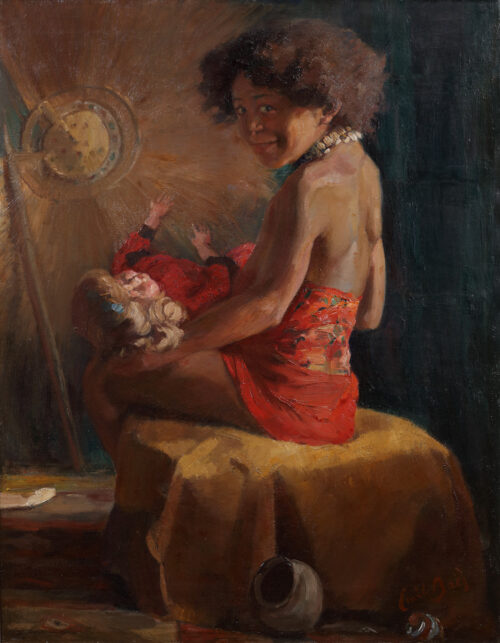 Emile Baes (1879-1954)
The Doll
Signed
Oil on canvas
95 x 75 cm
Exhibited: Grosse Berliner Kunstausstellung, 1912, no.1672
Emile Baes, born in Brussels, went to Paris and received artistic advices from Alexandre Cabanel (1823-1889) and Leon Bonnat (1833-1924). He developed from a painter of landscapes to an artist of mainly mundane subject matter. He exposed a.o.at the Salon d'Automne (1928-1933) and the Salon du Tuleries between 1933-1939
It has been suggested that the girl holding the doll is the daughter of the artist. Emile Baes was married to a Congolese woman
Auguste Baud-Bovy (1848-1899)
Portrait of the Spanish writer Antonio Sawa (1862-1909)
Signed and annotated Paris
Pencil and charcoal on paper
24 x 18.5 cm
To be dated 1892
Literature: V. Anker, Auguste Baud-Bovy, Berne, 1991, p.233
Although the artist is mainly a landscape painter he also executes portraits of the literary,political and artistic circles
Baud -Bovy was inspired by the great Gustave Courbet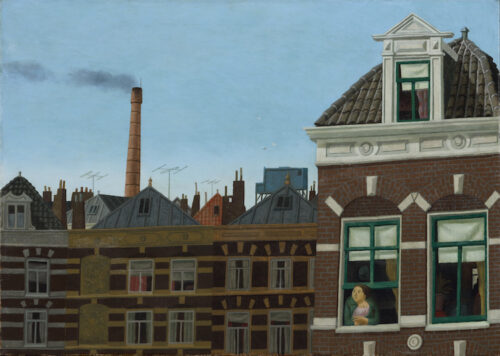 Herman Berserik (1921-2002)
"Huizen" (Houses) in the Schilderswijk, the Hague
Signed and dated '62, and signed and dated again 'zomer 62', and titled on the reverse
Oil on canvas
50 x 70 cm
Provenance: Kunsthandel M.L. de Boer, 1965, inv. no. 14439
(Sold to the Historisch Museum Den Haag)
David Bles (1821-1899)
Une femme aisee occupee a rien faire
Gesigneerd en gedateerd 29 juny '46
Pen, zwarte en bruine inkt op papier
12 x 22.5 cm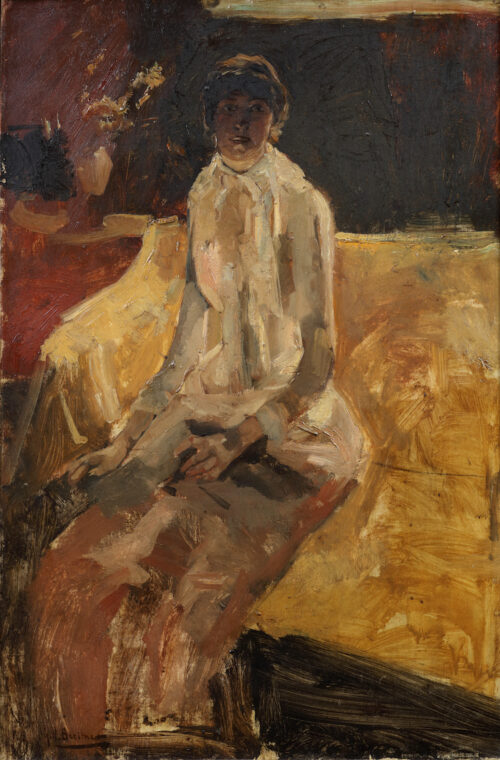 George Hendrik Breitner (1857-1923)
Zittende dame
Gesigneerd en gedateerd 1883

Olie op doek

74 x 50 cm
Herkomst: Particuliere collectie, vlg. V. C. de Vos e.a., Asd. (FM), 20 nov 1900, nr. 29
S. De Swart; vlg. S. De Swart, Asd. (FM), 18 mei 1909, nr. 24; vlg. M. Schmidt van Gelder, e.a., Asd. (FM), 13-16 dec. 1921, nr. 54; J.M.P. Glerum; vlg. Glerum, Asd. (Mak van Waay), 23 maart 1933, nr. 21; vlg. Asd. (Mak van Waay), 20 juni 1933, nr. 10[?]; vlg. Asd. (Mak van Waay), 28 nov. 1933, nr. 10 (afb.); vlg. Hermsen e.a., DH (Kunstzaal Kleykamp), 9 juni 1936, nr. 162; Fruytier, Ouderkerk a/d Amstel (1966)
Tentoonstelling: Amsterdam (Architectura et Amicitia), 1891, nr 35; Arti 1901, nr. 164; HGM 1928, nr. 51
Literatuur: Rieta Bergsma, Paul Hefting e.a., George Hendrik Breitner, 1994, Bussum, p. 94, 95 (geïllustreerd) en 231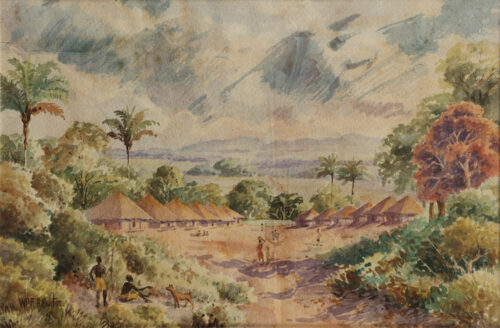 William Frederick Padwick Paton Burton (1886-1971)
An African village, Congo
Signed
Watercolor on paper
21.5 x 32 cm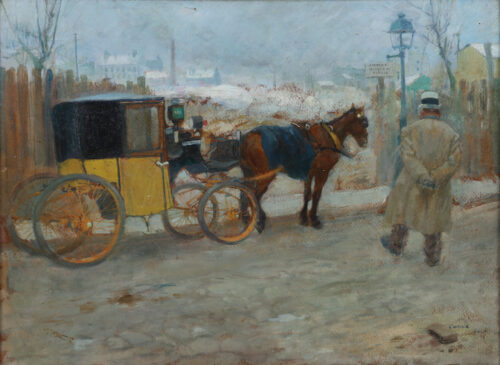 Leon Georges Carre (1878-1942)
The Parisian cab
Signed and dated Paris Janvier 1908
Oil on panel
37.5 x 45.5 cm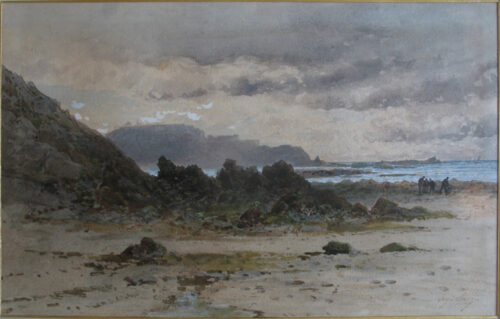 Eugene Ciceri (1813-1890)
Ramasseur de goemon: seaweed pickers, Brittany
Signed
Watercolour on paper
26.5 x 42.5 cm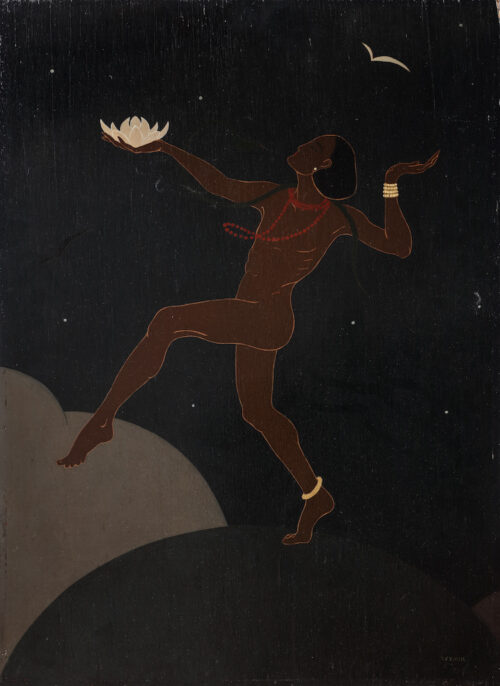 Wilhelmina 'Willy' Cuperus-Krill (1905-1991)
Snake Dance
Signed, and signed again and dated 1939 on the reverse
Oil on panel
75 x 53 cm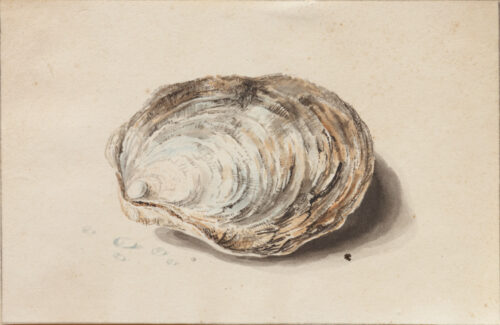 Circle of Willem Hekking (1796-1862)
An oyster
Pen and ink and watercolor on paper
10.5 x 16.5 cm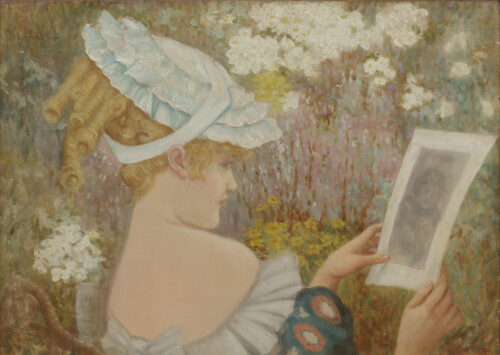 Ismael Adolphe Clavel (second half 19th century)
Admiring a work of art
Signed
Oil on canvas
47.5 x 67 cm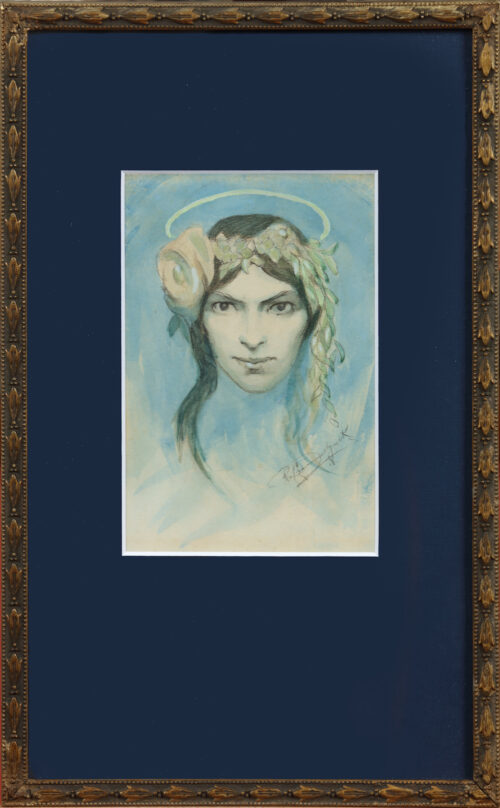 Robert Crommelyck (1895-1968)
A Muse
Signed and dated '18
Watercolor and bodycolor on paper
19 x 11.5 cm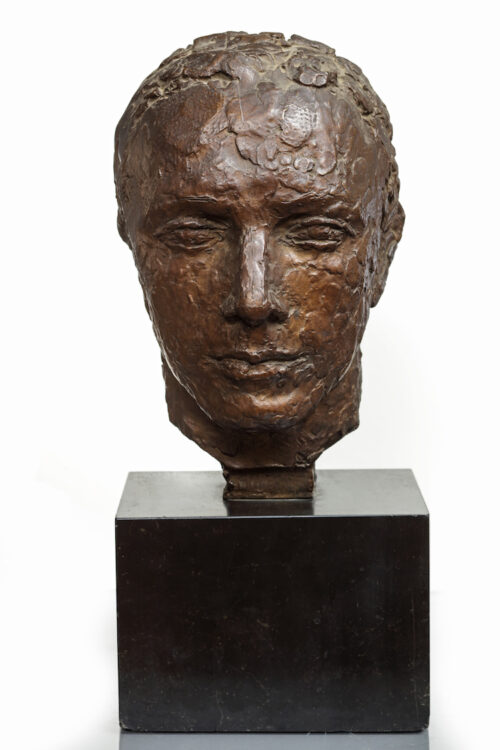 Charles Despiau (1874-1946)
Portrait of the Polish painter Eugen Zak (1884-1926)
Signed
Bronze (stamped cire perdue Valsuani)
h. 36 cm (incl. marble base 45 cm)
We like to thank Dr Elisabeth Lebon for her help in cataloguing this work
(SOLD)
Ted (Theodore) van Dijk (b.1948)
Embossed Sjablone, serie IV, number 3
Signed, titled and dated 1984 on a label on the reverse
Perspex
100 x 100 cm
Comparable works by the artist are in Museum Boijmans van Beuningen Rotterdam and Museum Voorlinden, Wassenaar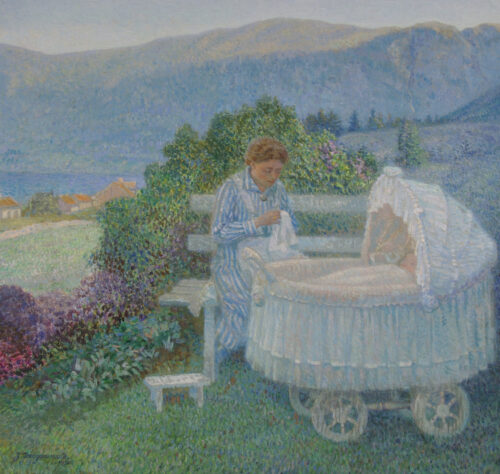 Jacob Dooijewaard (1876-1969)
Zomerochtend
Oil on canvas
80 x 85 cm / 31.5 x 33.5 inch
Signed lower left J.Dooijewaard 1930
Provenance: Francois Buffa, Amsterdam; Private collection, Houston, USA
Jacob Dooijewaard travelled to Norway almost every summer, where he would stay at the house of his good friend and painter William Singer. The surroundings, the nature and the bright light were of important inspiration to Dooijewaard. His palette had become lighter under the influence of the climate and the different light, the heavy warm colours of the Low Countries giving way to soft, cool and serene hues. Dooijewaard would look for new mediums to portray his Norwegian experiences and pointillist techniques offered him natural possibilities in this new environment.
In this painting, which Dooijewaard painted in 1930, he depicted a nanny sitting on a bench with a baby carriage in front of her. She is completely focused on the activity of sewing or embroidering the white cloth she holds in her hands. The surrounding nature breathes a realm of serenity. The clear blue sky, the beautiful green cliffs of the fjord, the sleeping baby and the concentrated nanny: everything points to a peaceful environment. Dooijewaard evidently succeeded in representing the pleasant feelings he had about Norway in 'Nanny at the Fjord'
The woman appears to be Anna Singer in her garden near Olden, Norway
Dutch School, 1923
Danse Macabre Moderne
Signed with initials and dated  '23
Pastel op paper
64.5 x 44.5 cm
Possibly a design for an poster
It has been suggested that the artist is Jacques de Wit (1898-1983)?
Jean-Baptiste Henri Durand-Brager (1814-1879)
View of the Bosphorus
Signed and indistinctly dated
Oil on panel
22 x 41 cm
Otto Eerelman (1839-1926)
Clown
Signed
Watercolor on paper
27 x 18 cm
Probably painted behind the scenes at Circus Carre
See: Harry J. Kraaij, Otto Eerelman, 2012, pp.95-100
Jaap Egmond (1913-1997)
Untitled
Signed and dated '88 on the reverse
Relief (metal on wood)
54.5 x 54.5 cm
European School, circa 1900
Satyr
Pencil, pen and brown ink and watercolor on paper
33 x 25 cm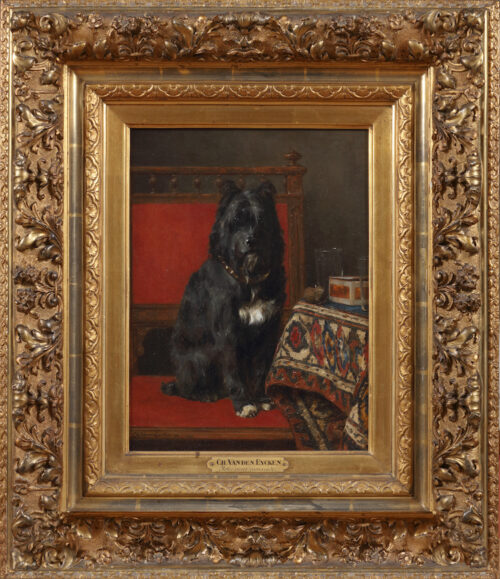 Charles van den Eycken (1859-1923)
Man's best friend
Signed and dated 1896, and dated again 28.12.96 on the reverse
Oil on panel
37 x 26.5 cm
In an original period frame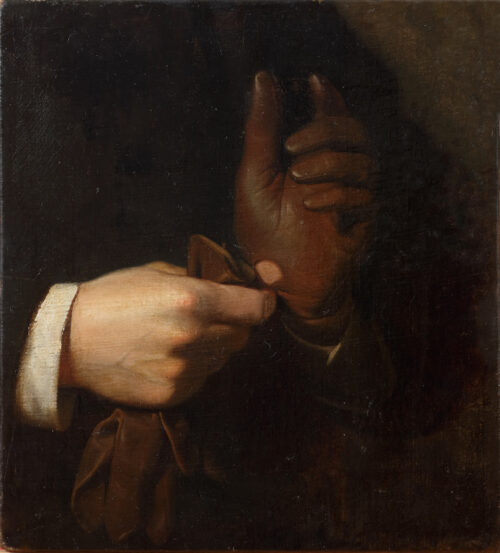 French/Belgian School, circa 1870
Put on gloves - a study
Oil on canvas
33 x 29.5 cm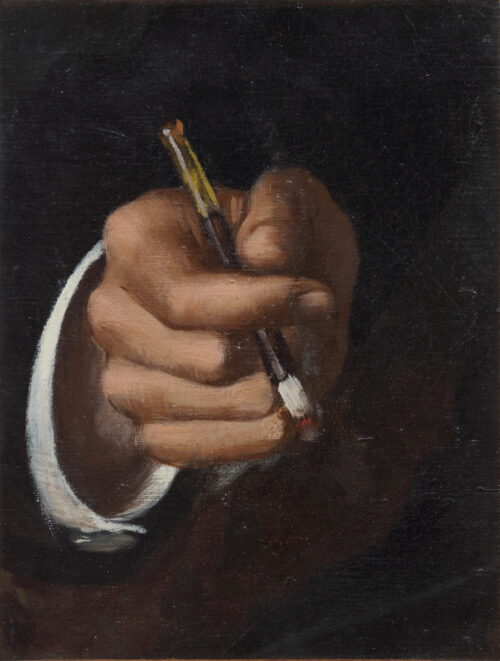 French School, circa 1880
A hand holding a cigarette, a sketch
Oil on canvas
24.5 x 19 cm
(SOLD)
French (?) School, late 19th century
Le Fumeur pipi
Pencil on paper
12.5 x 8 cm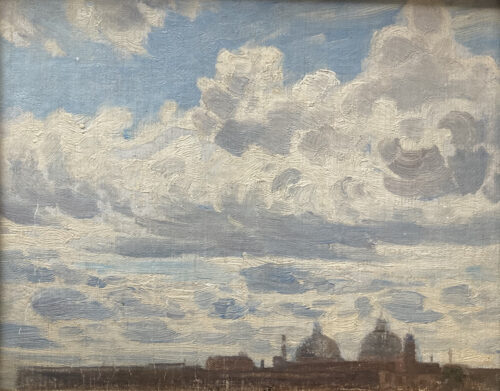 French School, circa 1870-80
View of the Santa Maria dei Miracoli and the Santa Maria in Montesanto on the Piazza del Popolo, Rome, seen from the back
Oil on canvas - a sketch
18 x 24 cm
(SOLD)
Pieter Gaal (1770-1819) (after Hendrik Willem Schweickhardt)
Piggy
Inscribed and annotated on the reverse
Black and red chalk on paper
16 x 21 cm
Provenance: Pim van Eekelen (L.5101)
After Paul Gavarni, 19th century
La Peinture
Inscribed Les Muses
Oil on a palette
28 x 41.5 cm
This is possibly after a lithograph by Gavarni (1804-1866) from 1836 from the series Les Muses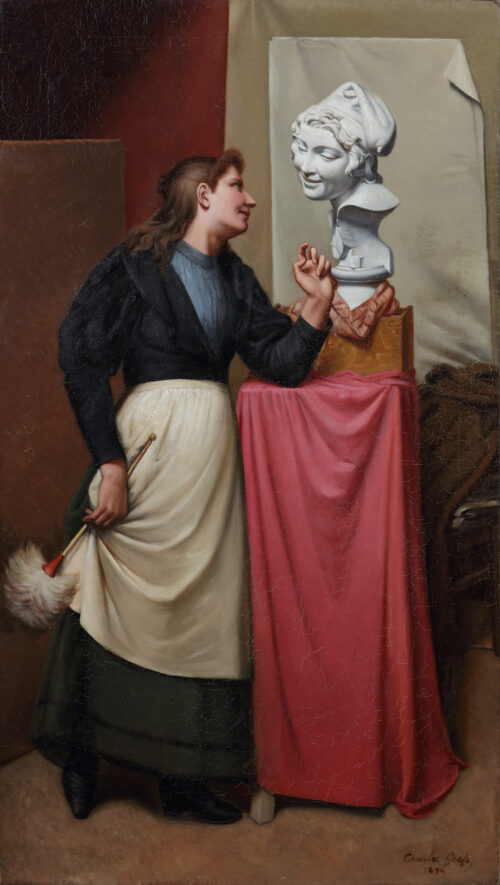 Charles Geefs (1829-1910)
Mutual Admiration
Signed and dated 1894
Oil on canvas
102.5 x 57.5 cm
German/French School, 19th century
Clouds-a sketch
Oil on canvas laid down on carton
Indistinctly monogrammed
27.5 x 23 cm
(SOLD)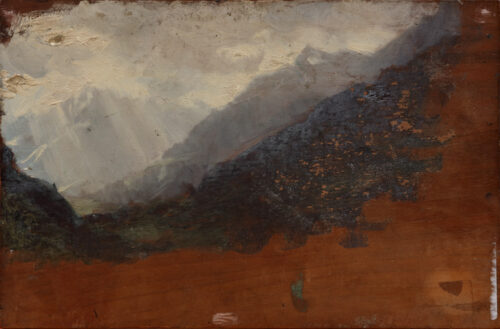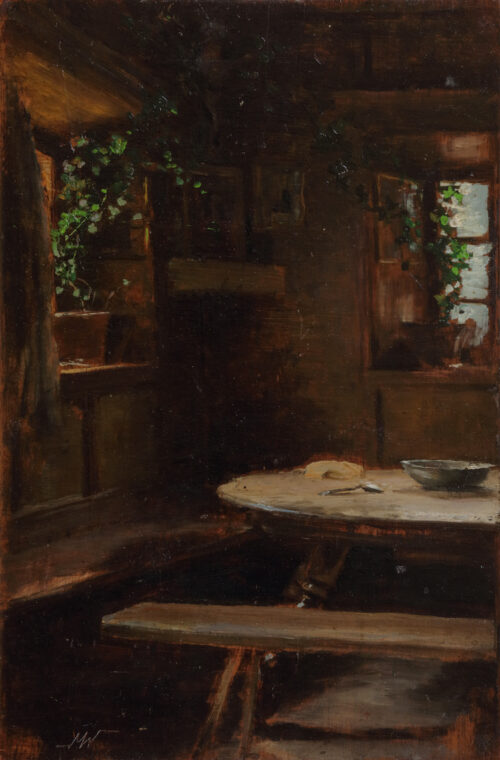 German School, 19th century
Mountains; and an interior scene
Oil on panel - a sketch
With indistinct monogram
29.5 x 19.5 cm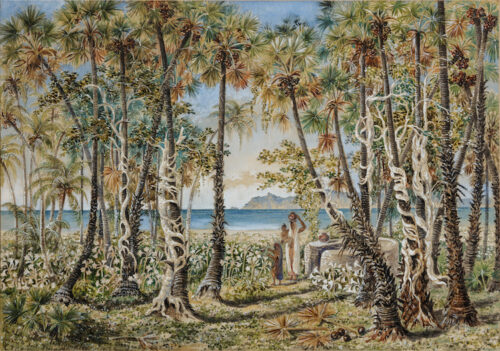 Constance Frederica Gordon-Cumming (1837-1924)
The Lily Shore, Tricomalee, Sri Lanka: study of Palmyra Palms with young Bayan trees looking to Fort Frederick
Signed with initials and dated oct.8 '73
Watercolor on paper
36 x 50 cm
Fort Frederick is also known as Fort Tricomalee
Tricomalee is the most popular east coast seaside hamlet in Sri Lanka, famous for its powdery sandy beach and turquois blue shallow waters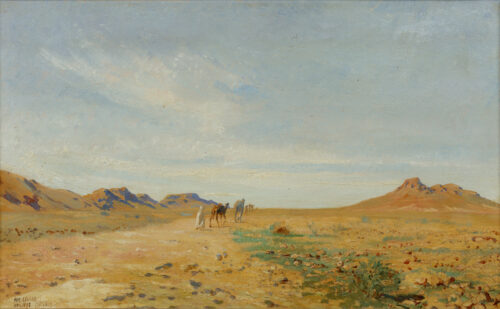 August Le Gras (1864-1915)
The desert of Chellala, Algeria
Signed, dated nov.1892 and annotated
Oil on canvas
38 x 61 cm
The Chellala Desert in Algeria lies in the district of El Bayadh in the Ksour mountains

Stacha Halpern (1919-1969)
Abstract Composition
Signed and dated '56
Oil on canvas
9 x 22.5 cm
Ferdinand Hart Nibbrig (1866-1915)
Zoutelande
Gesigneerd
Olieverf op doek
40 x 63.5 cm
Te dateren tussen 1910-1915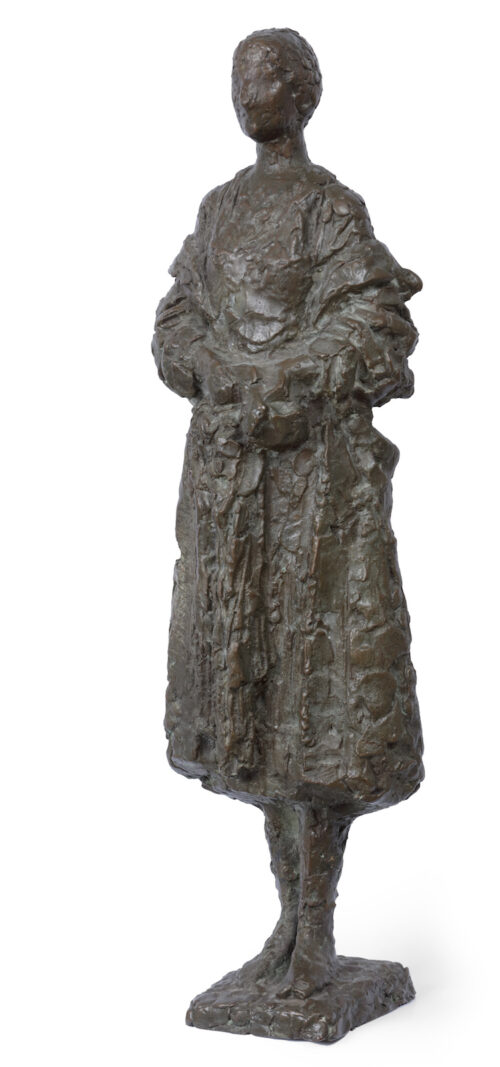 Pieter D'Hont (1917-1997)
Portrait of Sylvie D'Hont-Kogl
Bronze, from an edition of six
59 cm high
To be dated 1957
In 1966 an edition of five, seize 166 cm., were executed
One of them stands in front of the RIVM in Bilthoven
And another one is on the corner of Spui and Singel, Amsterdam
Literature: Jan Teeuwisse a.o. Pieter d'Hont leven en werk 1917-1997, Utrecht, 1999, page 42 (illustrated) and page 135, no.VP22III, (illustrated)
William Hunter (c.1890-1967)
Building a house
Signed and dated Ana 1929
Oil on panel
20.5 x 30.5 cm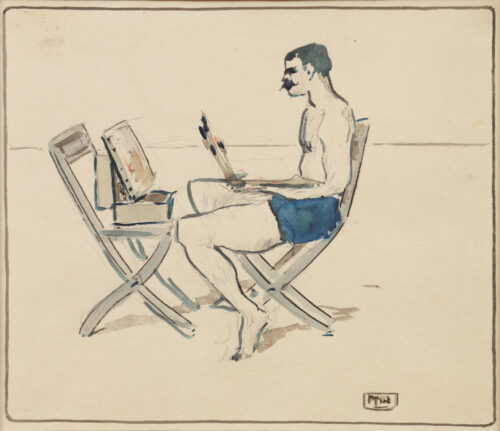 Joseph Itin (born 1893)
The artist at the beach
Signed
Pen and black ink and watercolor on paper
20 x 23.5 cm
(SOLD)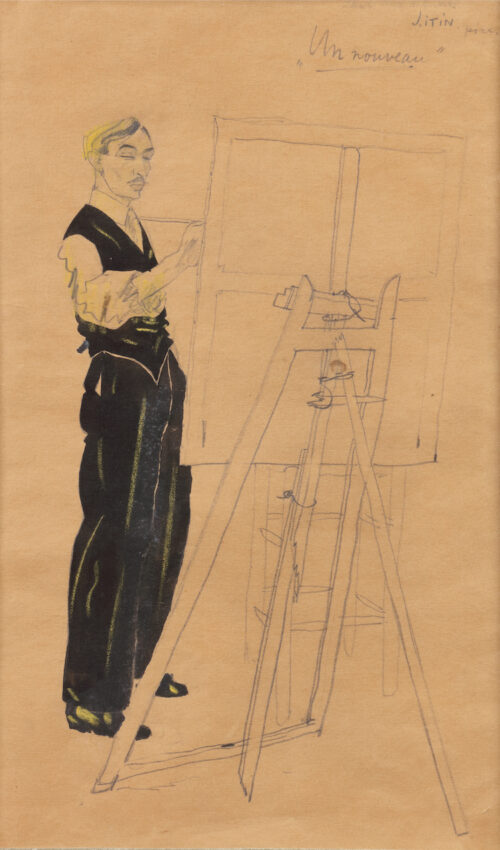 Joseph Itin (born 1893)
Un nouveau (a new one)
Signed
Pencil, pen and black ink and yellow chalk on paper
32.5 x 19.5 cm
The artist was born in Russia but fled, because of the Revolution, in 1918 to Switzerland
Centre Pompidou, Paris, owns an oil from his hand
(SOLD)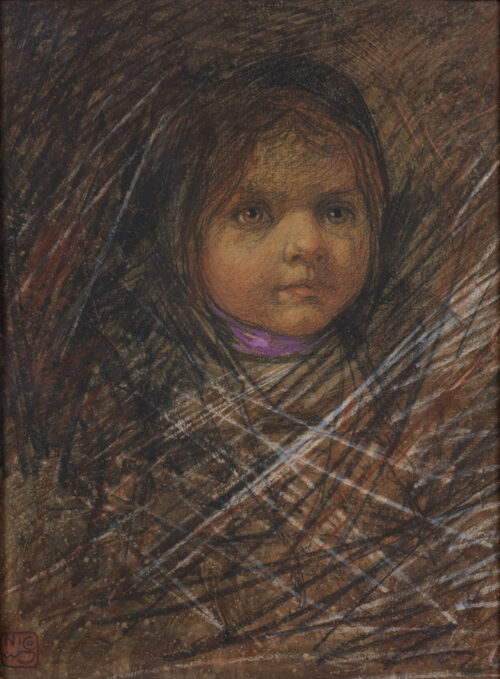 Nico Jungmann  (1872-1935)
Portrait of a young girl
Signed with monogram, and signed again and dated 1901, and inscribed on the reverse
Pastel on paper
42 x 32 cm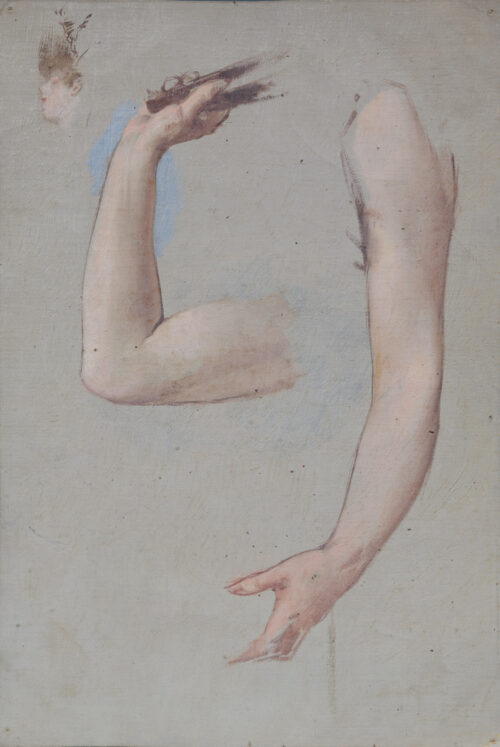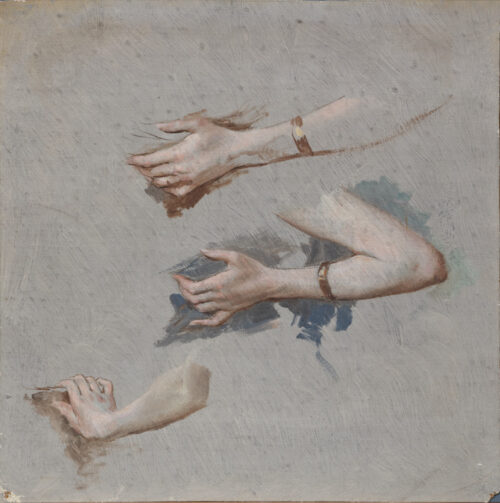 Frederik Hendrik Kaemmerer (1839-1902)
Studies of hands and Arms (2)
Oil on canvas
26 x 17.5 cm and 20 x 22 cm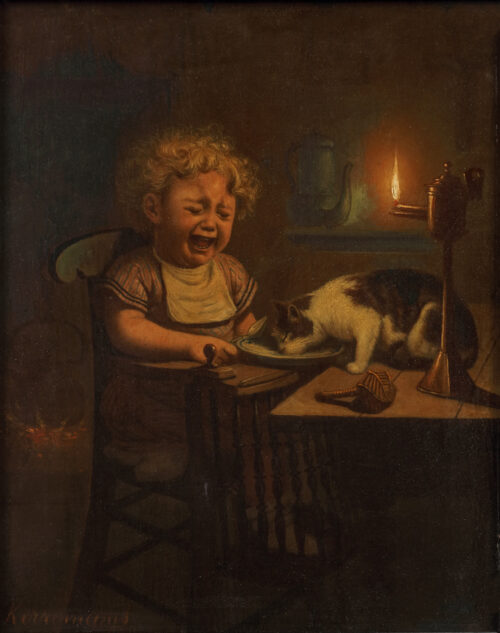 Wilhelmus Jacobus Kerremans (1828-1889)
The disturbed meal
Signed
Oil on panel
29 x 23 cm
The painter was clearly influenced by the master of candlelight scenes Petrus van Schendel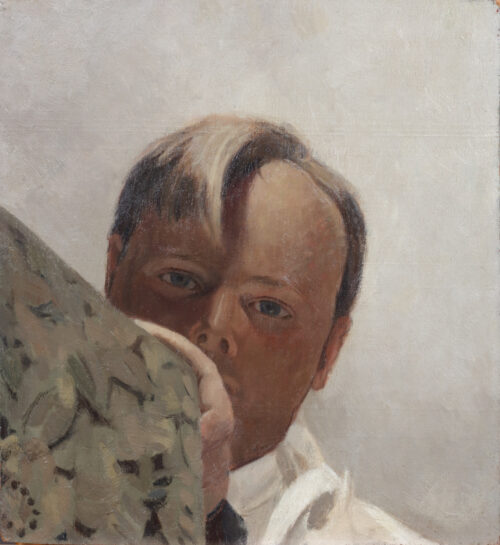 Cornelis Kloos (1895-1976)
Self-portrait as a sculptor holding a lump of clay
Inscribed and dated 1929 on the reverse
Oil on panel
36.5 x 34 cm
Literature: Paul van Dongen, a.o. , Cornelis Kloos, Museum de Wieger, Deurne, 1996, page 26 (illustrated) and page 62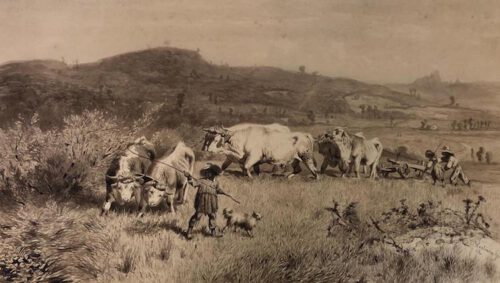 Johan Daniel Koelman (1831-1857)
The harvest
Signed and dated 53 fec.
Pencil and grey wash on paper
27.5 x 47 cm
Literature: cf. J.Knoef, van Romantiek tot Realisme, Den Haag, 1947, pp. 223-232
Exhibited: cf. Kunsthal Rotterdam, de blijvende verlokking, 31 May-31 August 2003, pp. 86-91
The following four works derive directly from the family of the artist
The artist Joop Kropff has been a member of the Art group "Fugare" founded at 26 January 1960 in the Hague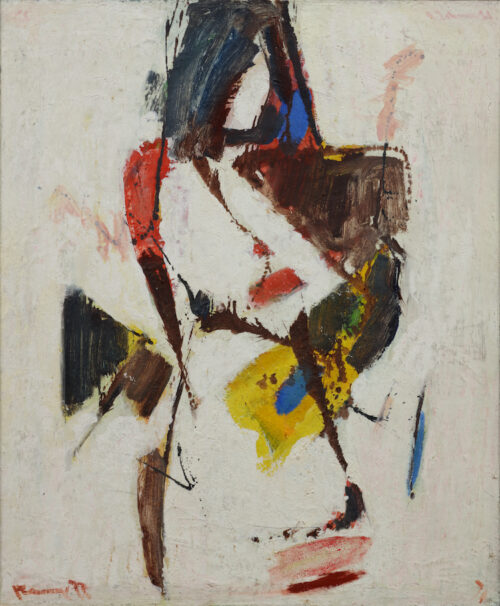 Joop Kropff (1892-1979)
Abstract Composition (Female Figure)
Signed and dated '71, and signed again on the stretcher and inscribed on the reverse
Oil on canvas
61 x 51 cm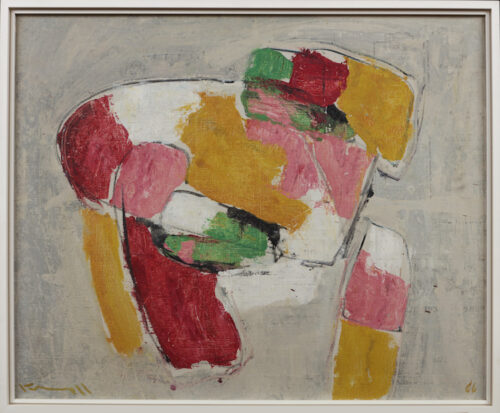 Joop Kropff (1892-1979)

Abstract composition
Signed and dated '66
Oil on canvas
60 x 74 cm
Joop Kropff (1892-1979)
Abstract Composition
Signed and dated '65
Gouache on paper
42.5 x 47.5 cm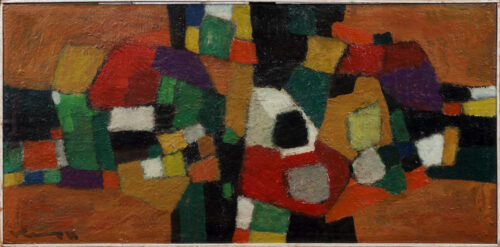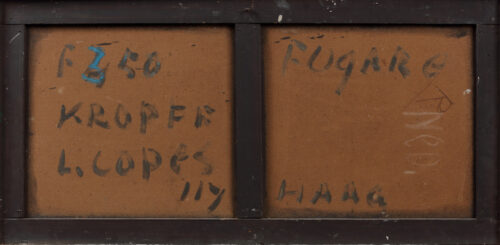 Joop Kropff (1892-1979)
Abstract Composition
Signed and inscribed Fugare on the reverse
Oil on board
44.5 x 92 cm
Fredrik Marinus Kruseman (1816-1882)
A mountainous landscape with a traveller along a river
Signed FM Kruseman fc
Oil on panel
11.5 x 15 cm
To be dated circa 1850
See for comparable (mirror) painting the book on life and work of the artist by van Heteren/de Meere, 1998, cat.no.63, p.173
Leon Leblanc (1828-1900)
A French soldier smoking his pipe and his dog, Crimea
Signed and dated 1856
Patel on canvas
41 x 31.5 cm
Serafino Macchiati (1861-1916)
A self-portrait
Signed with initials
Oil on canvas
14 x 21 cm
To be dated circa 1900
Henri Manguin (1874-1949)
Oysters
Pen and ink on paper
18 x 25.5 cm
With a certificate of authenticity by Lucille Martinais Manguin dated 18 March 1976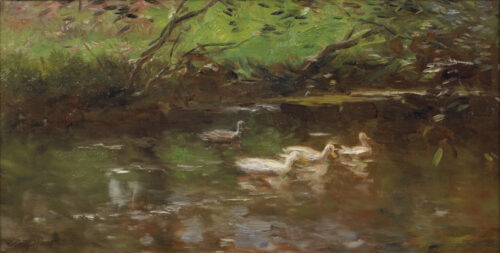 Willem Maris (1844-1910)
Ducks
Signed
Oil on canvas
22.5 x 46 cm
To be dated circa 1890
Provenance: E.J. van Wissselingh & CVo., Amsterdam, inv.no. 8054
Kunsthandel M.L. de Boer, Amsterdam, inv no. 5231
In his works it is not the animals but the light that actually play the leading role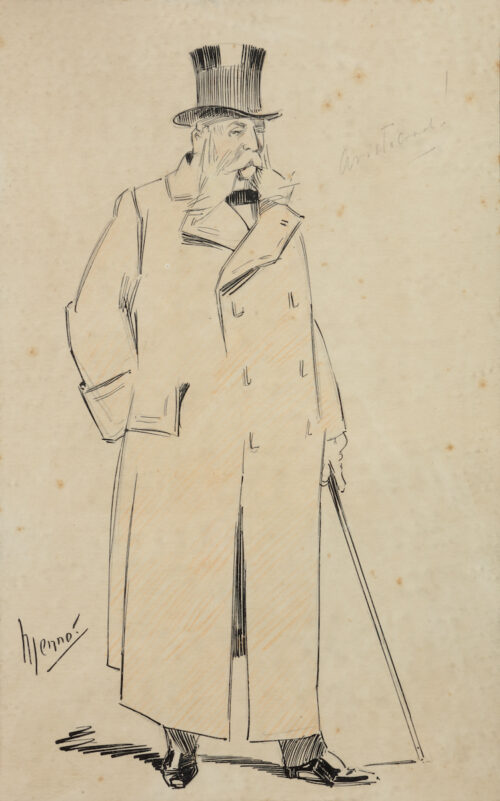 Menno van Meeteren Brouwer (1882-1974)
Aristocrat
Signed and inscribed 'Aristocraat'
Pen and ink on paper
33 x 20.5 cm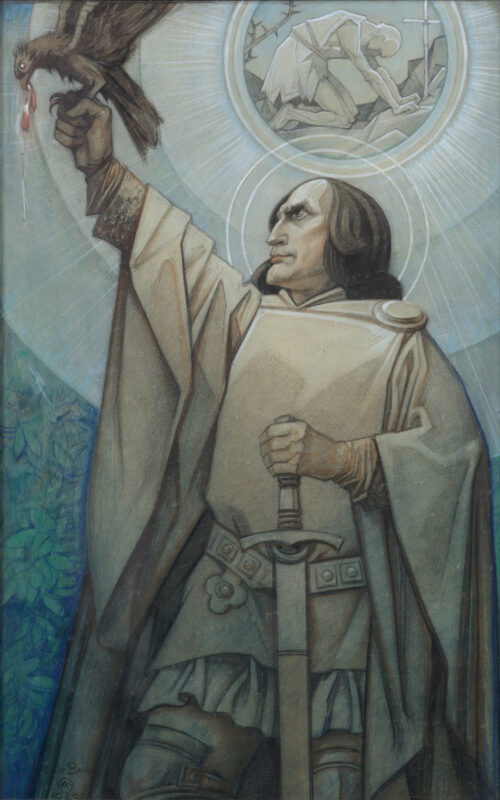 Anton Molkenboer (1872-1960)
Saint Bavo
Signed with monogram and dated 1923
Watercolor and gouache on paper
59 x 37 cm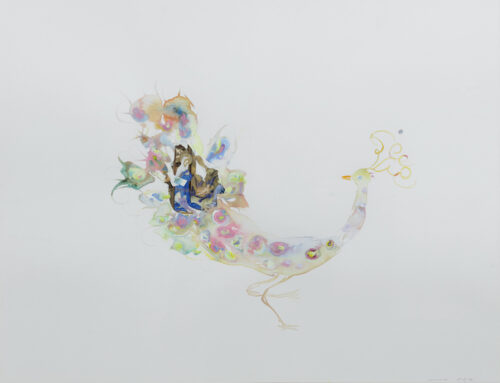 Marc Mulders (born 1958)
Peacock
Signed and dated 090912
Mixed media and collage on paper
50 x 64 cm
Provenance: directly from the artist to the present owner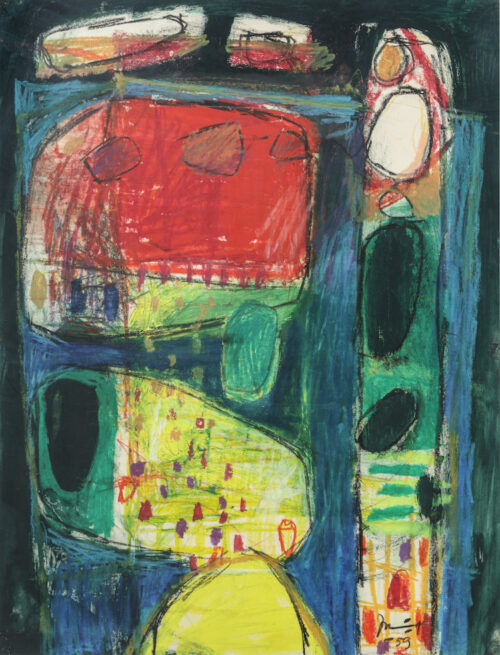 Jaap Nanninga (1904-1962)
Composition
Signed and dated '59
Pastel and mixed media on paper
65 x 50 cm
Provenance: directly from the artist to the present owner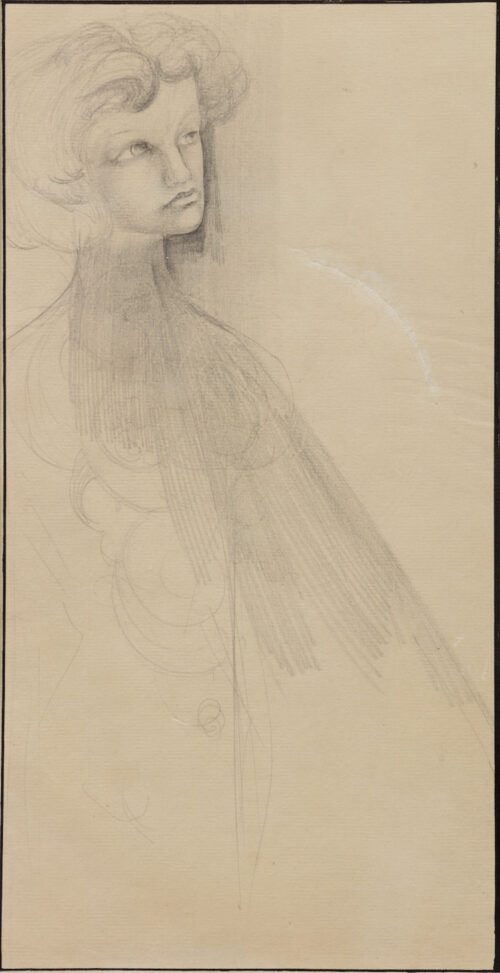 Carel de Neree tot Babberich (1880-1909)
Rodeuse; bird woman
Pencil and East Indian ink on paper
33.5 x 17.5 cm
To be dated 1903
Provenance: directly from the family of the artist
The artist renders here a kind of zoomorphic subject typical for the Symbolist period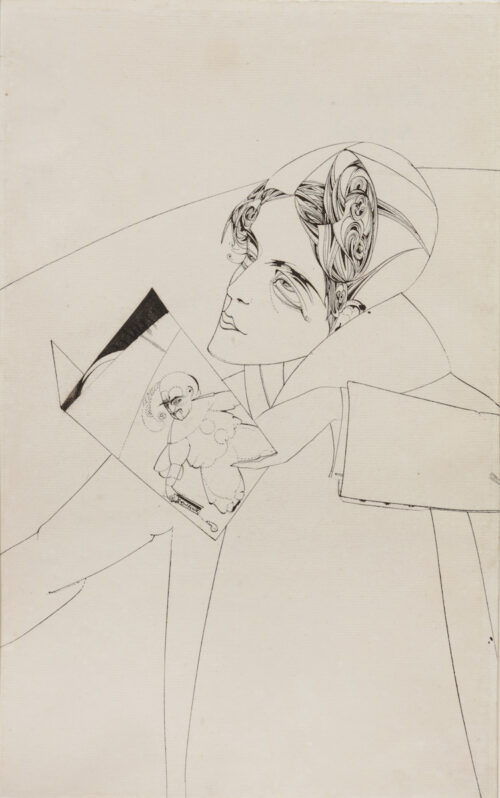 Carel de Neree tot Babberich (1880-1909)
Walden
Titled verso in the artist's handwriting
East Indian ink on paper
35 x 22 cm
To be dated circa 1901
Provenance: Gallery d'Audretsch, the Hague; Karel Citroen, Meentwijck Collection, the Netherlands
Exhibited: Amsterdam, Arti et Amicitiae, de Neree retrospective, 1910, catalogue number A 29
London, Picadilly Gallery,1966, catalogue number 6
Milan and Munich, Gallery Levante, 1970, catalogue number 6
Laren Singer,1974-75, catalogue number 9
Kleve, Haus Museum Koekkoek,1975,catalogue number 14
The Hague, Louis Couperus Museum, 2014-2015
De Neree named these type of drawing so called "book covers"
It must be taken not too literally as it was the general term he used for works inspired by literature
I like to thanks Sander Bink for his help describing this work
Please ask Ubbens Art for his complete text on the drawing
(SOLD)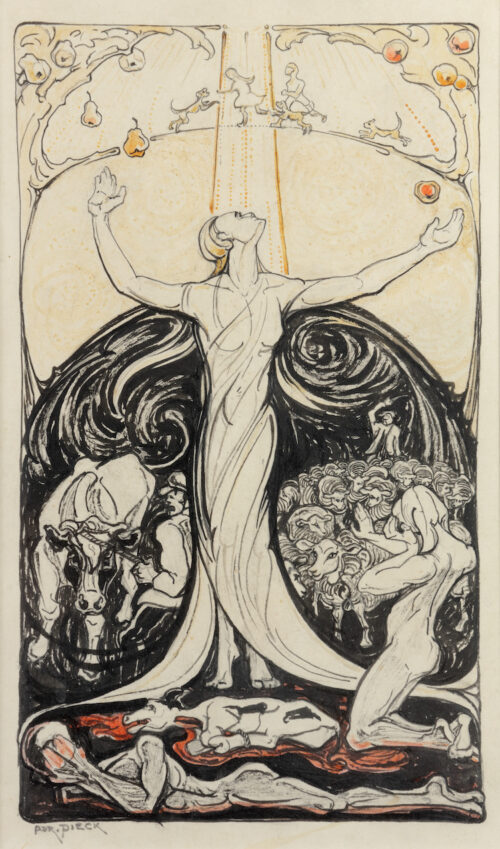 Adri Pieck (1894-1982)
Pomona: Allegory of Vegetarianism
Signed
Pencil, pen and ink, and watercolor on paper
31 x 19 cm
Possibly a design for a poster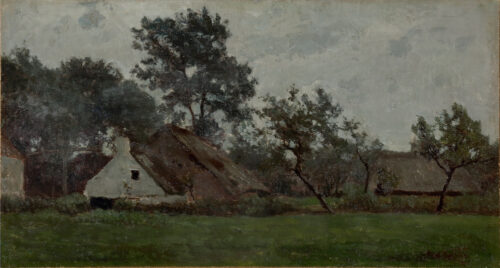 Willem Roelofs (1822-1897)
Boerderijen
Gesigneerd
Olieverf op doek op karton
21.5 x 40 cm
Herkomst: Particuliere verzameling, Utrecht
Henriette Ronner (1821-1909)
Kittens playing
Signed
Oil on panel
33.5 x 44.5 cm
Provenance: Fine Art Society, London
Exhibited: Galerie George Giroux, Brussels, Henriette Ronner, 23-10-1933, number 26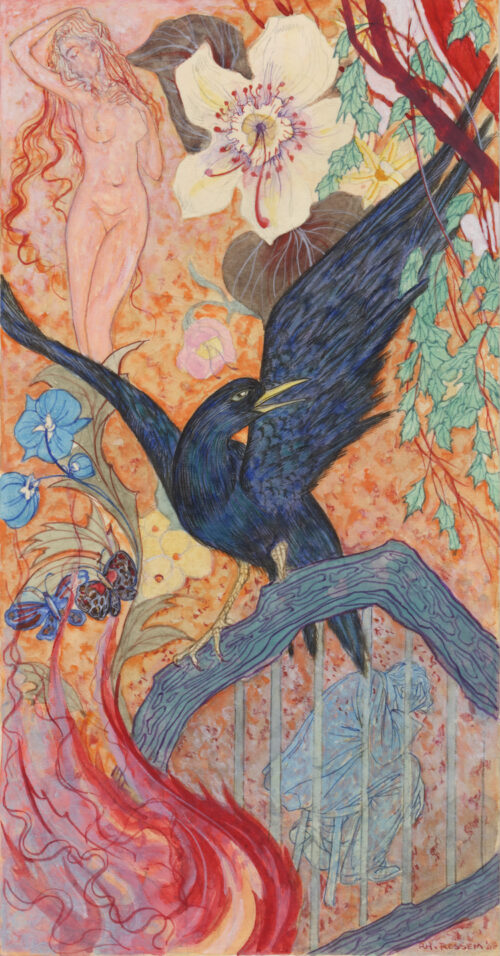 Ru van Rossem (1924-2007)
The bird
Signed and dated  '48
Watercolor on paper
25.5 x 13.5 cm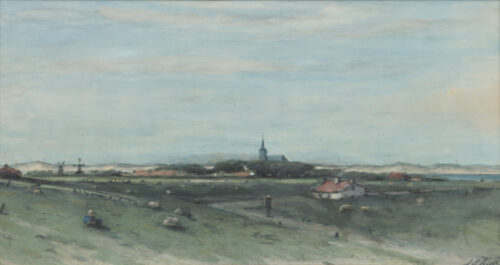 Johan Adolf Rust ( 1828-1915)
Farmhouse of 'Hus',  Scheveningen
Signed
Watercolor on paper
36.5 x 63 cm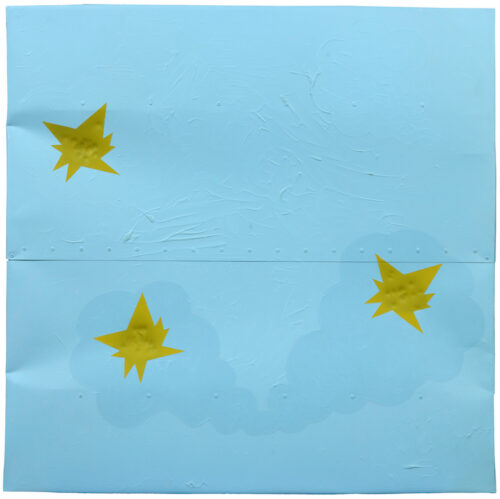 Han Schuil (b.1958)
A dent painting; composition with stars
Signed and dated 96/97 on the reverse
Acrylic on folded aluminium with rivets
86 x 88 cm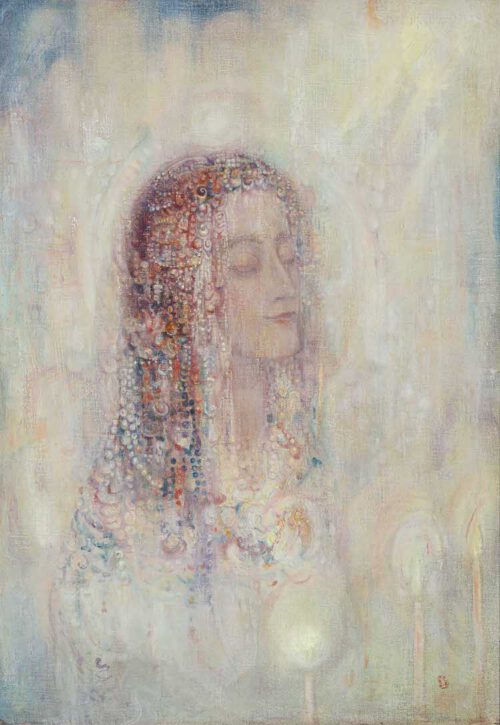 Frans Stamkart (1874-1947)
De bruid
Gesigneerd met initialen rechtsonder
Olieverf op doek
50 x 35 cm
Dit schilderij van Stamkart is een exceptioneel en zeldzaam werk
Een vergelijking met werk van de beroemde Franse symbolist Odilon Redon gaat hier zeker op, zeker in ogenschouw nemend dat zij ooit samen in Utrecht exposeerden
Zowel het Rijksmuseum in Amsterdam (Salome en Danseres uit de collectie van Gerard van Wezel) als het Kunstmuseum te Den Haag (Avondgang) bezitten werk van hem
In de catalogus Kunstenaren der idee; symbolistische tendenzen in Nederland ca. 1880-1930 (Haags Gemeentemuseum 1978) wordt Stamkart uitvoerig opgevoerd tussen tijdgenoten als Toorop, de Neree tot Babberich of Johan Thorn Prikker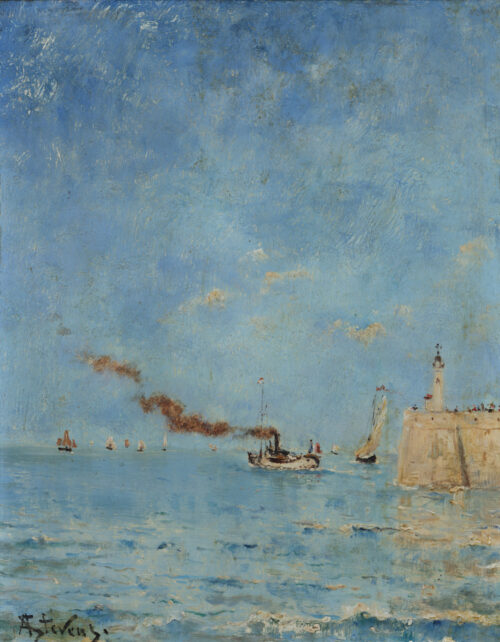 Alfred Stevens (1823-1906)
Treport, Normandy
Signed
Oil on panel
41 x 32.5 cm
From 1881-1883 Stevens summered in the coastal city of Le Havre supported by the annual sum of 50.000 francs from the renowned Parisian art dealer Georg Petit who in return received exclusive rights to sell the seascapes he would paint there
Later, from 1890 onwards the artist left for Normandy, a.o. Treport, only once a year where he until 1902 or so kept on painting seascapes
Stevens was also called 'peintre de l'amour et de la femme'
Pierre Tetar van Elven (1828-1908)
A moment of rest in front of a forge, San Pellegrino Terme, Lombardy Italy
Signed and inscribed San Pellegrino Lombardie
Watercolor on paper
26 x 36 cm
Tetar van Elven, who left for Italy in 1853, became court painter to King Victor Emanuel II (1820-1878) of Italy in 1861
Between 1881-1908 the artist lived in Milan where he also died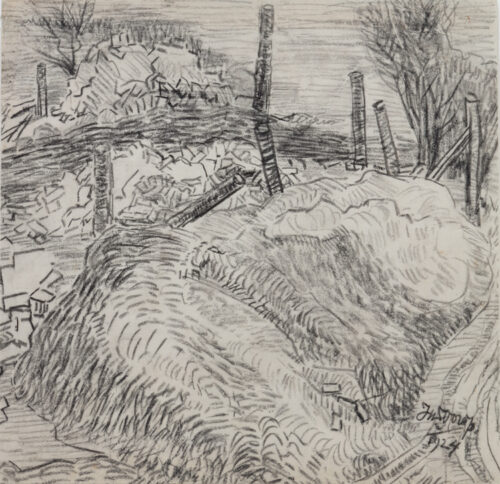 Jan Toorop (1858-1928)
Landscape
Signed and dated 1924
Charcoal on paper
20.5 x 21 cm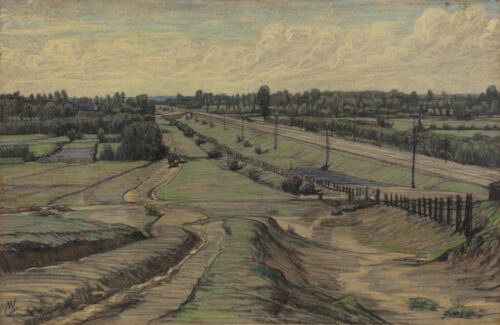 Maurits van der Valk (1857-1935)
A rail track close to Amsterdam
Signed with monogram
Black chalk and pastel on paper
31.5 x 48 cm
Pierre de Vaucleroy (1892-1980)
On board of the passenger ship Elisabethville from Antwerp to Congo
Signed and darted 1926, and signed and dated and annotated Sous l' Equateur on the
reverse
Oil on canvas laid down on board
30 x 40 cm
Literature: Jean Pierre de Rijcke, Pierre de Vaucleroy,1992, p.67
The Belgian artist Pierre de Vaucleroy has been one of the most renowned so-called Africanists of his time (cf. Lynne Thornton, Les Africanistes, 1990, pp.116, 118, 119, 123, 331)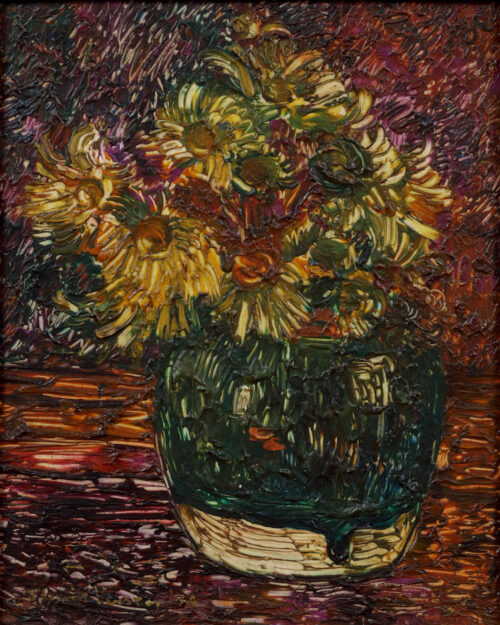 Floris Verster (1861-1927)
Stillife with Doronicum in a ginger jar
Signed and dated 1910
Oil on panel
27 x 22 cm
Provenance: Collection H.Bruckmann-Kroller, the Hague, Kunsthandel G.J. Nieuwenhuizen Segaar, the Hague
Dr.Johan Polak, Amsterdam
Literature: Scherjon/Vogelaar, Floris Verster, 1928-2002/3, p.128, illustration number 188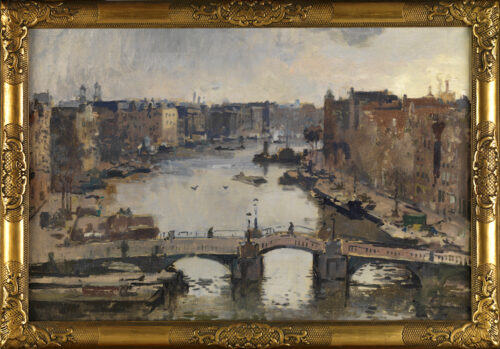 Cornelis Vreedenburgh (1880-1946)
Gezicht op het Rokin, Amsterdam, gezien vanaf de Amstel in noordelijke richting, met de
Doelensluis in de voorgrond en de De Nederlandse Bank aan de Oude Turfmarkt (nu Allard
Pierson Museum) rechts, op een grijze bewolkte ochtend
Gesigneerd rechtsonder C. Vreedenburgh. 1926
Olie op doek
58.5 x 38.5 cm, in de originele vergulde lijst
Herkomst: Van de kunstenaar vererfd binnen de familie aan mevrouw Römer-Rebel, Den Haag; daarna door vererving aan de huidige eigenaar
Dit schilderij valt op door de suggestieve en transparante stijl van schilderen, in een terughoudend maar uitgewogen palet. Daarbij laat Vreedenburgh nadrukkelijk delen van het doek onbeschilderd en gebruikt de grondtoon daarvan in het spel van grijze en roze tinten. Vooral in de voorgrond met de Doelensluis en in de reflecties in het water laat het schilderij de invloed zien van James Abbott McNeill Whistler (1834 - 1903). Rechts is het pand de Oude Turfmarkt 127 te zien waar tot 1968 De Nederlandse Bank gevestigd was en vanaf 1976 het Allard Pierson Museum
Cornelis Vreedenburgh behoort tot een van de geliefdste en succesvolste schilders van zijn tijd. In 1905 ontving hij de Willink van Collenprijs; in 1937 kocht koningin Wilhelmina twee van zijn schilderijen, waarvan een van de Prins Hendrikkade, Amsterdam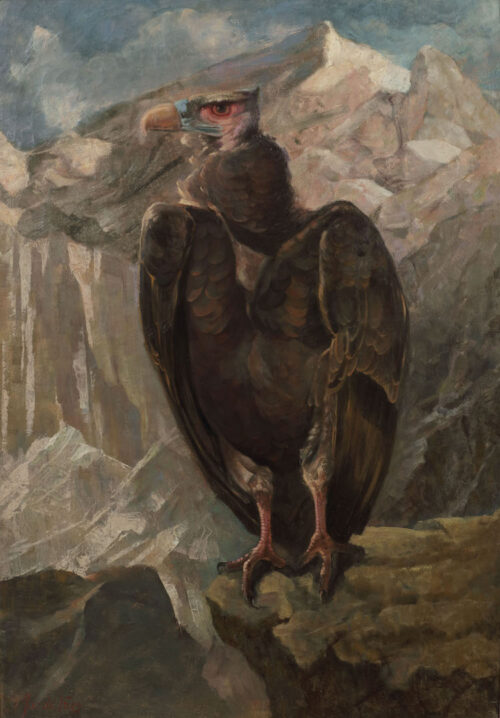 Jacob Sybout 'Jac' de Vries (1907-1970)
Vulture/Californian Condor
Signed
Oil on canvas
100 x 70 cm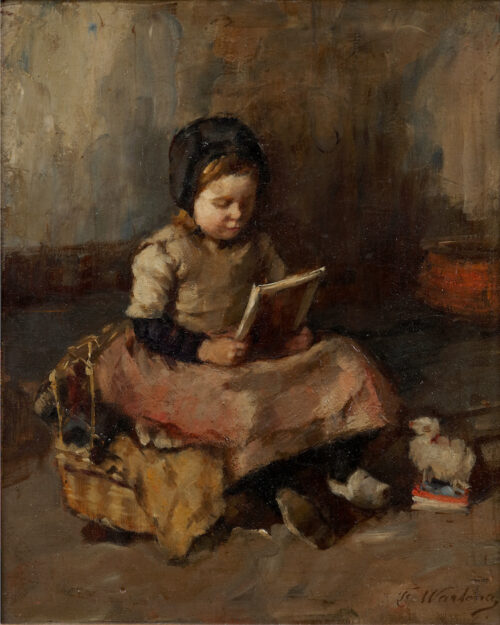 Froukje Wartena (1855-1933)
The little Professor
Signed and signed again with initials and titled on the reverse
Oil on panel
26.5 x 21.5 cm
Jan Hendrik Weissenbruch (1824-1903)
Bomschuiten and a shell fisherman on the Scheveningen beach
Signed
Ink and watercolor on paper
21.5 x 30 cm
Antoon van Welie (1866-1956)
Remembrance (Herinnering)
Signed and dated ft.1902, and inscribed with title
Pastel on paper
45 x 32.5 cm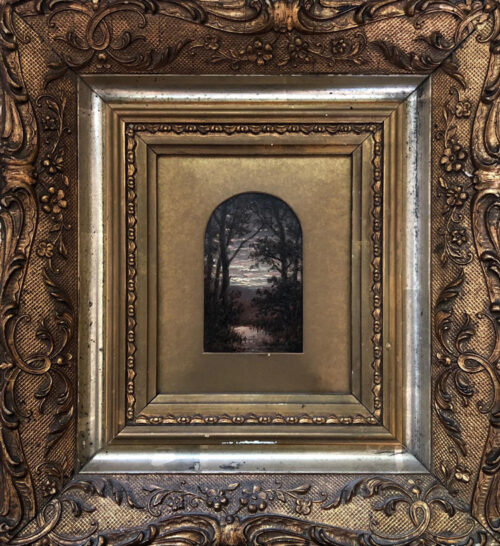 Anthonie Jacobus van Wijngaerdt (1808-1882)
Avondschemering; Twilight
Signed, dated 1880, and inscribed with titel on the reverse
Oil on panel
8 x 5 cm
In an original period frame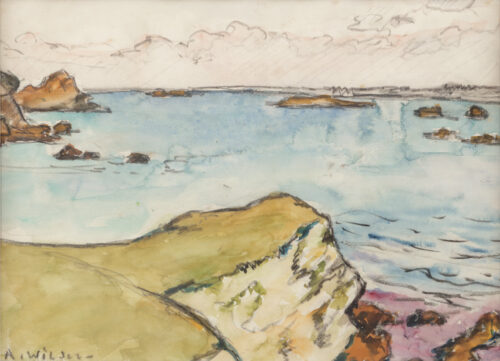 Andre van Wilder (1871-1965)
La pointe de Beg an Aod, vers Quiberon, Bretagne
Signed
Black chalk and watercolor on paper
22.5 x 30 cm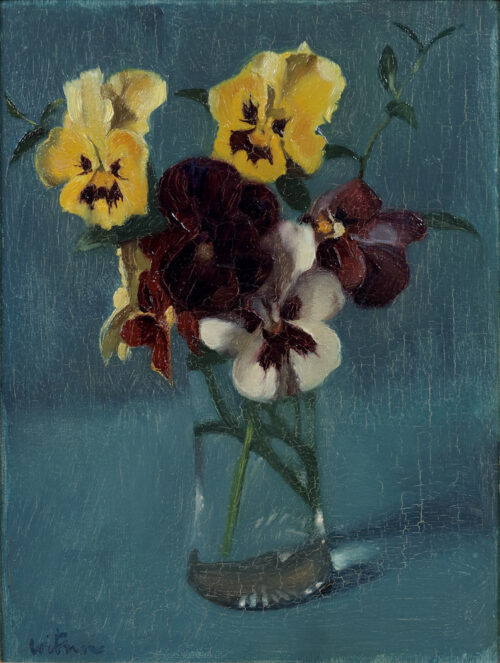 Willem Witsen (1860-1923)
Violets in a vase
Signed
Oil on panel
26 x 19 cm
To be dated circa 1916
(SOLD)