Ivan Grigorievich Antropov (1888-1963)
A sunny winterlandscape with a Russian village
Signed
Oil on canvas
50 x 75 cm
Carl Bertling (1835-1918)
Endymion and Selene or Hermaphrodite and Salmacis
Signed and dated '92
Oil on panel
45 x 33.5 cm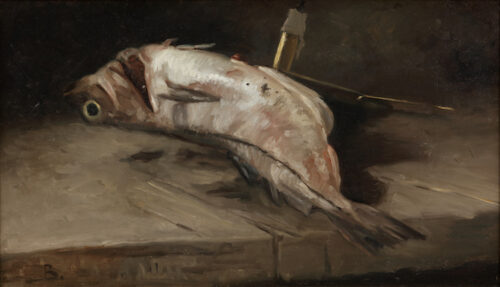 Bernard Johannes Blommers (1845-1915)
Fish
Signed with initial B.
Oil on canvas
35.5 x 59.5 cm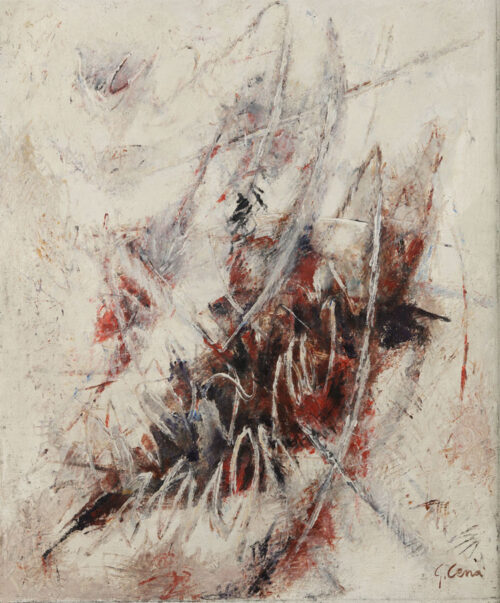 Gabriele Cena (1907-1993)
Roma; abstract composition
Signed, signed again and dated '60, on the reverse
Oil on canvas
73.5 x 60.5 cm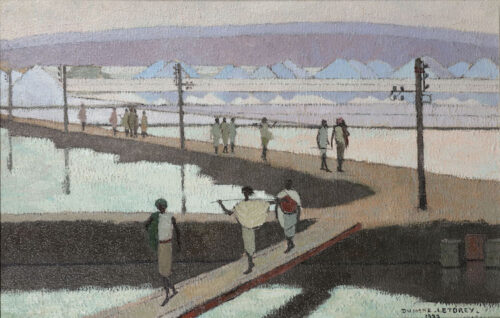 Suzanne Dumond-Letorey (1911-2007)
Saltworks in Djibouti (Lake Assal)
Signed and dated 1939
Oil on canvas
60 x 92.5 cm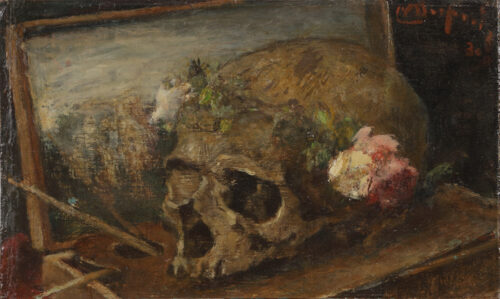 Maurice Dupuis (1882-1959)
Stillife with a painters box and a skull with a rosary
Signed and dated '30
Oil on panel
17.5 x 29.5 cm
The painting is executed in an animistic, introspective, poetical and subtle way:
"the hidden life of things, all-in trouble-free atmosphere"
Jean-Baptiste Henri Durand-Brager (1814-1879)
View of the Bosphorus
Signed and indistinctly dated
Oil on panel
22 x 41 cm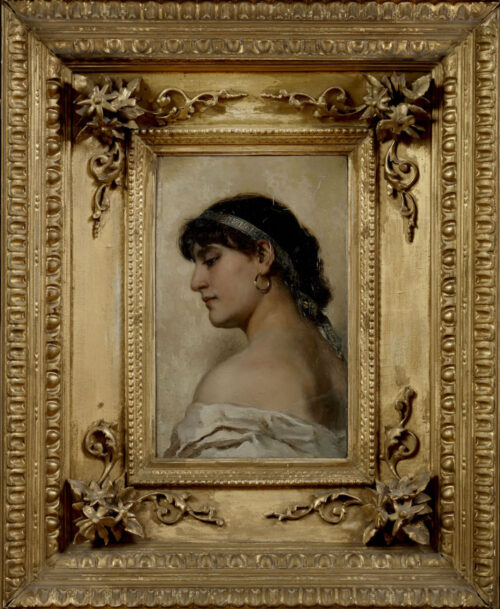 Hermann Effenberger (1842-1911)
Classical Beauty
Signed and dated '84
Oil on panel
33 x 23 cm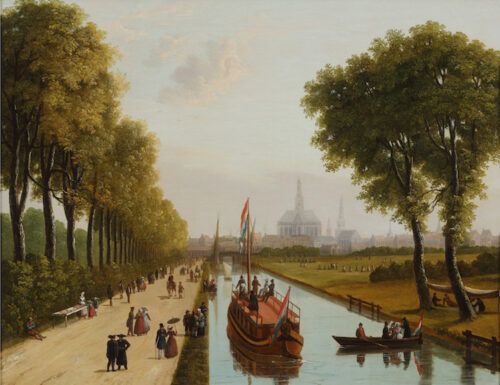 English/Dutch School, circa 1806/7
Strolling along the trekvaart (boat-canal) from Haarlem to Leiden with elegant figures on a draft boat, Haarlem in the distance
Oil on canvas
35.5 x 44.5 cm
Please compare to a print by Sir John Carr (1772-1832) in his 'A tour through Holland… in the summer and autumn of 1806', London, 1807
In the Royal Collection Trust, UK, under RCIN 404496 is another, smaller version with slight differences in composition as Attributed to Johannes van Lexmond which was transferred from St James Palace to Buckingham Palace in 1981
Ferdinand Erfmann (1901-1968)
Village in Batavia, Indonesia
Signed
Oil on canvas
41 x 51 cm
Executed during his short stay in Indonesia in the late 1930's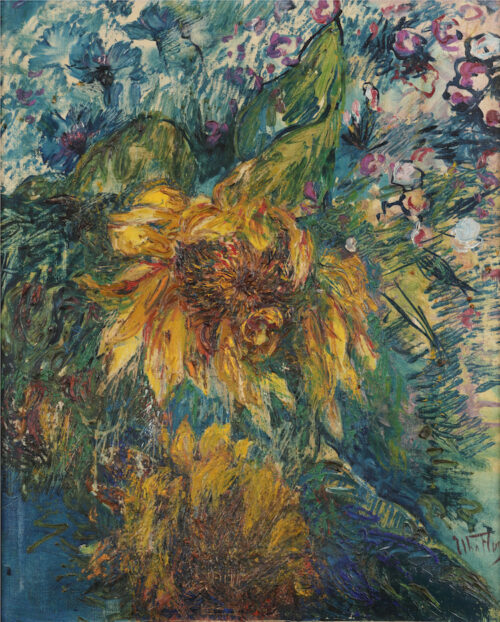 Etha Fles (1857-1948)
Sunflowers
Signed
Oil on canvas
45 x 35 cm
(Sold to Centraal Museum Utrecht)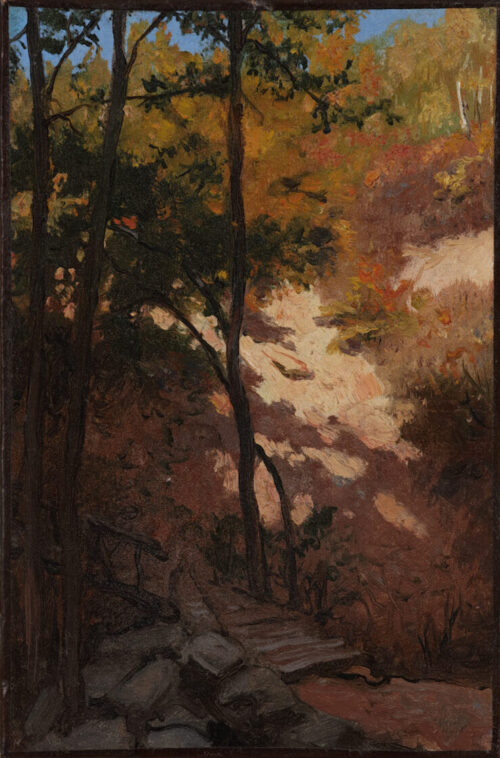 French/German School, second half 19th century
A sunny forest with a little wooden bridge
Oil on paper laid down on canvas
23.5 x 15.5 cm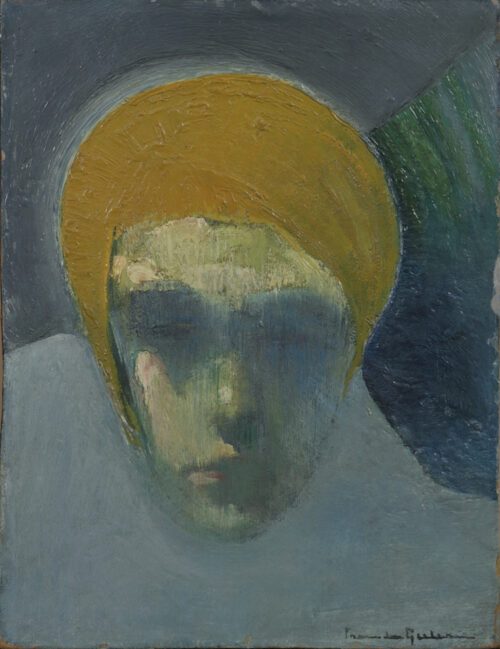 Frans de Geetere (1895-1968)
(self)portrait
Signed, and signed again and dated 8.17 on the reverse
Oil on cardboard
32 x 25 cm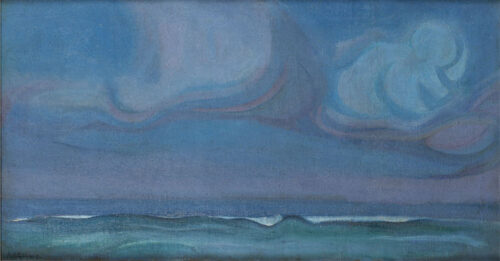 Adriaan Herman Gouwe (1875-1965)
Clouds and waves, the Pacific Ocean,  Tiarei, Tahiti
Signed and dated '26 and titled on the reverse
Oil on canvas
30.5 x 61 cm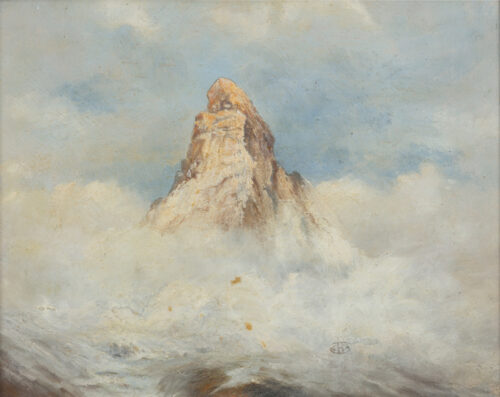 Cecil Arthur Hunt (1873-1965)
The Matterhorn
Signed with studio stamp, and signed again and annotated on the reverse
Oil on cardboard
20.5 x 24.5 cm
(SOLD)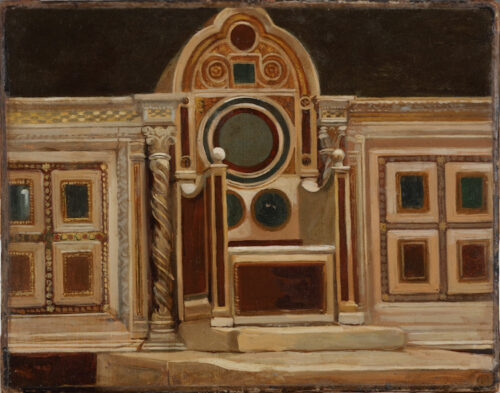 Jean-Baptiste Huysmans (1826-1906)
Interior of the Church of San Lorenzo fuori le Mura
Signed and dated 1856
Oil on canvas
27 x 33.5 cm
In 1856 Huysmans travelled Italy. A year later he published his " Travels in Italy and the Orient. Notes and Impressions"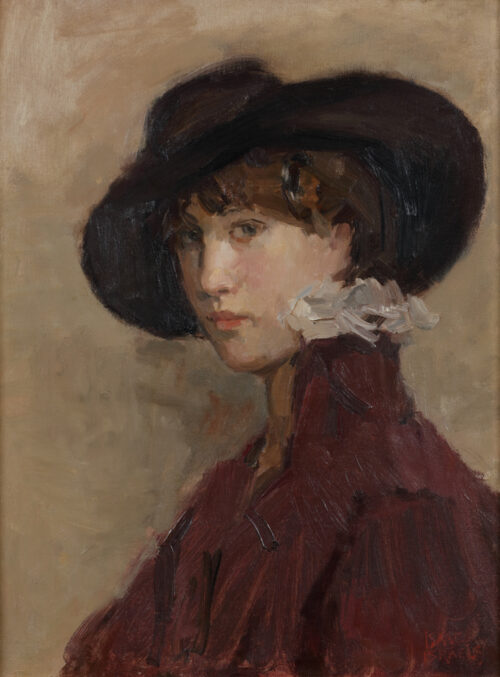 Isaac Israëls (1865-1934)
Portrait of the model Willy Gordeau
Signed
Oil on canvas
60 x 45 cm
To be dated circa 1920's
Provenance: Kunsthandel P.van Voorst van Beest, The Hague, ca. 1991
Literature: Anna Wagner, Isaac Israëls, Venlo, 1985, p.131, illus.168
Jacob Jacobs (1812-1879)
The Caravan
Signed
Oil on panel
20 x 17 cm
Jacobs left Antwerp at the end of May 1838 on a study tour to Egypt and the Middle East. The exhibition of his works on his return, in a country where there were no major Egyptian collections, made a enormous impact. Both a.o. the Belgian and British royal houses purchased his paintings
Antonio Nicolo Gasparo Jacobsen (1850-1921)
Portrait of the Steamship Schiedam
Signed and dated NY 1877, and annotated with his adress 257.8Av.near 23 St.
Oil on canvas
56 x 92 cm
Provenance: directly from one of the founders of the NASM
Literature: Antonio Jacobsen, the checklist, compiled by Harold Sniffen, in association with the Mariners Museum newport news, Virginia, USA, 1984, p.272
In an original frame
The artist, nicknamed "the Aubudon of steam vessels" , got his manuy commission directly from sea captains and/or sealine companies.
The Schiedam was bought by the NASM ( HAL) in 1877. It became one of the first steam-sailing vessels sailing the regular transatlantic route Rotterdam-New York.
The 'Schiedam' would have been in service until 1897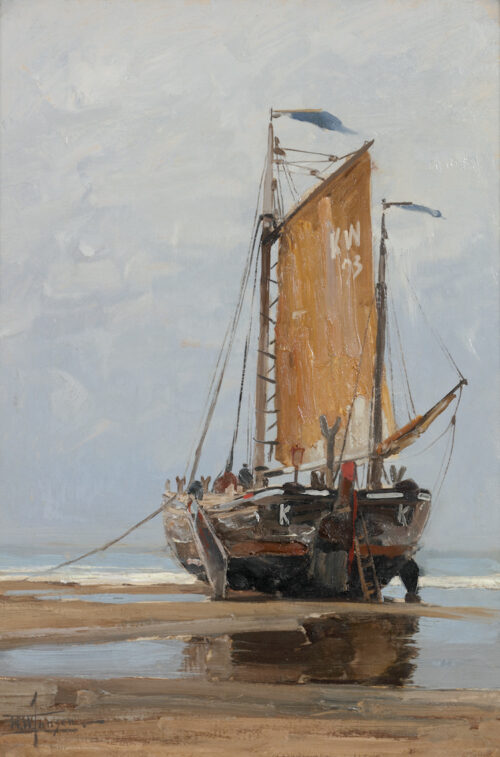 Hendrik Willebrord Jansen (1855-1908)
Bomschuit KW 93 on the Katwijk beach
Signed
Oil on canvas
51 x 41 cm
Eugen Joors (1850-1910)
The Poseur
Signed and dated 1877
Oil on panel
30 x 14 cm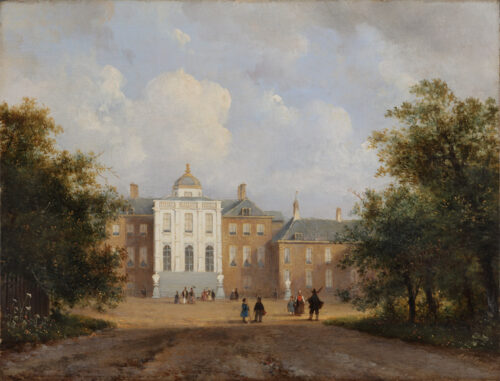 Lodewijk Johannes Kleijn (1817-1897)
Palace Huis ten Bosch, the Hague, with elegant figures strolling
Signed
Oil on panel
25 x 33 cm
Provenance: private collection, Vienna; private collection Paris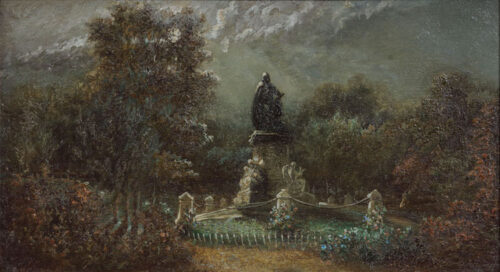 Jan Kuijpers (1819-1892)
Monument to Joost van den Vondel, Vondelparc, Amsterdam
Signed
Oil on panel
18 x 32 cm
Designed by sculptor Louis Royer and executed by Jan Theodre Stracke the revelation of the monument took place on 18 october 1867
Jan Kuijpers lived and worked in Amsterdam between 1878-1885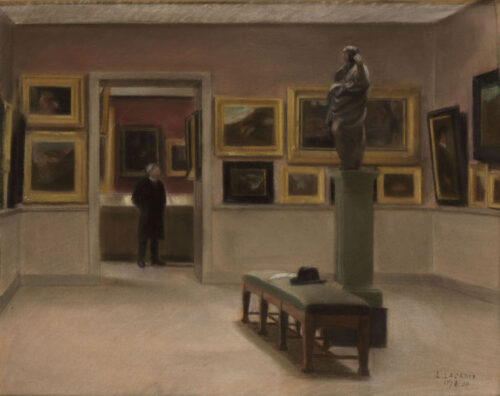 Louise Renee Lacroix (1890-1940)
A museum visit
Signed and dated 15/8/30
Pastel on paper
40 x 50 cm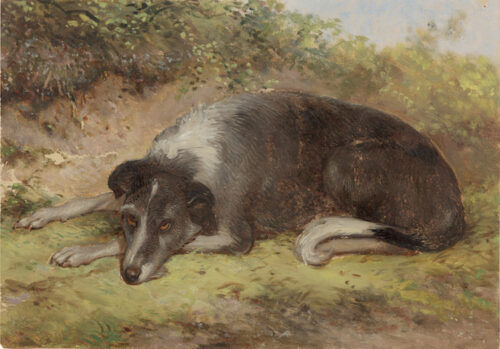 Ary Johannes Lamme (1812-1900)
Dog
Signed with monogram on the reverse
Oil on canvas
19 x 27 cm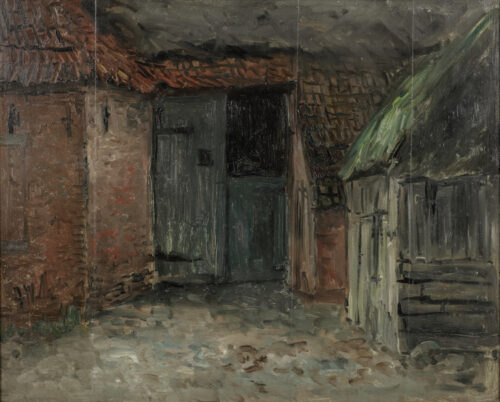 Hendrik Willem Mesdag (1831-1915)
A barn in Drenthe
Signed
Oil on four panels
56 x 77 cm
Literature: cf. Johan Poort, H.W. Mesdag: de schetsen,1994/5, p.107, LS 41.47 (illustrated)
Carl Mons (1890-1947)
Peasant women in Abendmahlstracht, Rollhausen, Hessen (Germany)
Signed and dated 1922
Oil on panel
79 x 69 cm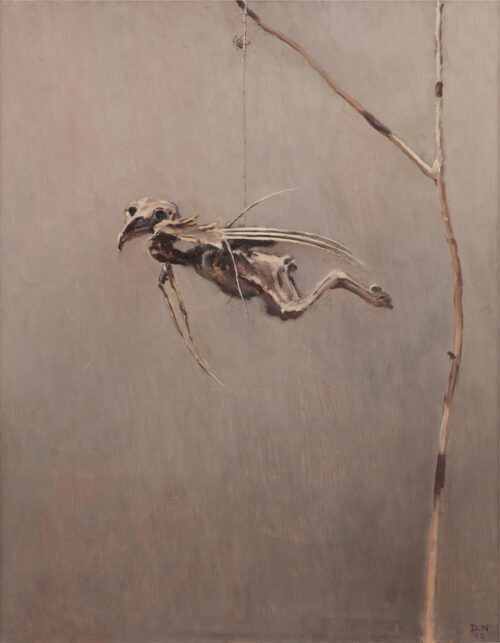 Dirk Nijland (1881-1953)
Hanging bird skeleton
Signed with initials and dated '42
Oil on canvas
65 x 51 cm
Provenance: Ir. J.A. Alma, Utrecht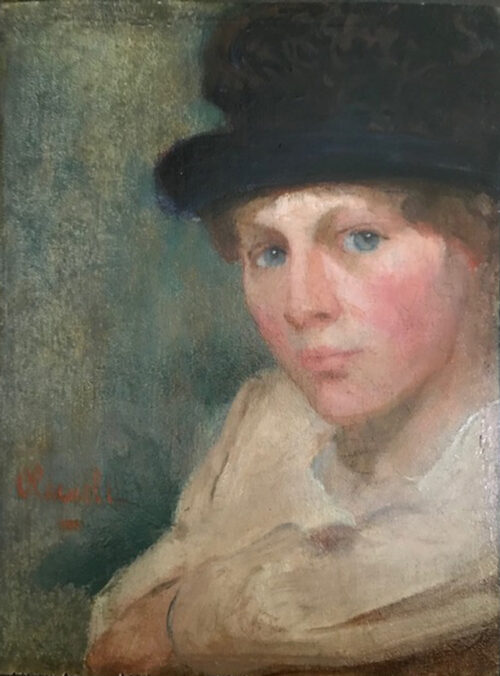 Ferdinand Gustaaf Willem Oldewelt (1857-1935)
Idle thoughts
Signed
Oil on panel
24 x 18 cm
To be dated circa 1900
The artist, before he became Director of the Groningen Art Academy Minerva and teacher at the Rotterdam Academy, was trained by both first Allebe in Amsterdam and later by Karel Verlat in Antwerp. At a older age Oldewelt settled in Laren
His works are a.o. in Singer Laren, Museum Boymans van Beuningen, Rotterdam and in the collection of the Stedelijk Museum, Amsterdam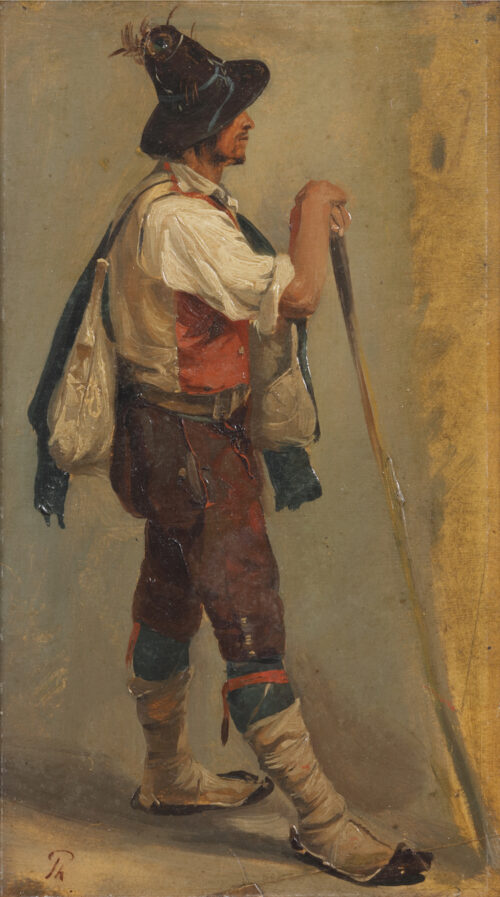 Carel Frans Phillippeau (1825-1897)
A herdsman from Campania, Italy
Signed with initial
Oil on paper on panel
30 x 17 cm
To be dated circa 1865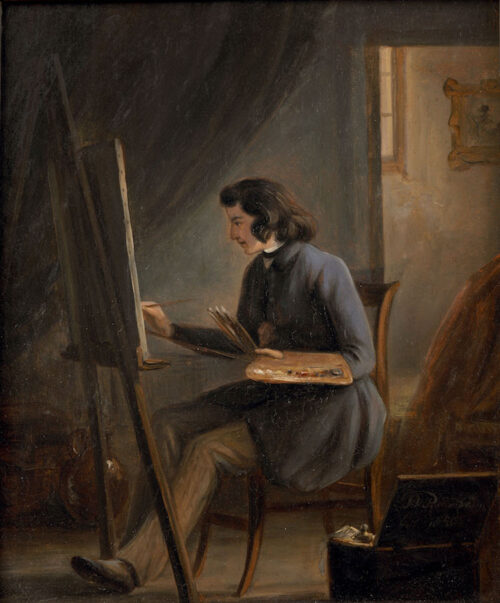 Jan Van Ravenswaay (1789-1869)
The painter C.J.Bolt (1823-1879) in his studio
Signed and dated 1850
Oil on panel
27.5 x 22.5 cm
From a private collection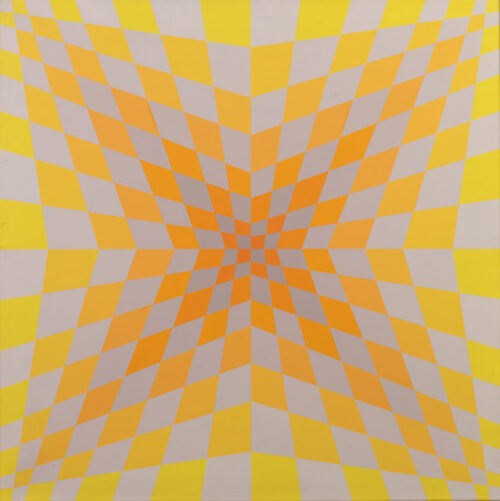 Piero Risari (1926-1986)
Geometric abstract composition
Signed, dated and annotated Amsterdam '74 opus 117 on the reverse
Acrylic on canvas
80 x 80 cm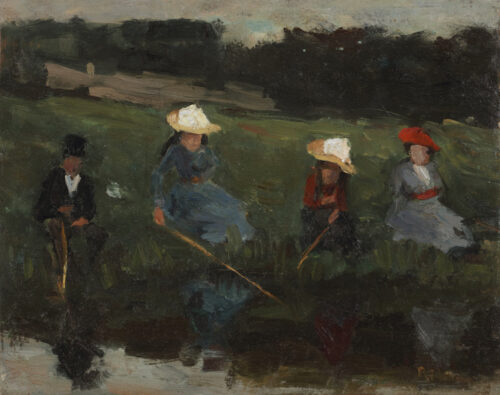 Jacob Ritsema (1869-1943)
The little anglers
Signed, with title on a label on the reverse
Oil on canvas laid down on panel
27.5 x 34.5 cm
To be dated circa 1900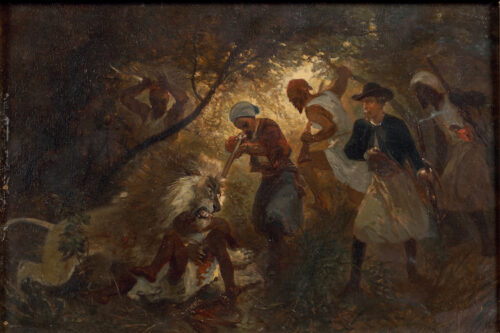 Charles Rochussen (1814-1894)
Lion attack
Signed with monogram and dated '58
Oil on panel
23.5 x 34 cm
In an original frame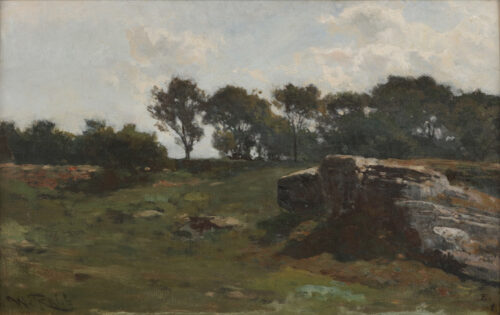 Willem Roelofs (1822-1897)
Beaufort pres Diekirch Duche de Luxembourg
Signed and inscribed with title on the reverse
Oil on canvas laid down on panel
26.5 x 41 cm
Literature: Marjan van Heteren and Robert-Jan te Rijdt, Willem Roelofs; de adem der natuur, 2006, p.42 ( illustrated) and cf. p.100, cat.no.7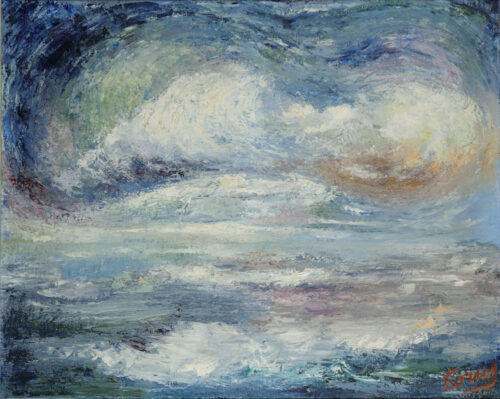 Dorus Roovers (1897-1953)
Symphony in Blue
Signed, signed again and titled on an old label on the stretcher
Oil on canvas
85 x 100 cm
Probably painted 1939-1940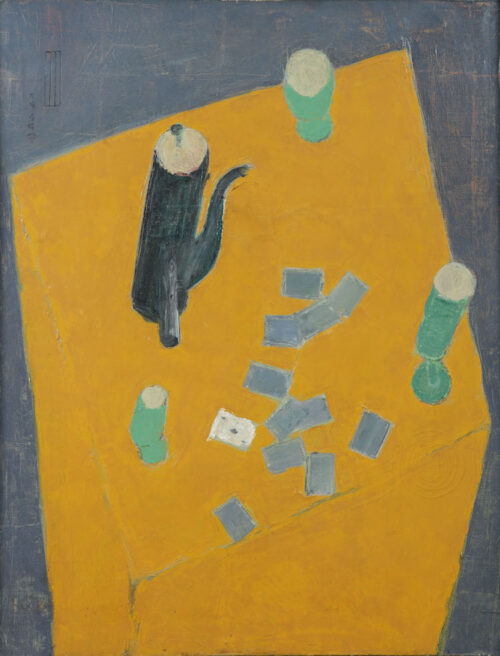 Kiba Takanobu (fl. second half of the 20th century)
Stillife with a jug and playing cards on a table
Signed and signed again and dated 1965 on the reverse
Oil on canvas
90 x 73 cm
Exhibited: Salon des Independants, Paris, 1966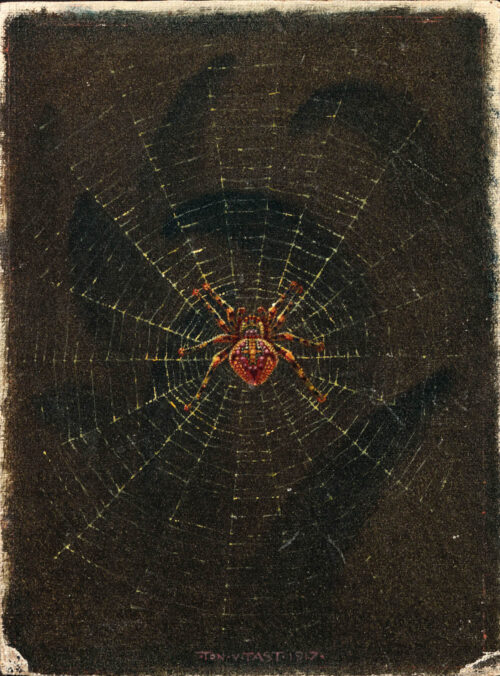 Ton van Tast (Anton van der Valk, 1884-1975)
A spider
Signed and dated 1917
Oil on canvas laid down on panel
17.5 x 13 cm
Willem Bastiaan Tholen (1860-1931)
Snow fun: the Nieuwe Scheveningseweg, the Hague
Signed
Oil on canvas
73.5 x 103 cm
Provenance: Huinck and Scherjon, Amsterdam, inv. No. 1781
The Meentwijck Collection
Exhibited: Leiden, Museum de Lakenhal, Forty Winterlandscapes, January 1951, no. 23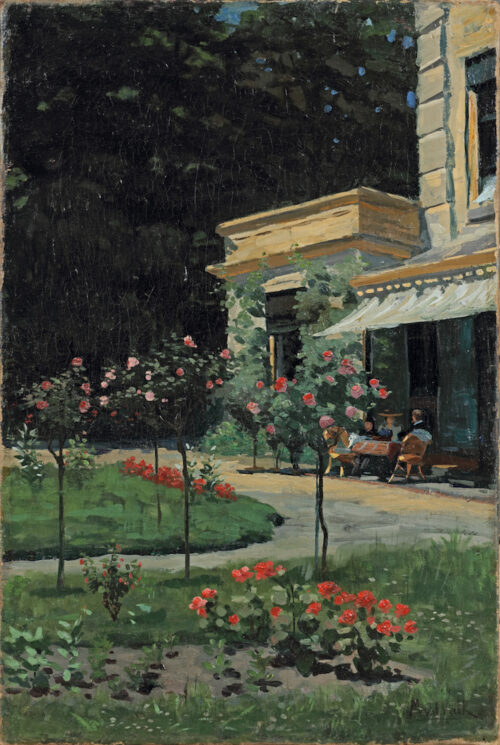 Maurits van der Valk (1857-1935)
In the garden
Signed
Oil on canvas
55 x 40 cm
A very comparable painting titled and illustrated "in den tuin " is published in: Jan Kalff, Elsevier Geillustreerd Maandschrift, jaargang 17, deel 23, 1907, pp 79-80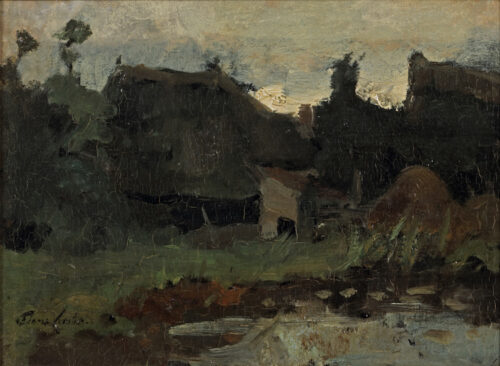 Floris Verster (1861-1923)
Farm in a landscape
Signed
Oil on canvas laid down on panel
26 x 38 cm
Provenance: M. Verster-Bosch Reitz, Heemstede
Literature: Scherjon and Vogelaar cat no. 22, p.111
Exhibited: Leiden, Museum de Lakenhal, Floris Verster, 25 October 2002 - 3 March 2003, cat no.6
To be dated 1885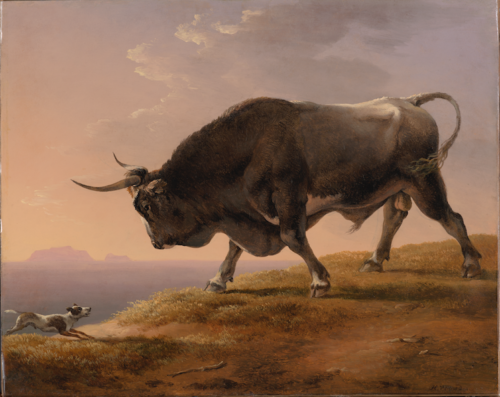 Hendrik Voogd (1768-1839)
A Bull and a Dog in a Italianate Landscape
Signed
Oil on canvas
46 x 36.5 cm
Provenance: Possibly from the collection of Princes Marianne van Oranje (1810-1883), who was an admirer of the artist; private collection, Germany
A very comparable but larger painting is in the collection of the Museum Booijmans van Beuningen, Rotterdam. A preliminary drawing for this oil is in the Prentenkabinet Leiden, and a pencil drawing can be found in the Pushkin Museum, Moscow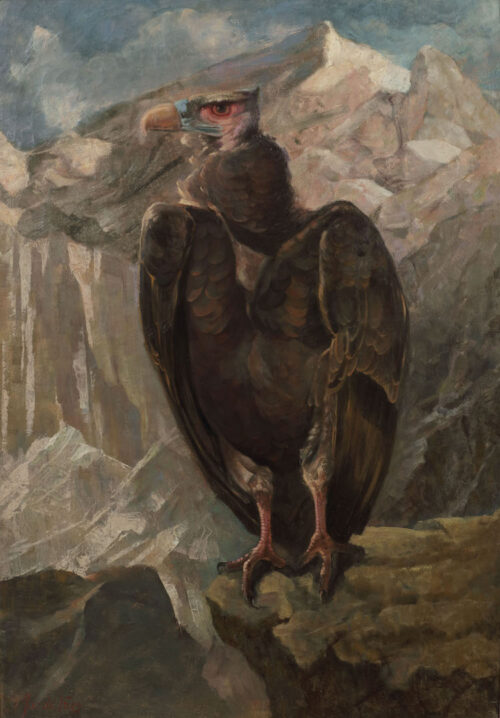 Jacob Sybout 'Jac' de Vries (1907-1970)
Vulture/Californian Condor
Signed
Oil on canvas
100 x 70 cm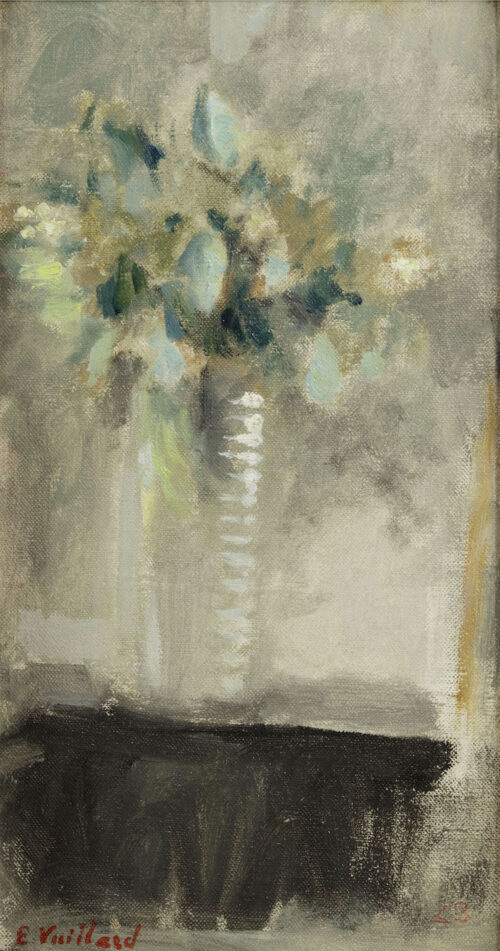 Eduard Vuillard (1868-1940)
Bouquet
Stamped E. Vuillard, and dated '23
Oil on canvas laid down on plywood
26 x 14 cm
Provenance:
Artist's studio, 1940
Sam and Marina Salz, New York
Kunsthandel E.J. van Wisselingh and Co., Amsterdam, inv.no. S 8930, 1978
Private Collection the Netherlands
Literature:
Antoine Salomon and Guy Cogeval, Vuillard, critical catalogue of paintings and pastels, Vol.III, Chapter XI, the hedonist and psychologist, p.1370 ( illustrated) ( 1918-1928), Milan, 2003
Nicolaas van der Waay (1855-1936)
Summer evening at the Tolhuis terrace, Amsterdam
Signed
Oil on canvas
66 x 105 cm
Circa 1890-91
We like to thank Dr Norbert Middelkoop, curator Amsterdam Museum, for his help in cataloguing this work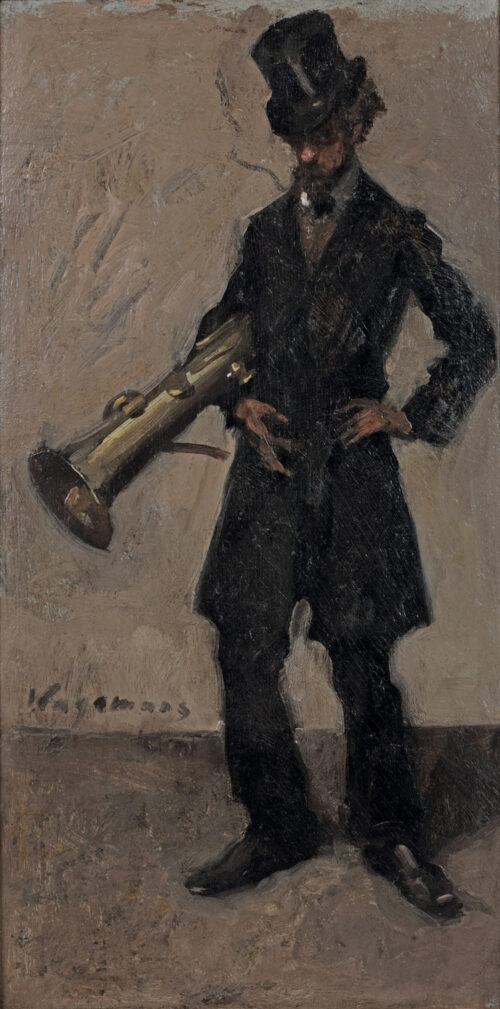 Maurice Wagemans (1877-1927)
The painter Victor Simonin holding an ophicleide (bastuba)
Signed
Oil on panel
65.5 x 34 cm
Exhibited: Elsene (Ixelles), Cercle royale, artistique et literaire, Retrospective Victor Simonin, 14 October - 2 November 1948, no. 122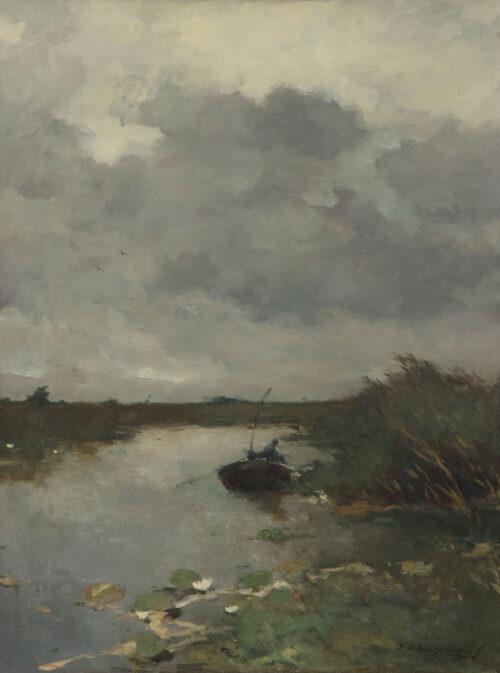 Johannes Hendrik Weissenbruch (1824-1903)
A Dutch Polderlandscape with a fisherman in a rowingboat
Signed
Oil on canvas
85 x 65 cm
Provenance:
Van Voorst van Beest Gallery, the Hague
Literature:
Willem Laanstra, Johan Hendrik Weissenbruch, 1992, O/90-1, p.130-131
Exhibited: Rijksmuseum Amsterdam, Langs velden en wegen; de verbeelding van het landschap in de 18de en 19de eeuw, 28 November 1997-3 Maart 1998, p.326-327, cat. no. 101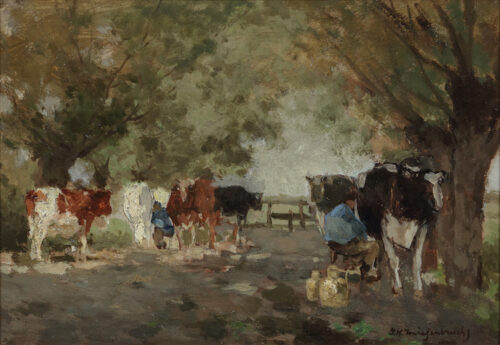 Johannes Hendrik Weissenbruch (1824-1903)
Milking time
Signed
Oil on canvas laid down on panel
21 x 30 cm
Isabel Weathersby (1900-1986)
African Madonna
Signed
Oil on cardboard
30.5 x 23 cm
The artist is from Little Rock, Arkansas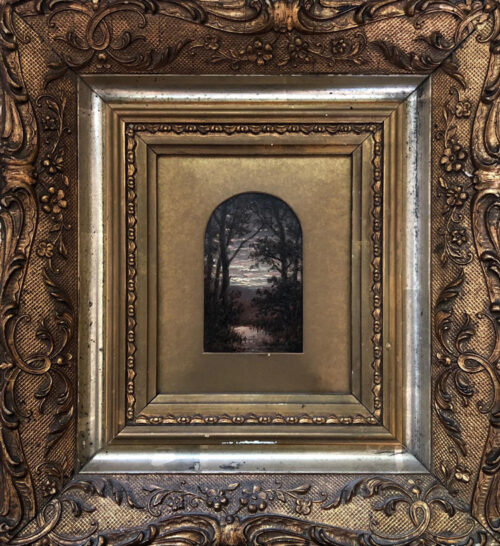 Anthonie Jacobus van Wijngaerdt (1808-1882)
Avondschemering; Twilight
Signed, dated 1880, and inscribed with titel on the reverse
Oil on panel
8 x 5 cm
In an original period frame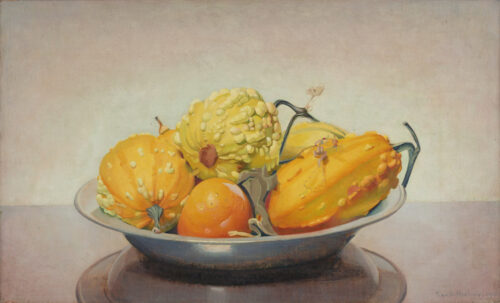 Jan Wittenberg (1886-1963)
Gourds and pumpkins
Signed and dated 1918
Oil on canvas
30 x 45 cm
Hendrik Jan Wolter (1873-1952)
Ships in the harbour of Polperro, United Kingdom
Indistinctly signed (lower right)
Oil on canvas
102 x 126.5 cm
Painted in 1932