Selling Exhibition Paintings and Works on paper 1800-1960
From 18 September To 4 October 2020
By appointment only
Ivan Grigorievich Antropov (1888-1963)
A sunny winterlandscape with a Russian village
Signed
Oil on canvas
50 x 75 cm
(SOLD)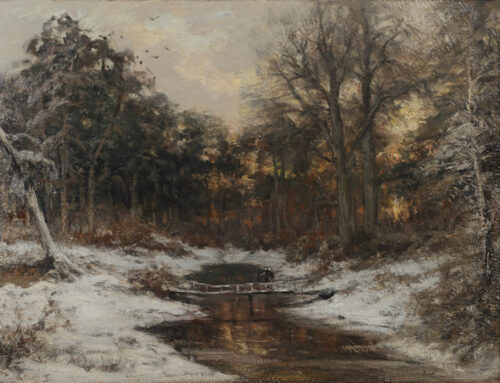 Louis Apol (1850-1936)
A winterlandscape with figures on a little bridge
Signed
Oil on canvas
70 x 100 cm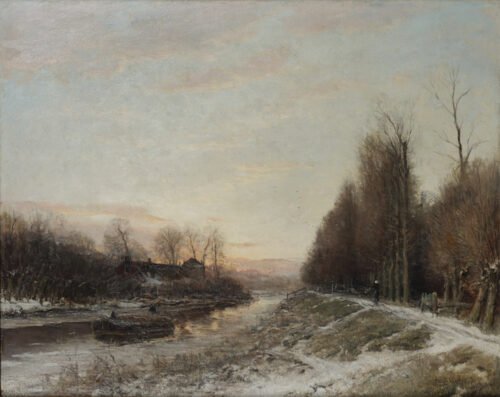 Louis Apol (1850-1936)
Winter landscape with snowy forest path along canal
Signed
Oil on canvas
70 x 90 cm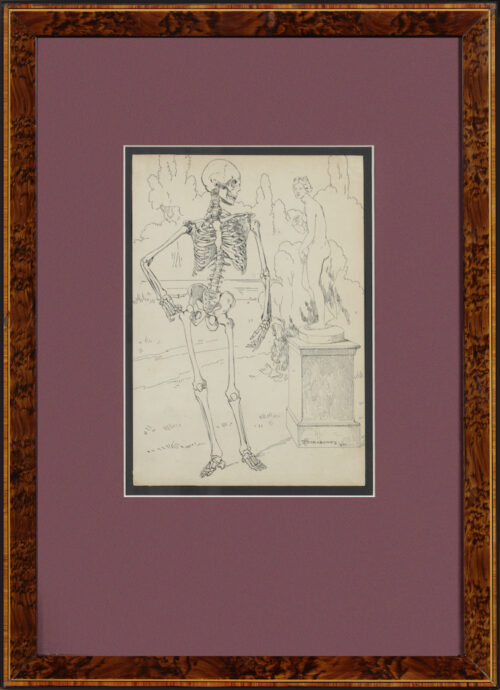 Richard Barabandy (1849-1915)
Death and the Maiden
Signed and dated 1891
Pen and ink on paper
27.5 x 20.5 cm
(SOLD)
Jules Bastien-Lepage (1848-1884)
Portrait of the painter Carolus-Duran
Signed with initials, and inscribed
Pen and ink on paper
27 x 18.5 cm
(SOLD)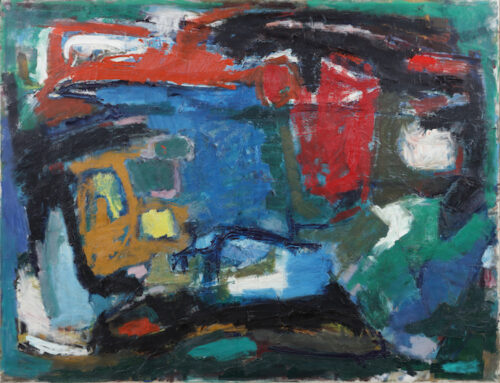 Jan Battermann (1909-1999)
Abstract composition
Signed twice and dated '60
Oil on canvas
80 x 105 cm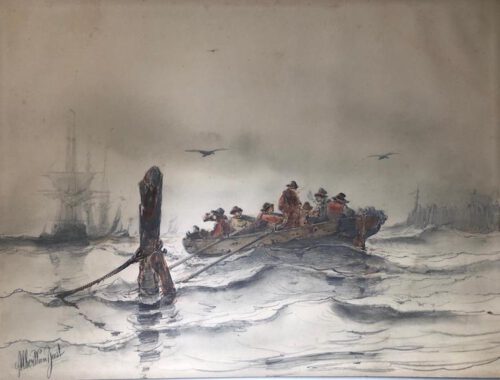 Albertus van Beest (1820-1860)
The rowing boat
Signed
Pencil, pen and ink and watercolour on paper
38 x 51 cm
Albertus van Beest was a traveller-painter and his journeys, in 1843-45 mostly in companion with Price Hendrik van Oranje-Nassau, took him to destinations like Iceland, Marocco and South-America
In 1845 he left for New York where he, a heavy drinker, died young
(SOLD)
Carl Bertling (1835-1918)
Endymion and Selene or Hermaphrodite and Salmacis
Signed and dated '92
Oil on panel
45 x 33.5 cm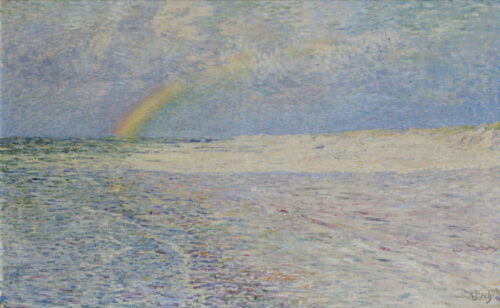 Anna Boch (1848-1936)
The Rainbow
Signed
Oil on canvas
50 x 80 cm
(SOLD)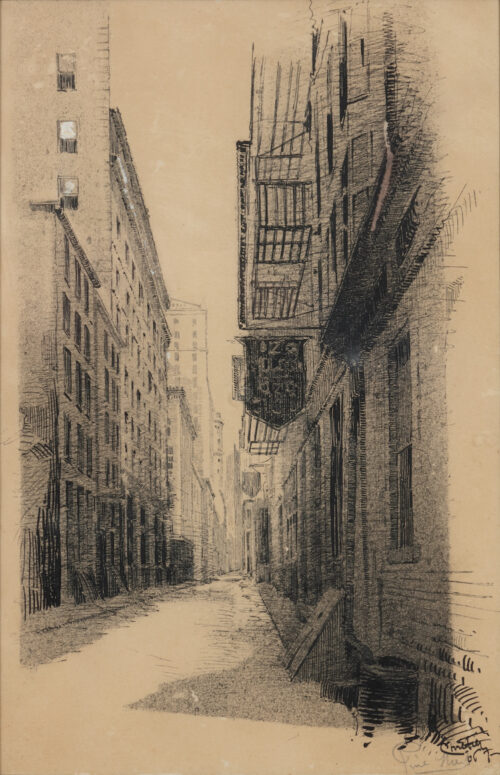 Sigisbert Chretien (Gijs) Bosch Reitz (1860-1938)
Pine Street, New York
Signed, dated and inscribed Chretien '06
Pencil, pen and ink and heigthened with white on paper
27.5 x 18 cm
The artist travelled the world and frequented New York a regular basis
From 1915 to 1927 he became curator of Far Eastern Art of the Metropolitain Museum in New York
(SOLD)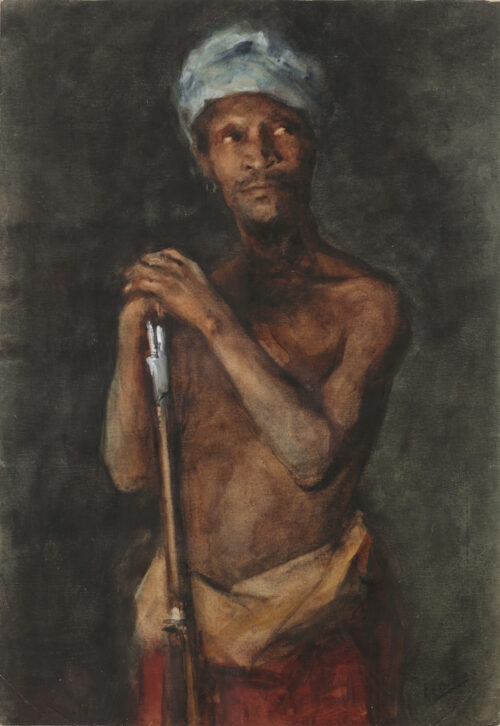 George Hendrik Breitner (1857-1923)
Adolph Boutar holding a rifle
Signed
Watercolour on paper
46.5 x 32 cm
To be dated 1883
Literature: P.H. Hefting, G.H. Breitner in zijn Haagse tijd, 1970, no. 147
Cf. Ruth Koelana Krul, "Adolphe Louis Edouard Boutard", in: exhibition Breitner vs Israels; vrienden en rivalen, Kunstmuseum the Hague, 1 February-10 May 2020, catalogue pp.196-197
(SOLD)
George Hendrik Breitner (1857-1923)
Head of a horse
Signed and with initials
Oil on paper on panel
33.5 x 25.5 cm
Provenance: Collection Axel P. Nielsen, Amsterdam
Exhibited: Amsterdam, Arti et Amicitiae, G.H.Breitner, november 1901-januari 1902
Brussel, Palais des Beaux-Arts, januari,1932, no 29
(SOLD)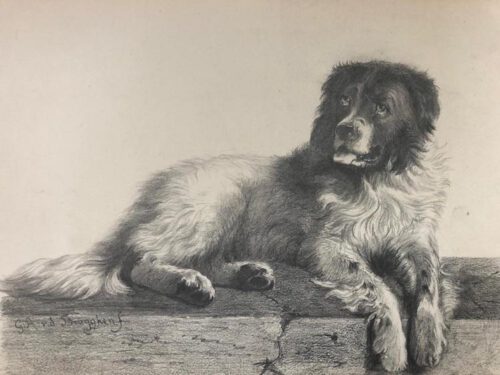 Guillaume Anne van der Brugghen (1811-1891)
A New Foundland dog
Signed
Pencil on paper
20 x 28 cm
Compare with a large oil of almost the same subject by Sir Edwin Landseer from 1838 in the Tate Britain, London
Siebe Johannes ten Cate (1858-1908)
View of river Thames, Londen
Signed and dated Londres 1891
Oil on canvas
45 x 85 cm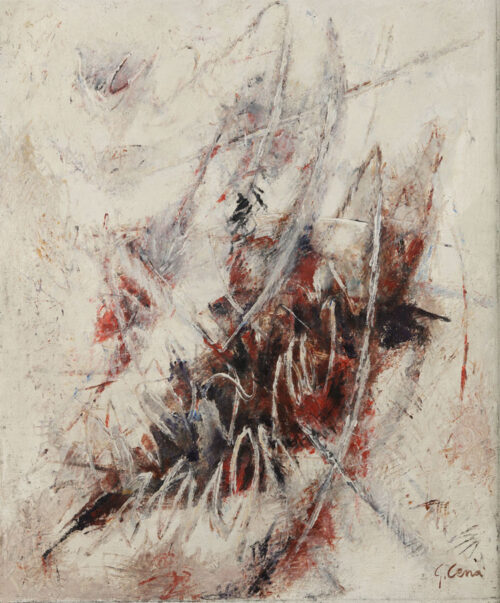 Gabriele Cena (1907-1993)
Roma; abstract composition
Signed, signed again and dated '60, on the reverse
Oil on canvas
73.5 x 60.5 cm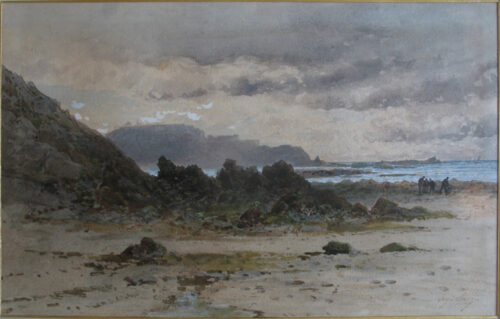 Eugene Ciceri (1813-1890)
Ramasseur de goemon; seaweed pickers, Brittany
Signed
Watercolour on paper
26.5 x 42.5 cm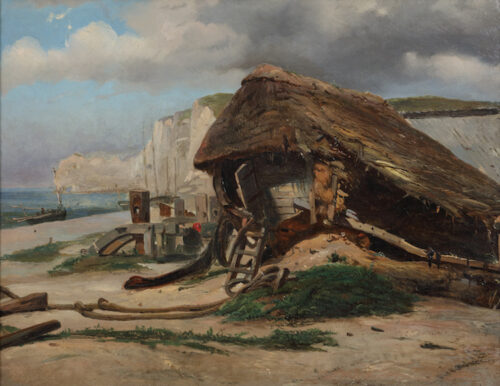 Willem Anthonie van Deventer (1824-1893)
Etretat, Normandy
Signed
Oil on paper laid down on board
31 x 41 cm
(SOLD)
Pierre Louis Dubourcq (1815-1873)
Temples, Paestum, Italy
Signed and dated '51
Oil on panel
39 x 56.5 cm
Exhibited: Rotterdam, Kunsthal, de Blijvende Verlokking, 31 May-31 August 2003, p.73 (illustrated)
Pierre Louis Dubourcq (1815-1873)
View of Albano, Italy
Signed and dated Albano 18 aug 1843
Oil on paper laid down on canvas
44.5 x 64 cm
Exhibited: Rotterdam, Kunsthal, de Blijvende Verlokking, 31 May-31 Augus 2003, p. 81 (illustrated)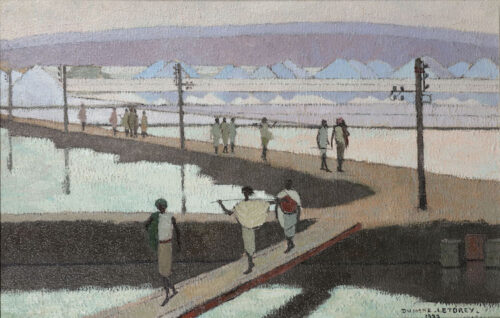 Suzanne Dumond-Letorey (1911-2007)
Saltworks in Djibouti (Lake Assal)
Signed and dated 1939
Oil on canvas
60 x 92.5 cm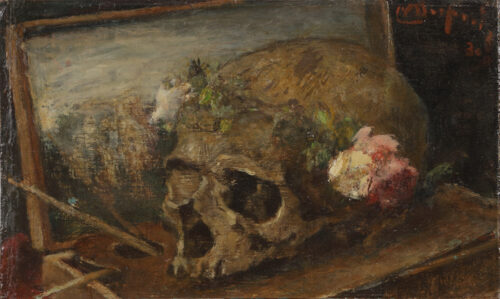 Maurice Dupuis (1882-1959)
Stillife with a painters box and a skull with a rosary
Signed and dated '30
Oil on panel
17.5 x 29.5 cm
The painting is executed in an animistic, introspective, poetical and subtle way:
"the hidden life of things, all-in trouble-free atmosphere"
(SOLD)
Jean-Baptiste Henri Durand-Brager (1814-1879)
View of the Bosphorus
Signed and indistinctly dated
Oil on panel
22 x 41 cm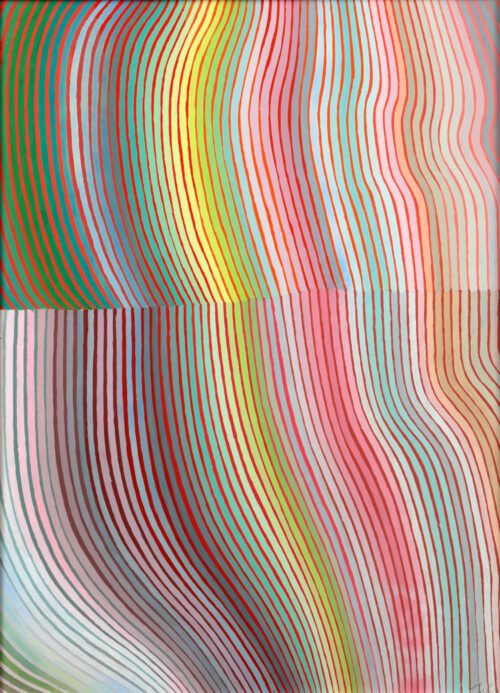 Wolfgang Ebert (born 1927)
Modulation
Signed
Gouache on paper laid down on board
75 x 54 cm
Exhibited: Frans Halsmuseum, Haarlem, september 1979
(SOLD)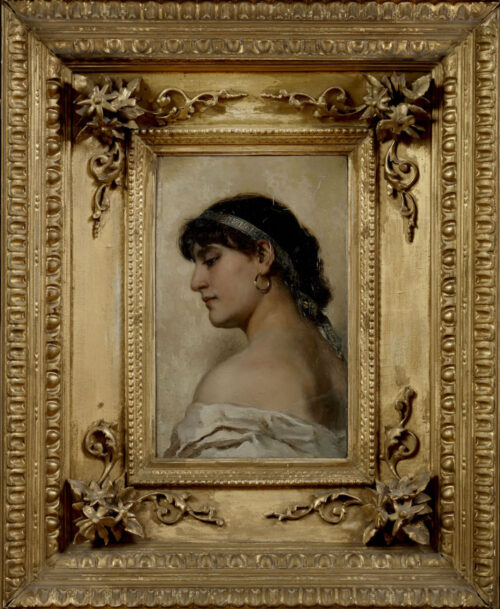 Hermann Effenberger (1842-1911)
Classical Beauty
Signed and dated '84
Oil on panel
33 x 23 cm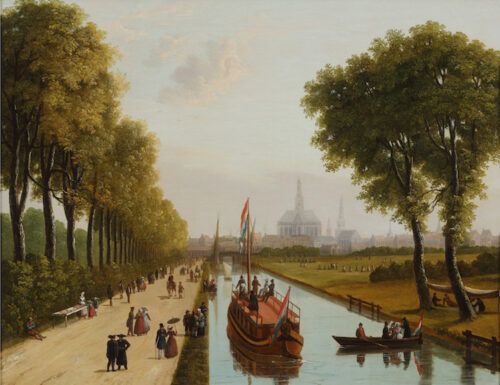 English/Dutch School, circa 1806/7
Strolling along the trekvaart (boat-canal) from Haarlem to Leiden with elegant figures on a draft boat, Haarlem in the distance
Oil on canvas
35.5 x 44.5 cm
Please compare to a print by Sir John Carr (1772-1832) in his 'A tour through Holland… in the summer and autumn of 1806', London, 1807
In the Royal Collection Trust, UK, under RCIN 404496 is another, smaller version with slight differences in composition as Attributed to Johannes van Lexmond which was transferred from St James Palace to Buckingham Palace in 1981
Ferdinand Erfmann (1901-1968)
Village in Batavia, Indonesia
Signed
Oil on canvas
41 x 51 cm
Executed during his short stay in Indonesia in the late 1930's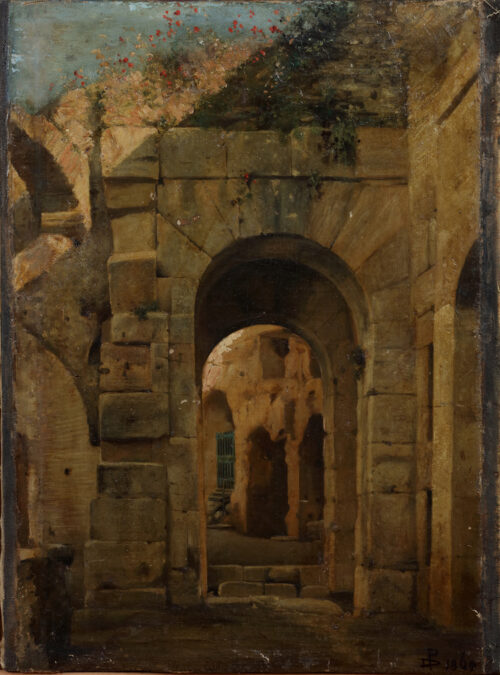 European School, 1869
A Roman ruin (Colosseum?)
Signed with monogram and dated 1869
Oil on canvas
62 x 47 cm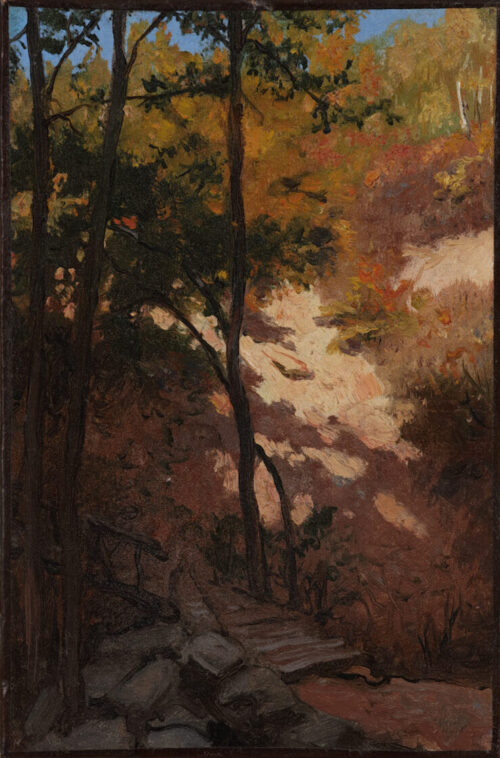 French/German School, second half 19th century
A sunny forest with a little wooden bridge
Oil on paper laid down on canvas
23.5 x 15.5 cm
(SOLD)
Paul Joseph Constant Gabriel (1828-1903)
Landscape with figures and cattle
Signed
Oil on panel
30 x 49 cm
Literature: Pieter A. Scheen, Nederlandse Beeldende Kunstenaars 1750-1950, Den Haag,1969, illustration 275 and page 739
(SOLD)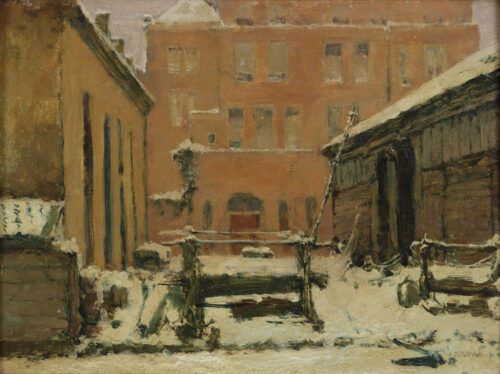 Coenraad Matthias Garms (1863-1944)
View of Werf 't Jacht, Amsterdam
Signed, and titled and dated on the reverse
Oil on panel
25.5 x 33.5 cm
(SOLD)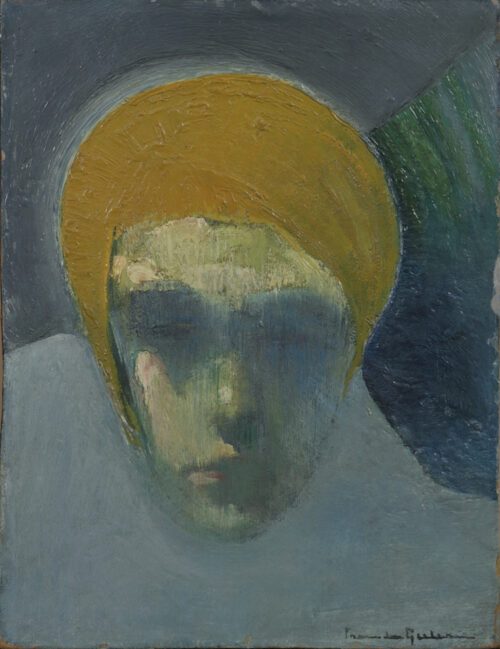 Frans de Geetere (1895-1968)
(Self)portrait
Signed, and signed again and dated 8.17 on the reverse
Oil on cardboard
32 x 25 cm
(SOLD)
Henri-Jules-Jean 'Geo' Geoffroy (1853-1924)
Preparing the meal
Signed
Pencil and crayon on paper
33 x74 cm
He was called 'peintre de l'enfant'
(SOLD)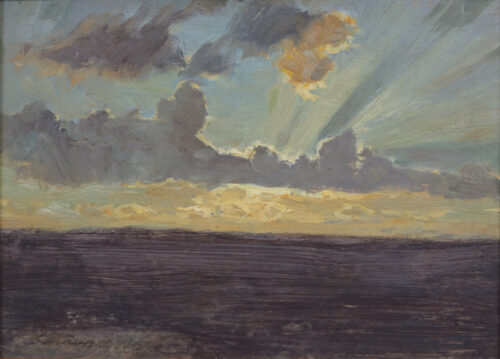 German School, 19th century
Cloudy sunset
Indistinctly signed
Oil on paper
18 x 23.5 cm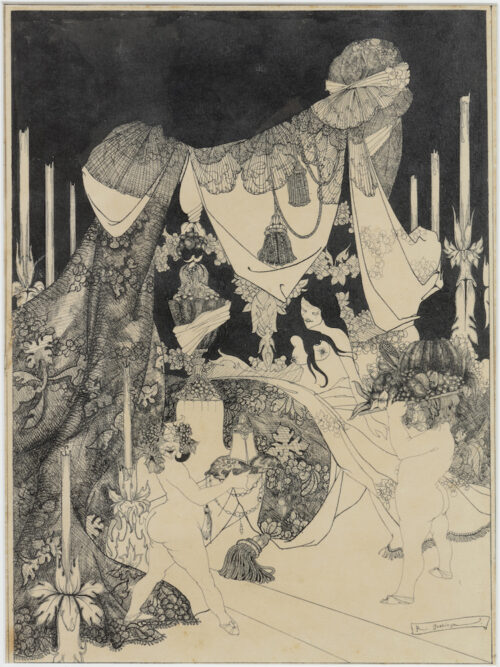 Joseph René Gockinga (1893-1962)
Femme Fatale and Bacchantes
Signed
Ink on paper
28 x 21 cm
To be dated before 1917
(SOLD)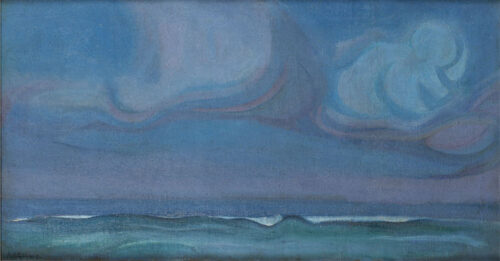 Adriaan Herman Gouwe (1875-1965)
Clouds and waves, the Pacific Ocean,  Tiarei, Tahiti
Signed and dated '26 and titled on the reverse
Oil on canvas
30.5 x 61 cm
(SOLD)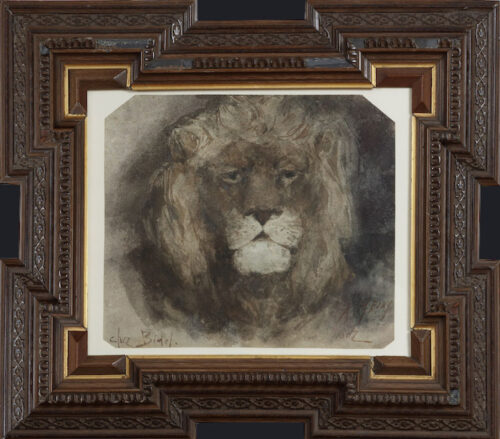 Armand Heins (1856-1938)
Head of a Lion
Signed and dated 1882, and annotated Chez Bidel
Pen and ink on paper, octogonal
22 x 25 cm
François Bidel (1839-1909) was a renowed dompteur, nicknamed Leo inter Leones by Victor Hugo. Bidel owned a large menagerie with a.o.20 lions, 8 tigers, 7 hyenas, wolves and 10 panters
He performed until 1883 in la Foire du Trone on the Cours de Vincennes in Paris
(SOLD)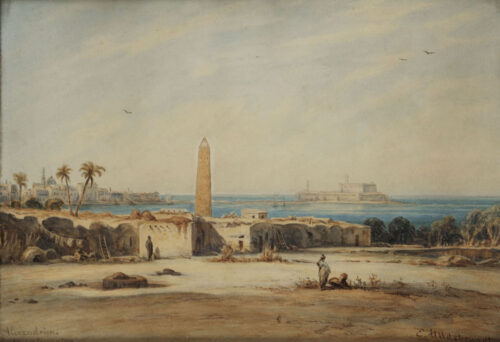 Eduard Hildebrandt (1818-1868)
Cleopatra's needle/obelisk
Signed and inscribed
Pencil and watercolour on paper
25 x 36 cm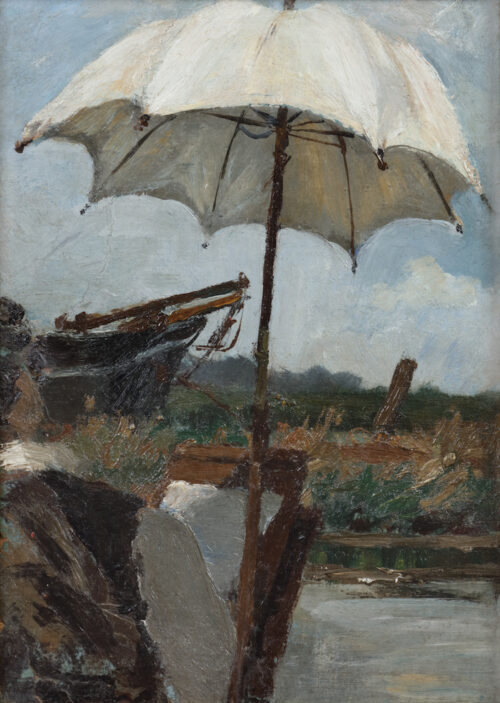 Hollandse School, circa 1890-1900
The white Parasol
Oil on canvas laid down on board
24 x 17 cm
(SOLD)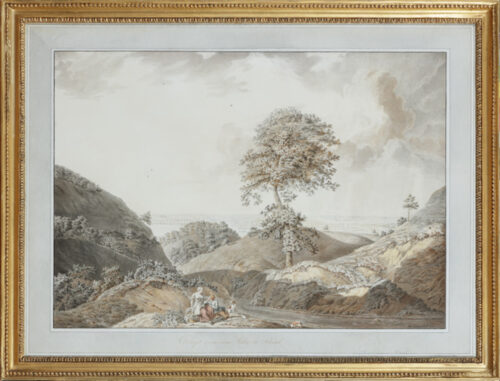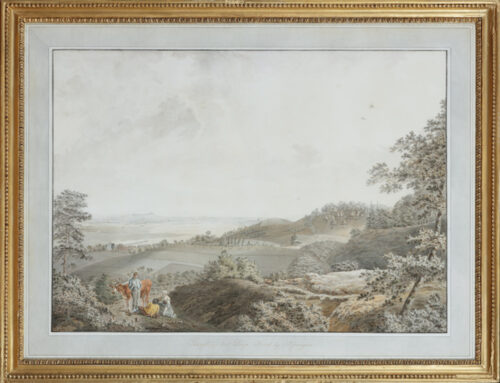 Willem Carel Hoogers (1771-1844)
View of valley Beek
Signed and dated 1818
Pen and pencil in grey, and watercolour on paper
38 x 53.5 cm
And
View on Beek
Signed and dated 1819
Pen and pencil In grey and watercolour on paper
38.5 x 54 cm
Both in original frames
Exhibited: Nijmegen, museum het Valkhof, heerlijke natuurtooneelen, 2000, pp 94-95 (illustrated)
(SOLD)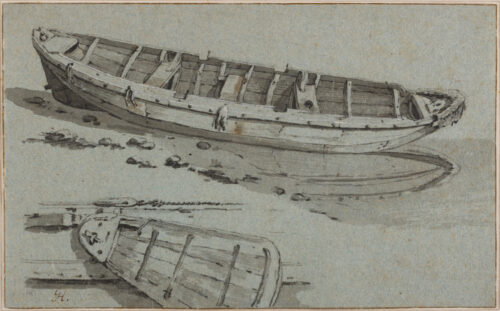 Gerrit Hulseboom (1784-1863)
A rowing boat and a lee board
Signed with monogram, and signed again on the reverse
Black chalk, grey wash heigthened with white on blue paper
17 x 27 cm
Provenance: Collection I.Q. van Regteren Altena, Amsterdam (L.4617)
Drawings by Hulseboom are a.o. in the collections of the Rijksmuseum Amsterdam and the Morgan Library and Museum, New York
(SOLD)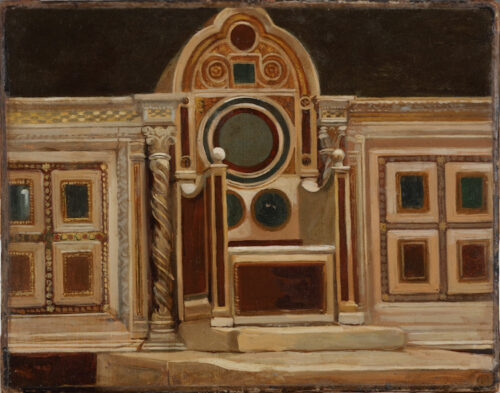 Jean-Baptiste Huysmans (1826-1906)
Interior of the Church of San Lorenzo fuori le Mura
Signed and dated 1856
Oil on canvas
27 x 33.5 cm
In 1856 Huysmans travelled Italy. A year later he published his "Travels in Italy and the Orient. Notes and Impressions"
(SOLD)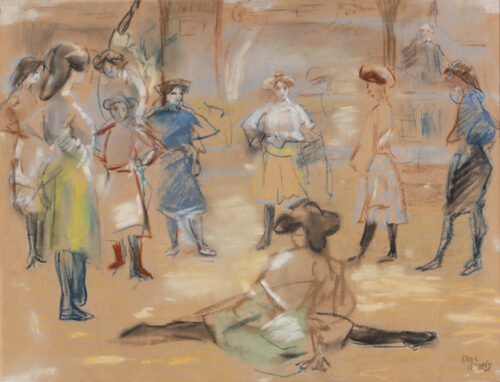 Isaac Israëls (1865-1934)
A ballet class, London
Signed
Pastel on paper
48 x 63 cm
Provenance: Kunsthandel P.van Voorst van Beest, the Hague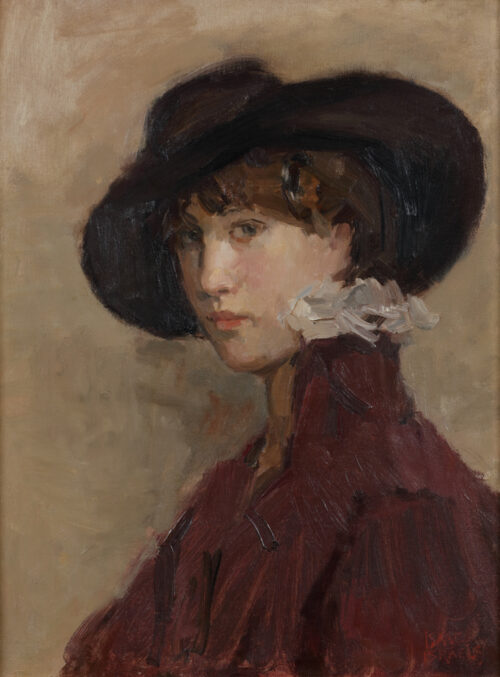 Isaac Israëls (1865-1934)
Portrait of the model Willy Gordeau
Signed
Oil on canvas
60 x 45 cm
To be dated circa 1920's
Provenance: Kunsthandel P.van Voorst van Beest, The Hague, ca. 1991
Literature: Anna Wagner, Isaac Israëls, Venlo, 1985, p.131, illus.168
Jacob Jacobs (1812-1879)
The Caravan
Signed
Oil on panel
20 x 17 cm
Jacobs left Antwerp at the end of May 1838 on a study tour to Egypt and the Middle East. The exhibition of his works on his return, in a country where there were no major Egyptian collections, made a enormous impact. Both a.o. the Belgian and British royal houses purchased his paintings
Antonio Nicolo Gasparo Jacobsen (1850-1921)
Portrait of the Steamship Schiedam
Signed and dated NY 1877, and annotated with his adress 257.8Av.near 23 St.
Oil on canvas
56 x 92 cm
Provenance: directly from one of the founders of the NASM
Literature: Antonio Jacobsen, the checklist, compiled by Harold Sniffen, in association with the Mariners Museum newport news, Virginia, USA, 1984, p.272
In an original frame
The artist, nicknamed "the Aubudon of steam vessels" , got his manuy commission directly from sea captains and/or sealine companies.
The Schiedam was bought by the NASM ( HAL) in 1877. It became one of the first steam-sailing vessels sailing the regular transatlantic route Rotterdam-New York.
The 'Schiedam' would have been in service until 1897
(SOLD)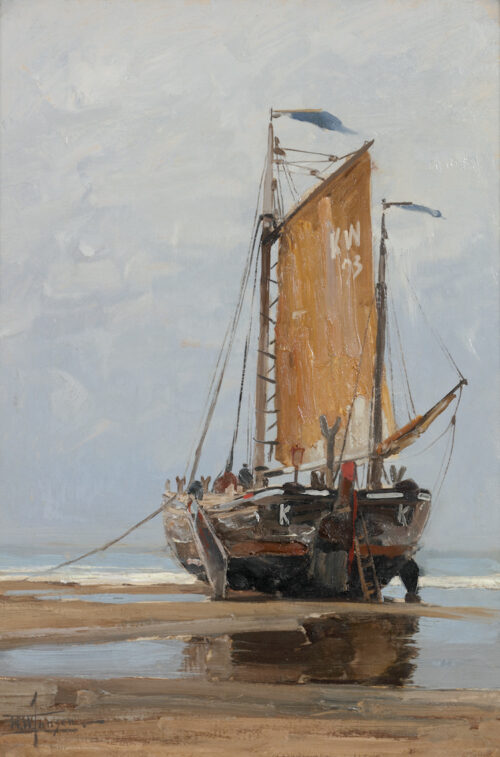 Hendrik Willebrord Jansen (1855-1908)
Bomschuit KW 93 on the Katwijk beach
Signed
Oil on canvas
51 x 41 cm
Eugen Joors (1850-1910)
The Poseur
Signed and dated 1877
Oil on panel
30 x 14 cm
(SOLD)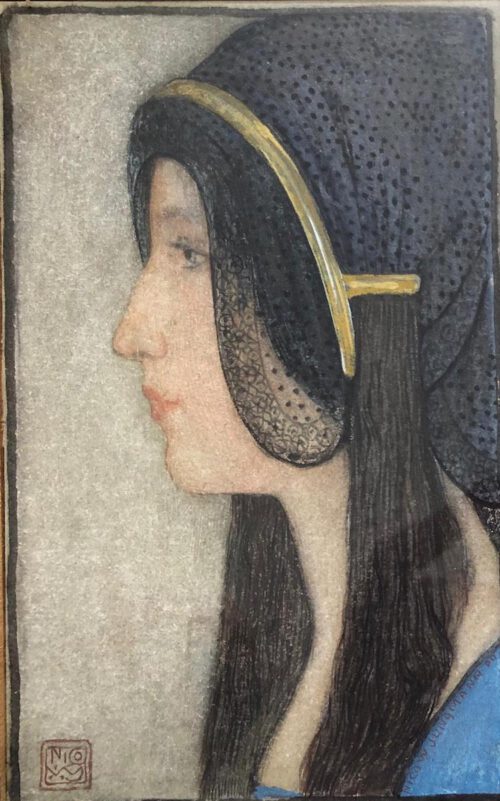 Nicolaas Wilhelm Jungmann (1872-1935)
Portrait of a young girl
Signed with monogram, and signed again and dated '00
Pen and ink and watercolour on paper
13 x 8.5 cm
To be dated 1900
The Dutch artist Nico Jungmann moved to London in 1893 and became a naturalized British citizen
From 1899 onwards he became a regular exhibitor at a.o. the London gallery Dowdeswell and Dowdeswell
During his lifetime he also had his shows in Munich and Paris
(SOLD)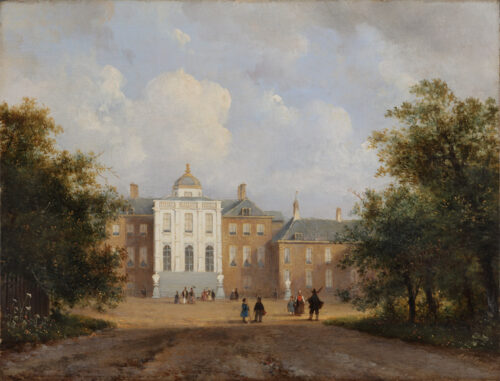 Lodewijk Johannes Kleijn (1817-1897)
Palace Huis ten Bosch, the Hague, with elegant figures strolling
Signed
Oil on panel
25 x 33 cm
Provenance: private collection, Vienna; private collection Paris
Johannes Christiaan Karel Klinkenberg (1852-1924)
View of the Binnenkant, Amsterdam
Signed
Oil on canvas
70 X 100 cm
Literature: Willem Laanstra, J.C.K. Klinkenberg, 1999, cat.no. O/70-2, p.191 (illustrated)
(SOLD)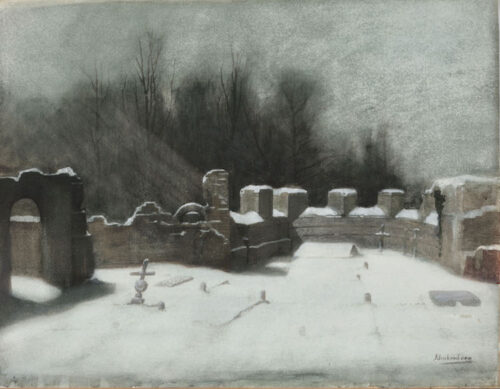 Johannes Christiaan Karel Klinkenberg (1852-1924)
Warmond Cemetery
Signed
Watercolour and gouache on paper
41 x 54 cm
Painted before 1893
Literature: Elsevier Geïllustreerd Maandschrift, 1893, deel 5, pp.113-128
(SOLD)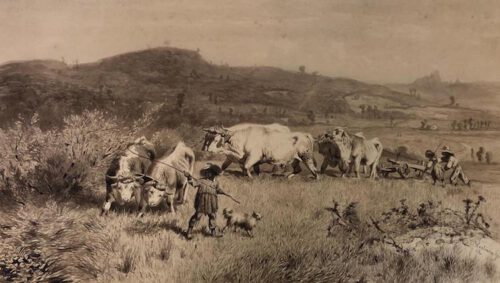 Johan Daniel Koelman (1831-1857)
The harvest
Sigend and dated 53 fec.
Pencil and grey wash on paper
27.5 x 47 cm
Literature: cf. J.Knoef, van Romantiek tot Realisme, Den Haag, 1947, pp. 223-232
Exhibited: cf. Kunsthal Rotterdam, de blijvende verlokking, 31 May-31 August 2003, pp. 86-91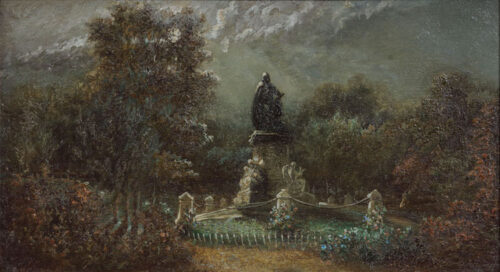 Jan Kuijpers (1819-1892)
Monument to Joost van den Vondel, Vondelparc, Amsterdam
Signed
Oil on panel
18 x 32 cm
Designed by sculptor Louis Royer and executed by Jan Theodre Stracke the revelation of the monument took place on 18 october 1867
Jan Kuijpers lived and worked in Amsterdam between 1878-1885
(SOLD)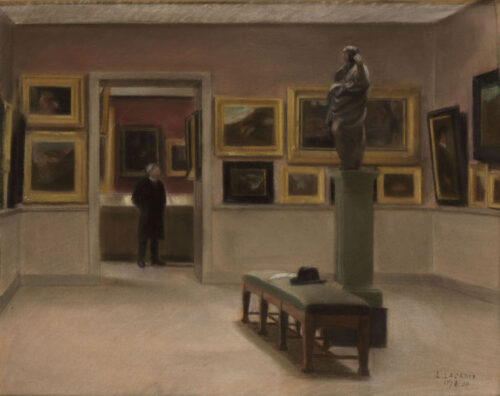 Louise Renee Lacroix (1890-1940)
A museum visit
Signed and dated 15/8/30
Pastel on paper
40 x 50 cm
(SOLD)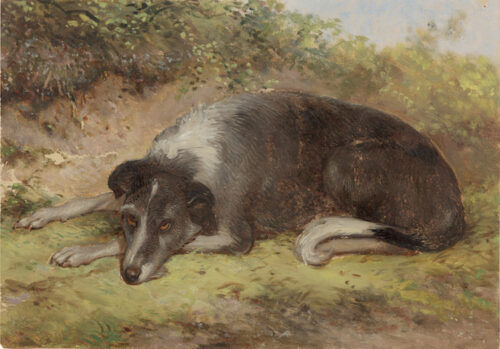 Ary Johannes Lamme (1812-1900)
A man's best friend
Signed with monogram on the reverse
Oil on canvas
19 x 27 cm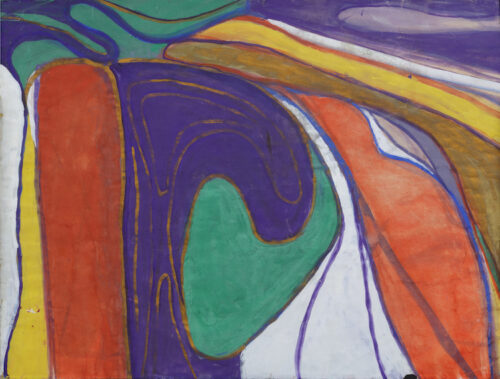 Tom Lenders (1942-2019)
Roma - Abstract composition
Signed and dated Roma 27 juli '65
Gouache and goldpaint on paper
30 x 38 cm
(SOLD)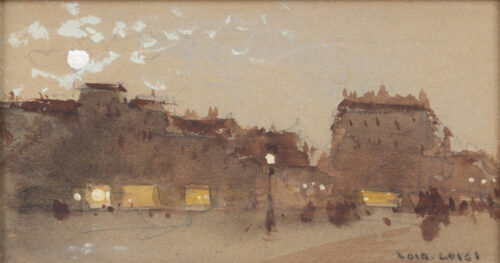 Luigi Loir (1845-1916)
Effet de nuit: Parisian streetscene
Signed
Watercolour and bodycolour on cardboard
9.5 x 15.5 cm
(SOLD)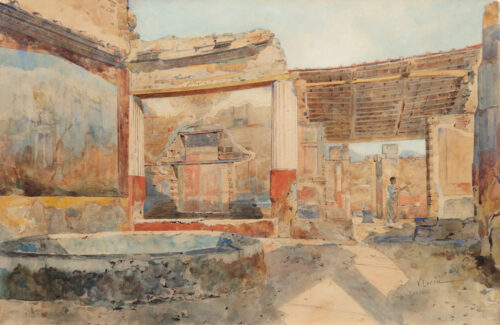 Vincenzo Loria (1850-1939)
The Peristyle of the House of the Ancient Hunt VII.4.48, Pompeï, with an archeologist working
Signed and annotated Napoli, and annotated again on the reverse
Watercolour on paper
37 x 56.5 cm
Circa 1890 (?)
It has been suggested that the figure in the drawing might be either Antonio Niccolino or Edoardo Cerillo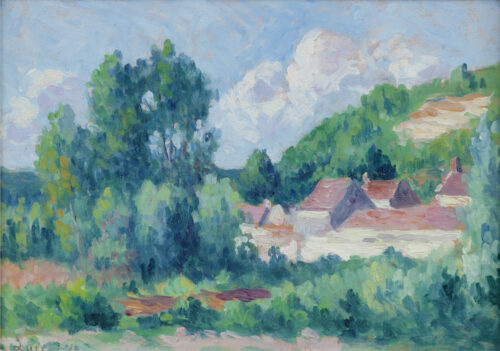 Maximilien Luce (1858-1941)
Village a travers les arbres
Signed and dated 1905, and with a dedication on the reverse
Oil on board
28 x 20 cm
Provenance: Stoppenbach & Delestre, London
(SOLD)
Henri Manguin (1874-1949)
Nature morte aux huitres - Still life with oysters
Pen and ink on paper
18 x 25.5 cm
With a certificate of authenticity by Lucile Manguin, daughter of the artist, dated 18 March 1976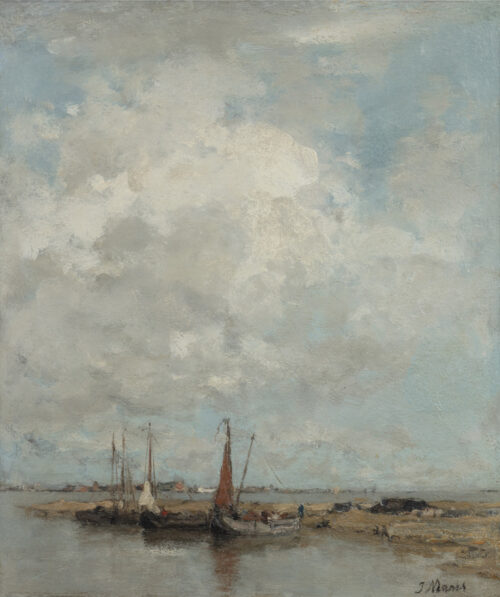 Jacob Maris (1837-1899)
Boats in a harbor
Signed
Oil on panel
34.5 x 29.5 cm
(SOLD)
Jacob Maris (1837-1899)
Capriccio view on the IJ, Amsterdam, with a drawbridge
Signed
Oil on canvas
36.5 x 52 cm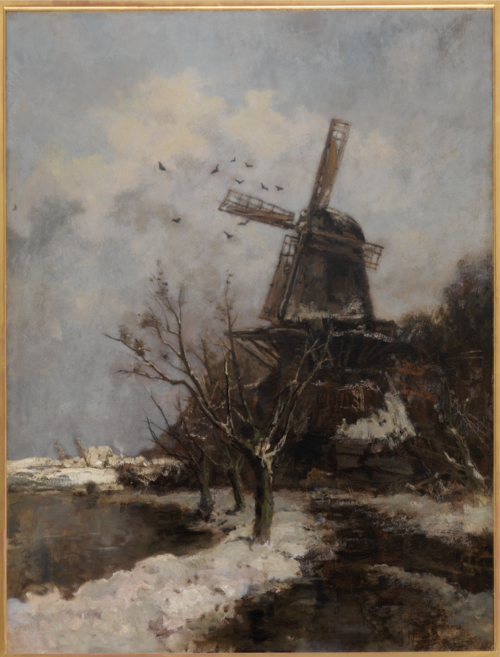 Jacob Maris (1837-1899)
Windmill: Jour neigeux
Signed
Oil on canvas
125 x 92.5 cm
Provenance: François Buffa, Amsterdam, 1899
Collection John Reid, Glasgow
Exhibited: London, French Gallery, 1910, no 24 (illustrated)
The Hague, Gemeentemuseum, Maris tentoonstelling, 1935/36, cat.no.71a
The Hague, Gemeentemuseum, Meesters van de Haagse School, 1965, cat.no. 48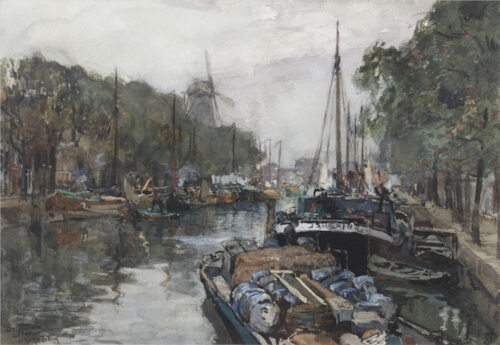 Johan Hendrik van Mastenbroek (1875-1945)
Delfshaven
Signed
Watercolour on paper
34 x 48.5 cm
Signed and dated 1901
Anton Mauve (1838-1888)
Lifting potatoes
Signed with initials
Oil on canvas laid down on panel
32.5 x 40 cm
Provenance: E.J. Van Wisselingh & Co, Amsterdam, inv.no. 4370
(SOLD)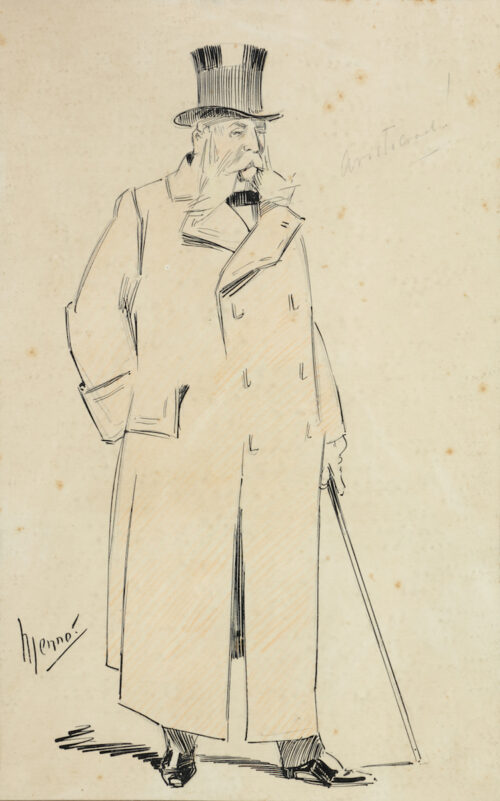 Menno van Meeteren Brouwer (1882-1974)
Aristocrat
Signed and inscribed 'Aristocraat'
Pencil and pen and ink on paper
32.5 x 20.5 cm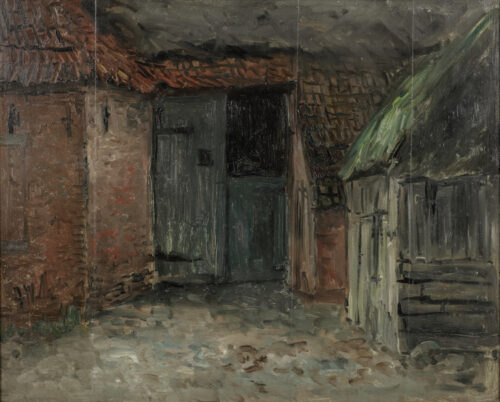 Hendrik Willem Mesdag (1831-1915)
A barn in Drenthe
Signed
Oil on four panels
56 x 77 cm
Literature: cf. Johan Poort, H.W. Mesdag: de schetsen,1994/5, p.107, LS 41.47 (illustrated)
Hendrik Willem Mesdag (1831-1915)
Departing Bomschuiten
Signed
Oil on canvas
83 x 74 cm
Literature: Johan Poort, H.W.Mesdag, supplement oeuvrecatalogus, p.61, no.2012-26
(SOLD)
Carl Mons (1890-1947)
Peasant women in Abendmahlstracht, Rollhausen, Hessen (Germany)
Signed and dated 1922
Oil on panel
79 x 69 cm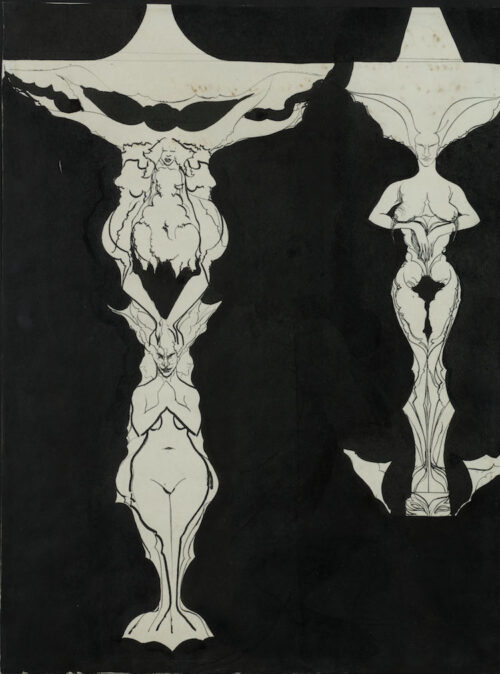 Christophe Carel Henri de Nerée tot Babberich (1880-1909)
Rococo Vases
Signed and dated June 1904 on the reverse
East-Indian ink with pen and paint brush
33.5 x 25 cm
This is one of probably six works the artist made for a design contest of the German cacao manufacturer Henkel und Stollwerck in June 1904. Two are in the collection of Museum Arnhem and the others in private collections
Provenance: The Meentwijck Collection Bussum/Grou
Exhibited:
Piccadilly Gallery, London, 1966, no 35
Galleria del Levante, Munich, 1970, no 34
Singer Museum, Laren, 1974-75, no 41
Louis Couperus Museum, The Hague, 2014-2015
We like to thank Sander Bink for his help in cataloguing this work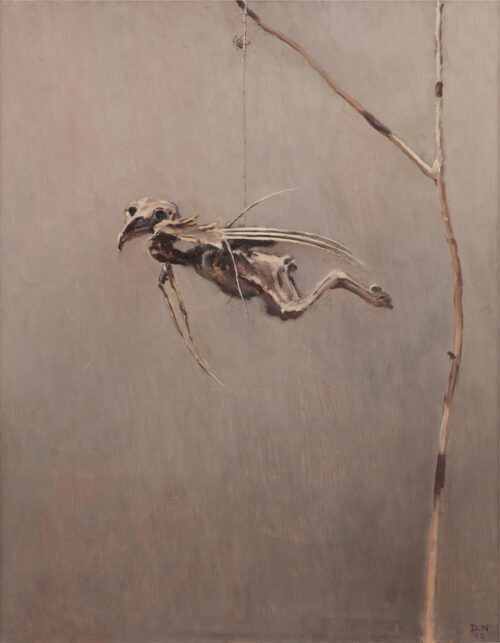 Dirk Nijland (1881-1953)
Hanging bird skeleton
Signed with initials and dated '42
Oil on canvas
65 x 51 cm
Provenance: Ir. J.A. Alma, Utrecht
(SOLD)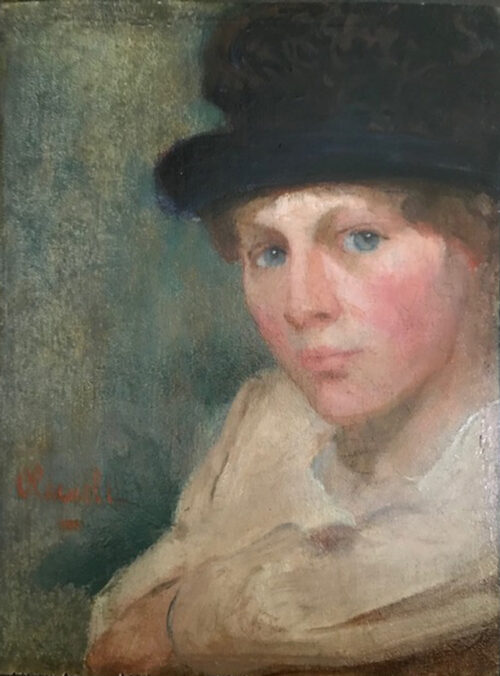 Ferdinand Gustaaf Willem Oldewelt (1857-1935)
Idle thoughts
Signed
Oil on panel
24 x 18 cm
To be dated circa 1900
The artist, before he became Director of the Groningen Art Academy Minerva and teacher at the Rotterdam Academy, was trained by both first Allebe in Amsterdam and later by Karel Verlat in Antwerp. At a older age Oldewelt settled in Laren
His works are a.o. in Singer Laren, Museum Boymans van Beuningen, Rotterdam and in the collection of the Stedelijk Museum, Amsterdam
(SOLD)
David Oyens (1842-1902)
Les deux Amis
Signed and dated 1877
Oil on panel
32x 40 cm
Provenance: Kunsthandel Huinck&Scherjon, Amsterdam, no.1458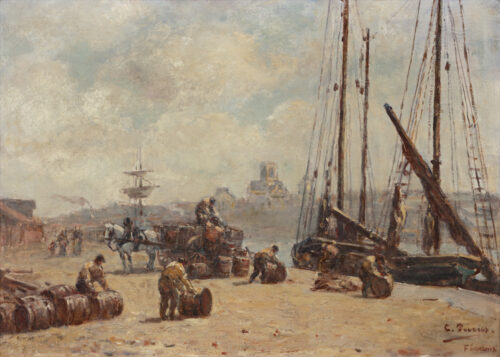 Charles François Pecrus (1826-1907)
Le Port de Fecamp
Signed
Oil on canvas
32 x 45 cm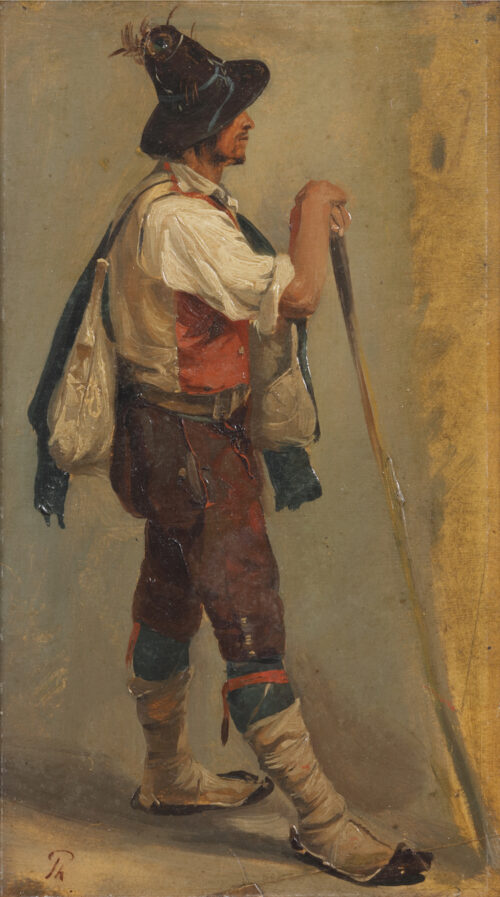 Carel Frans Phillippeau (1825-1897)
A herdsman from Campania, Italy
Signed with initial
Oil on paper on panel
30 x 17 cm
To be dated circa 1865
(SOLD)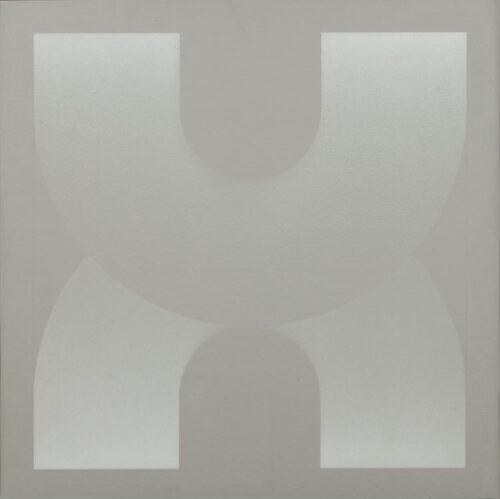 Henk van Putten (1936-2019)
Structures
Signed and dated '84 on the reverse
Acrylic on panel
60 x 60 cm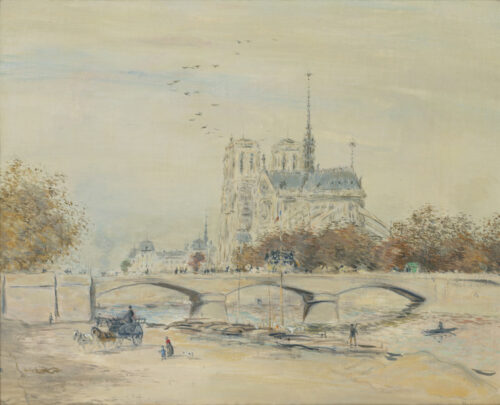 Jean-François Raffaelli (1850-1924)
Notre Dame, Paris
Signed
Oil on canvas
39 x 42 cm
(SOLD)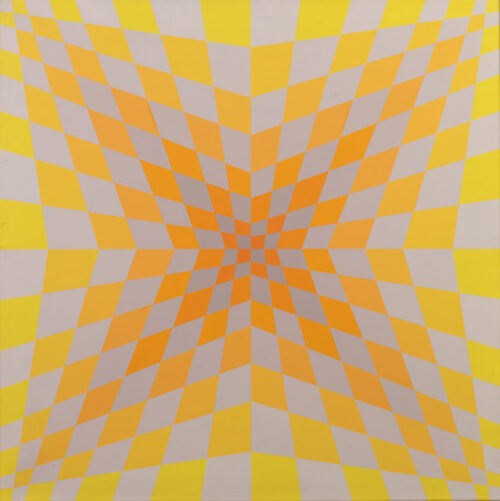 Piero Risari (1926-1986)
Geometric abstract composition
Signed, dated and annotated Amsterdam '74 opus 117 on the reverse
Acrylic on canvas
80 x 80 cm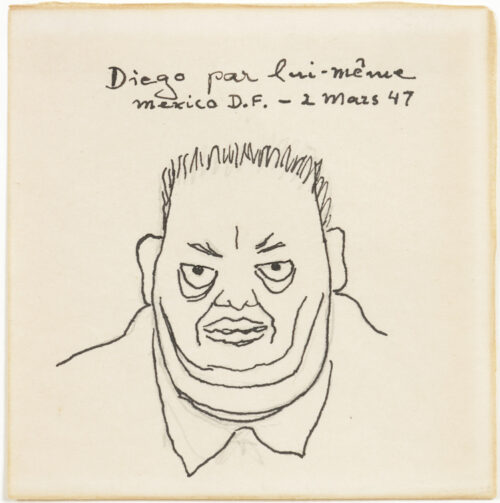 Diego Rivera (1886-1957)
Self portrait
Inscribed and dated Diego par lui-meme Mexico D.F. 2 Mars '47
Pencil on paper
11x11 cm
Suze Robertson (1855-1922)
Interior of a farmhouse with a peasantwoman
Signed
Oil on panel
20.5 x 18.5 cm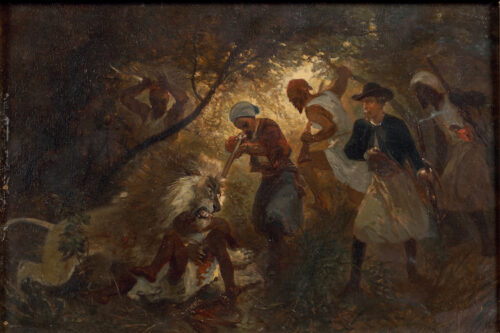 Charles Rochussen (1814-1894)
Lion attack
Signed with monogram and dated '58
Oil on panel
23.5 x 34 cm
In an original frame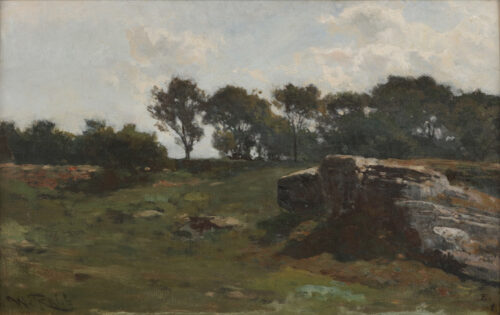 Willem Roelofs (1822-1897)
Beaufort pres Diekirch Duche de Luxembourg
Signed and inscribed with title on the reverse
Oil on canvas laid down on panel
26.5 x 41 cm
Literature: Marjan van Heteren and Robert-Jan te Rijdt, Willem Roelofs; de adem der natuur, 2006, p.42 ( illustrated) and cf. p.100, cat.no.7
(SOLD)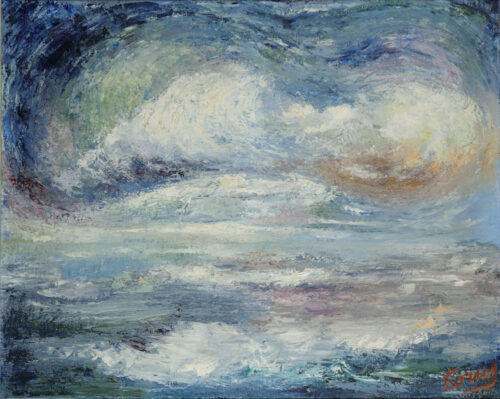 Dorus Roovers (1897-1953)
Symphony in Blue
Signed, signed again and titled on an old label on the stretcher
Oil on canvas
85 x 100 cm
Probably painted 1939-1940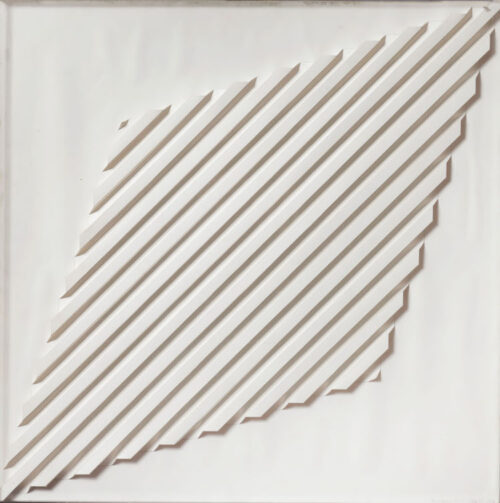 Michiel Schierbeek (born 1948)
Harmonica 1
Signed, dated '77 and titled

Folded cardboard on paper - in a plexiglass box
51 x 51 cm
(SOLD)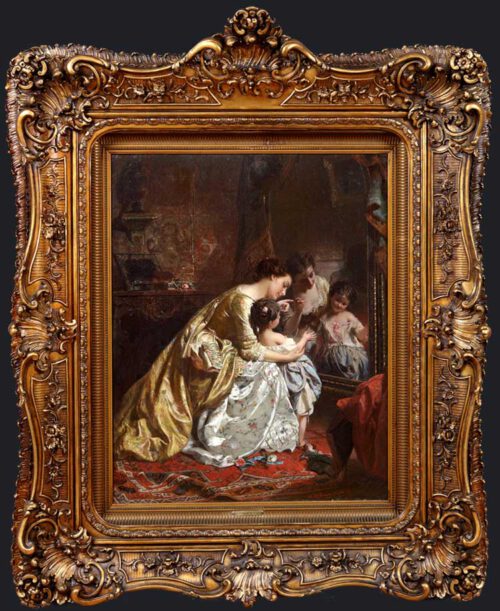 Henri-Guillaume Schlesinger (1814-1893)
Mirror mirror on the wall…
Signed and dated p. Paris 1857
Oil on canvas
82 x 65 cm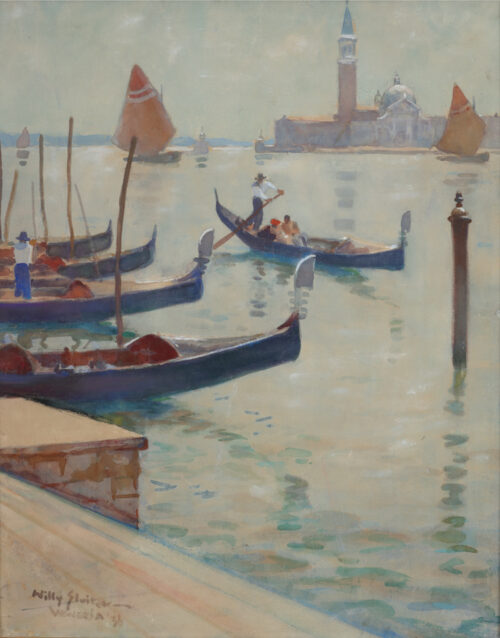 Willy Sluiter (1873-1949)
Venice with the San Giorgio Maggiore in the distance
Signed and dated 'Venezia 30'
Watercolour and gouache on paper
65 x 53 cm
(SOLD)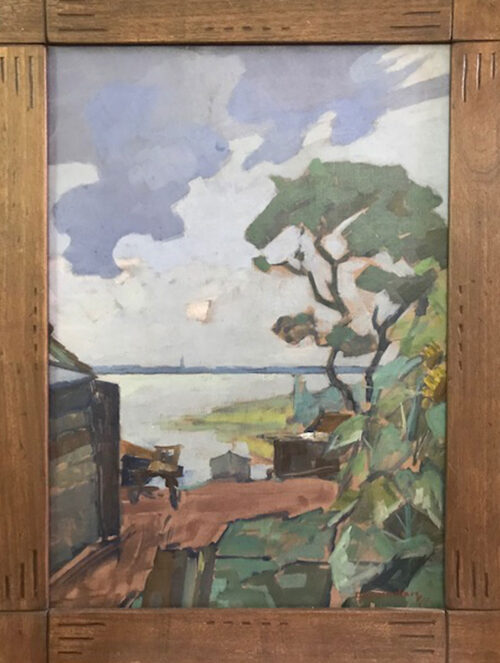 Dirk Smorenberg (1883-1960)
Loosdrecht
Signed and dated  '22
Oil on canvas
61 x 44.5 cm
In an original handcarved frame by the artist
(SOLD)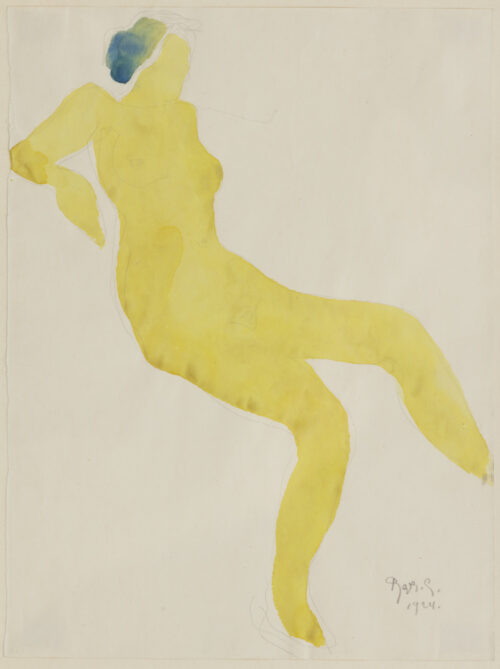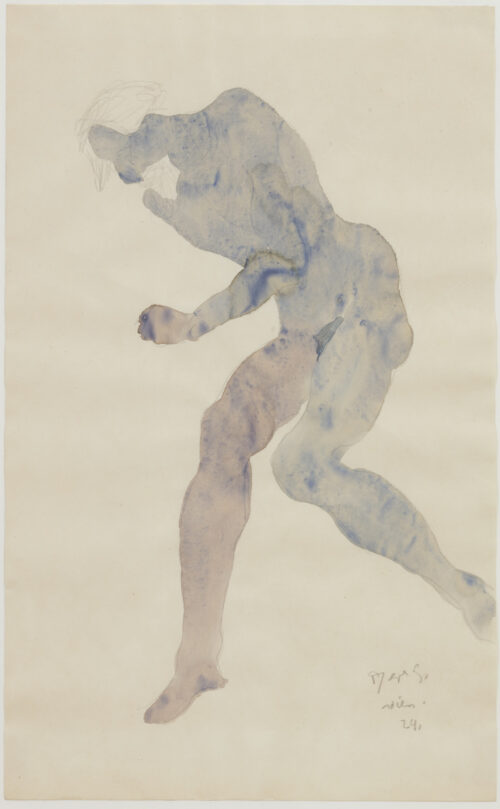 Reyer Stolk (1896-1945)
Reclining Nudes (blue and yellow)
One signed and dated Wien '24; the other signed and dated '24
Pencil and watercolours on paper
34 x 21 cm and 25 x 19.5 cm
(SOLD)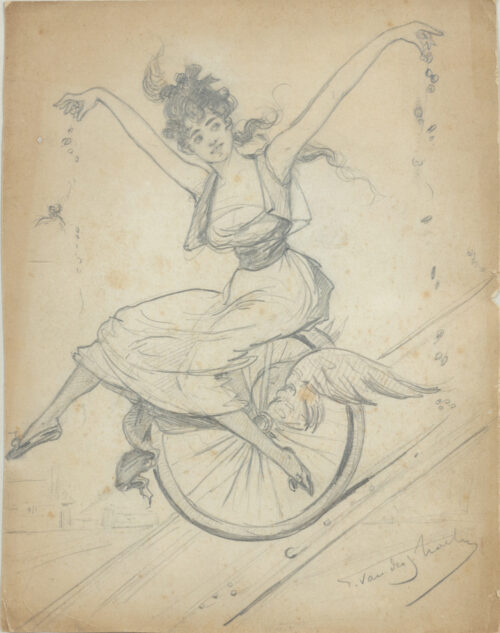 Georges Van Der Straeten (1856-1941)
Allegory of Transport and Trade
Signed
Pencil on paper
31.5 x 24.5 cm
Provenance: Francoise de Schryver-Van Der Straeten (1932-2018)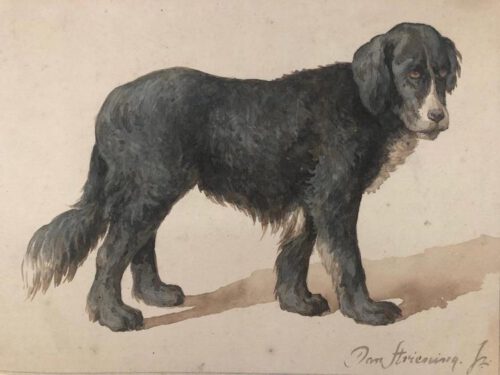 Jan Striening (1827-1903)
Loyalty
Signed
Watercolour on paper
20 x 26 cm
(SOLD)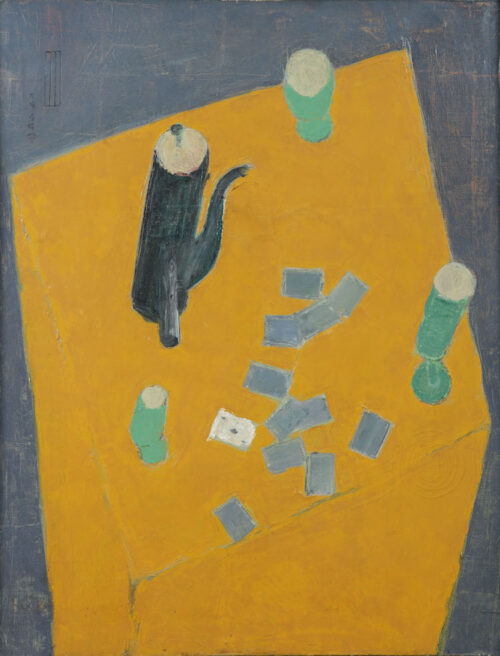 Kiba Takanobu (fl. second half of the 20th century)
Stillife with a jug and playing cards on a table
Signed and signed again and dated 1965 on the reverse
Oil on canvas
90 x 73 cm
Exhibited: Salon des Independants, Paris, 1966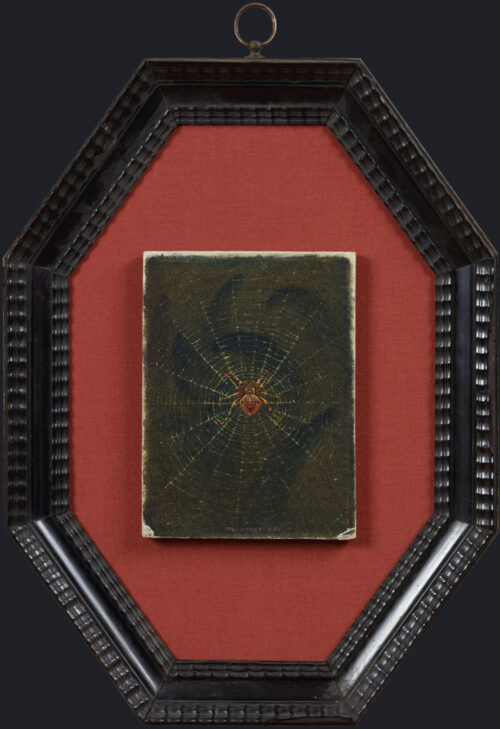 Ton van Tast (Anton van der Valk, 1884-1975)
A spider
Signed and dated 1917
Oil on canvas laid down on panel
17.5 x 13 cm
Willem Bastiaan Tholen (1860-1931)
Peasant women in a barn
Signed and dated 1894
Oil on canvas
49 x 55 cm
Provenance: Kunsthandel Huinck & Scherjon, Amsterdam, no.709
Willem Bastiaan Tholen (1860-1931)
Snow fun: the Nieuwe Scheveningseweg, the Hague
Signed
Oil on canvas
73.5 x 103 cm
Provenance: Huinck and Scherjon, Amsterdam, inv. No. 1781
The Meentwijck Collection
Exhibited: Leiden, Museum de Lakenhal, Forty Winterlandscapes, January 1951, no. 23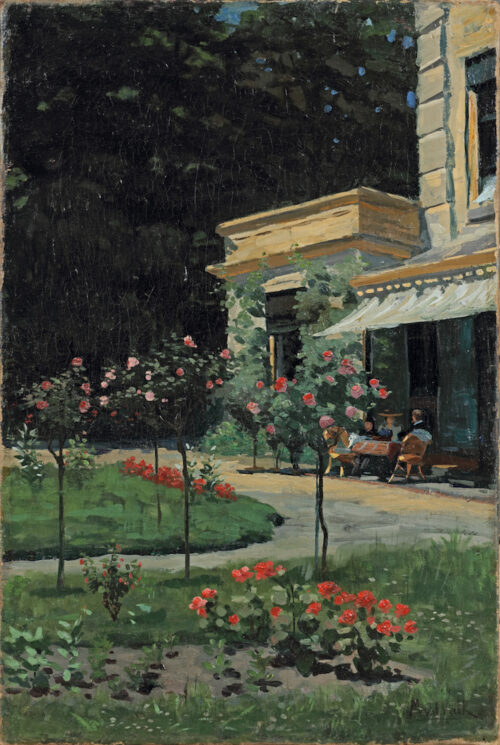 Maurits van der Valk (1857-1935)
In the garden
Signed
Oil on canvas
55 x 40 cm
A very comparable painting titled and illustrated "in den tuin " is published in: Jan Kalff, Elsevier Geillustreerd Maandschrift, jaargang 17, deel 23, 1907, pp 79-80
(SOLD)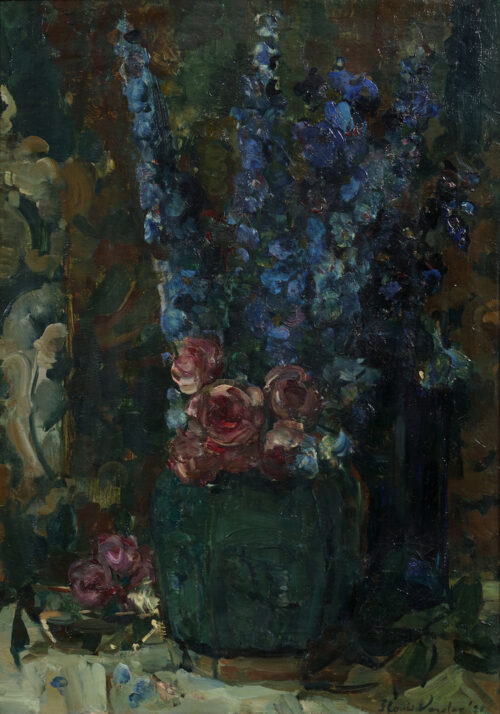 Floris Verster (1861-1927)
Blauwe Ridderspoor and mandroosjes in a vase
Signed and dated '21
51 x 41 cm
Provenance: Collectie B. Meijer, Wassenaar
Literature: Scherjon/Vogelaar, Floris Verster, 1928/2002/2003, p.138, illus.no.285
(SOLD)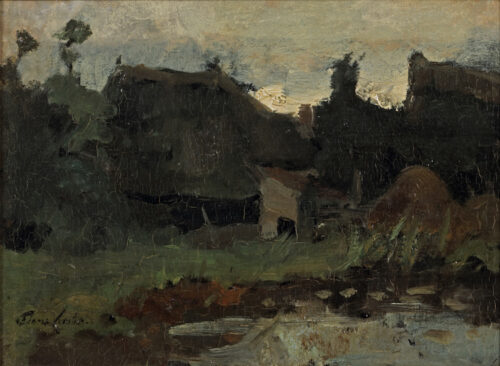 Floris Verster (1861-1923)
Farm in a landscape
Signed
Oil on canvas laid down on panel
26 x 38 cm
Provenance: M. Verster-Bosch Reitz, Heemstede
Literature: Scherjon and Vogelaar cat no. 22, p.111
Exhibited: Leiden, Museum de Lakenhal, Floris Verster, 25 October 2002 - 3 March 2003, cat no.6
To be dated 1885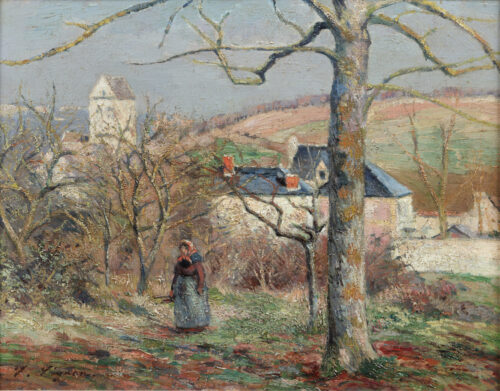 Victor Vignon (1847-1909)
A peasant woman in front of a village with a church tower
Signed
Oil on canvas
33 x 40 cm
Provenance: Kunsthandel Huinck & Scherjon, Amsterdam, no. 1155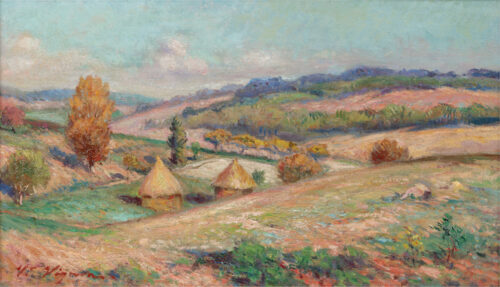 Victor Vignon (1847-1909)
Haystacks in a hilly landscape
Signed
Oil on canvas
19 x 33 cm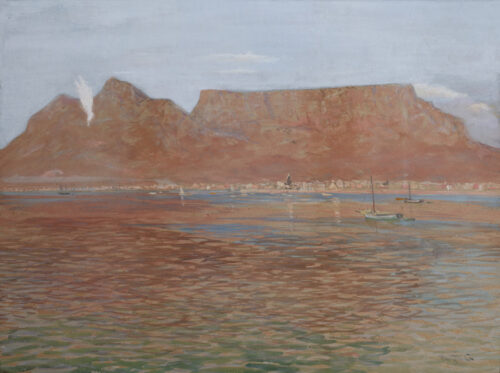 Hans Volcker (1865-1944)
A view of Capetown and Table mountain seen from Bloubergstrand
Signed
Watercolour and gouache on cardboard
58 x 77 cm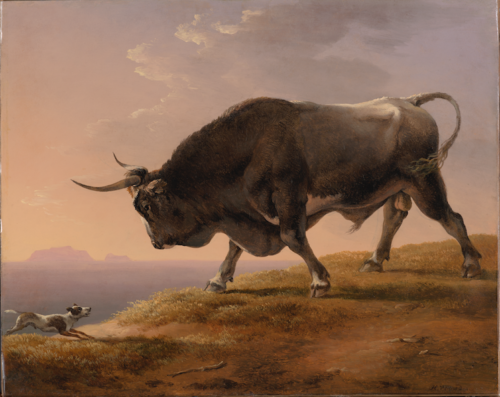 Hendrik Voogd (1768-1839)
A Bull and a Dog in a Italianate Landscape
Signed
Oil on canvas
46 x 36.5 cm
Provenance: Possibly from the collection of Princes Marianne van Oranje (1810-1883), who was an admirer of the artist; private collection, Germany
A very comparable but larger painting is in the collection of the Museum Booijmans van Beuningen, Rotterdam. A preliminary drawing for this oil is in the Prentenkabinet Leiden, and a pencil drawing can be found in the Pushkin Museum, Moscow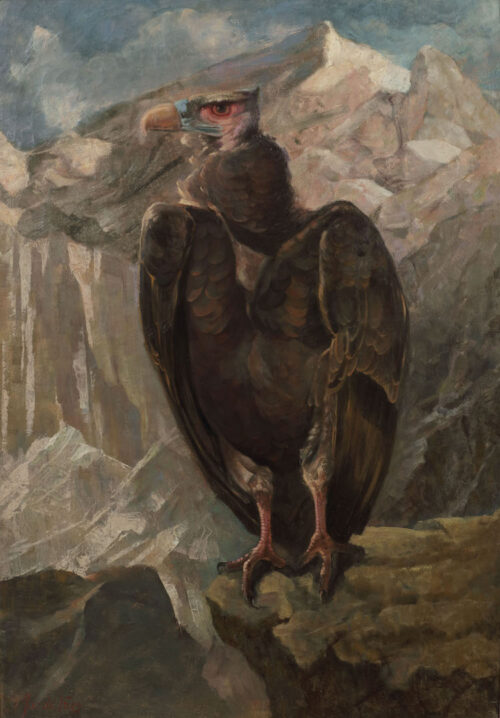 Jacob Sybout 'Jac' de Vries (1907-1970)
Vulture/Californian Condor
Signed
Oil on canvas
100 x 70 cm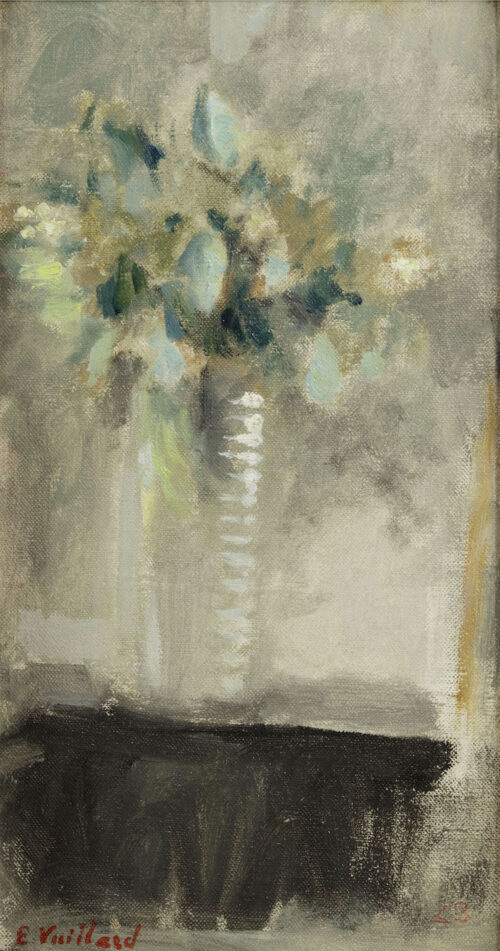 Eduard Vuillard (1868-1940)
Bouquet
Stamped E. Vuillard, and dated '23
Oil on canvas laid down on plywood
26 x 14 cm
Provenance: Artist's studio, 1940
Sam and Marina Salz, New York
Kunsthandel E.J. van Wisselingh and Co., Amsterdam, inv.no. S 8930, 1978
Private Collection the Netherlands
Literature: Antoine Salomon and Guy Cogeval, Vuillard, critical catalogue of paintings and pastels, Vol.III, Chapter XI, the hedonist and psychologist, p.1370 (illustrated) (1918-1928), Milan, 2003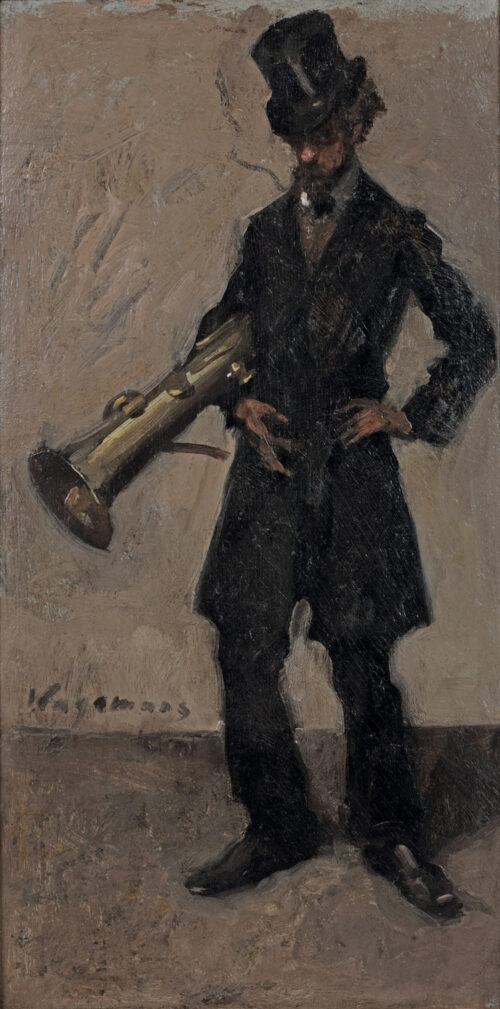 Maurice Wagemans (1877-1927)
The painter Victor Simonin holding an ophicleide (bastuba)
Signed
Oil on panel
65.5 x 34 cm
Exhibited: Elsene (Ixelles), Cercle royale, artistique et literaire, Retrospective Victor Simonin, 14 October - 2 November 1948, no. 122
(SOLD)
Isabel Weathersby (1900-1986)
African Madonna
Signed
Oil on cardboard
30.5 x 23 cm
The artist is from Little Rock, Arkansas
(SOLD)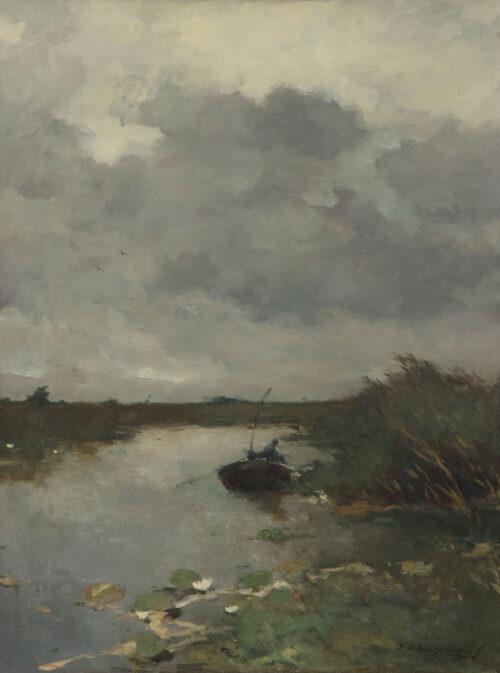 Johannes Hendrik Weissenbruch (1824-1903)
A Dutch Polderlandscape with a fisherman in a rowingboat
Signed
Oil on canvas
85 x 65 cm
Provenance: Van Voorst van Beest Gallery, the Hague
Literature: Willem Laanstra, Johan Hendrik Weissenbruch, 1992, O/90-1, p.130-131
Exhibited: Rijksmuseum Amsterdam, Langs velden en wegen; de verbeelding van het landschap in de 18de en 19de eeuw, 28 November 1997-3 Maart 1998, p.326-327, cat. no. 101
Johannes Hendrik Weissenbruch (1824-1903)
Low tide
Signed
Pencil and watercolour on paper
23 x 30 cm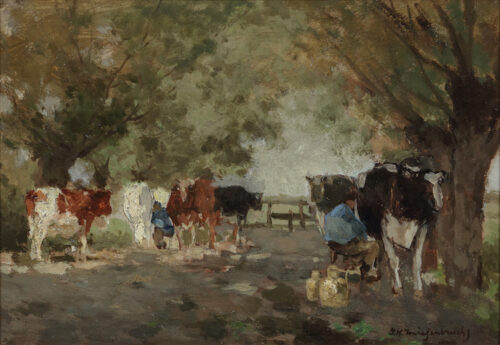 Johannes Hendrik Weissenbruch (1824-1903)
Milking time
Signed
Oil on canvas laid down on panel
21 x 30 cm
(SOLD)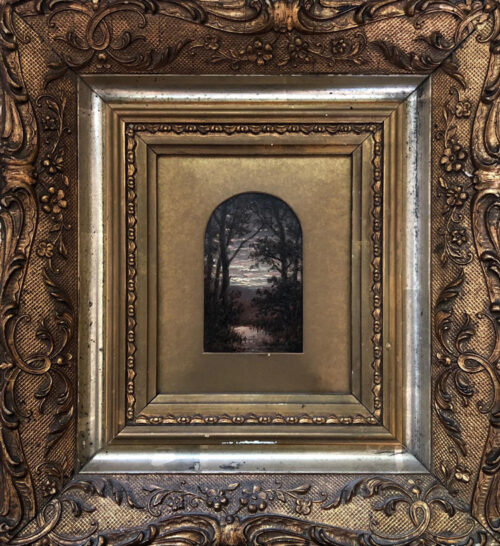 Anthonie Jacobus van Wijngaerdt (1808-1882)
Avondschemering; Twilight
Signed, dated 1880, and inscribed with titel on the reverse
Oil on panel
8 x 5 cm
In an original period frame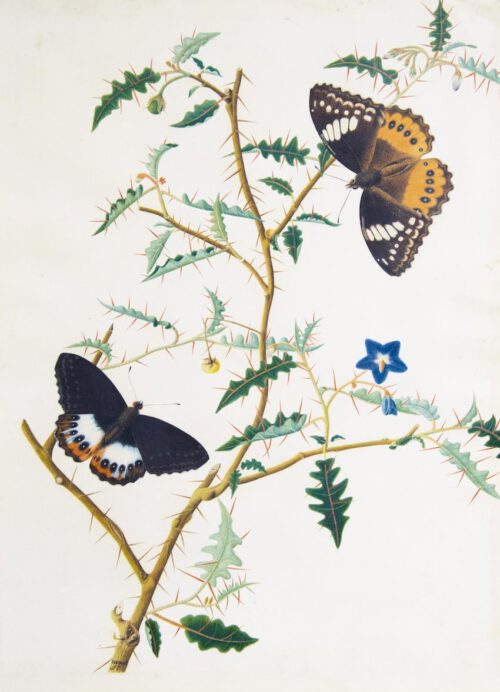 Hermanus de Wit (1764-1842)
Butterflies
Signed
Watercolour on paper
33.5 x 46 cm
Provenance: Private collection, the Netherlands
A comparable drawing is in the Rijksmuseum, Amsterdam
www.rijksmuseum.nl
(SOLD)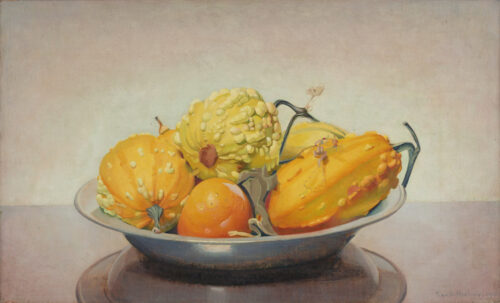 Jan Wittenberg (1886-1963)
Gourds and pumpkins
Signed and dated 1918
Oil on canvas
30 x 45 cm
(SOLD)
Hendrik Jan Wolter (1873-1952)
Ships in the harbour of Polperro, United Kingdom
Indistinctly signed (lower right)
Oil on canvas
102 x 126.5 cm
Painted in 1932